City Council Majority Leader Laurie Cumbo is hosting a Lien Sale Outreach Session on Wednesday, July 10, in Crown Heights.
The resource fair is an opportunity for Central Brooklyn homeowners, whose properties are possibly subject to the city's tax lien sale because of unpaid property taxes or water bills, to speak with representatives from the NYC Department of Finance, the Department of Environmental Protection and the Department of Housing Preservation and Development about their liens and to set up a payment plan.
"Brooklyn residents should not be susceptible to unfortunate tax lien sales, that is why I have regularly supported events that educate our neighbors on best financial practices and worked to equip them with strategies that protect their families and futures," said Cumbo.
This year's tax lien sale is scheduled for August 2; homeowners have until July 19 to set up payment agreements with the NYC Department of Finance to avoid the sale of the lien. Once a tax lien is sold, a third-party collection agency can add fees and high interest of up to 18 percent, compounded daily. This mounting debt can force some homeowners into foreclosure.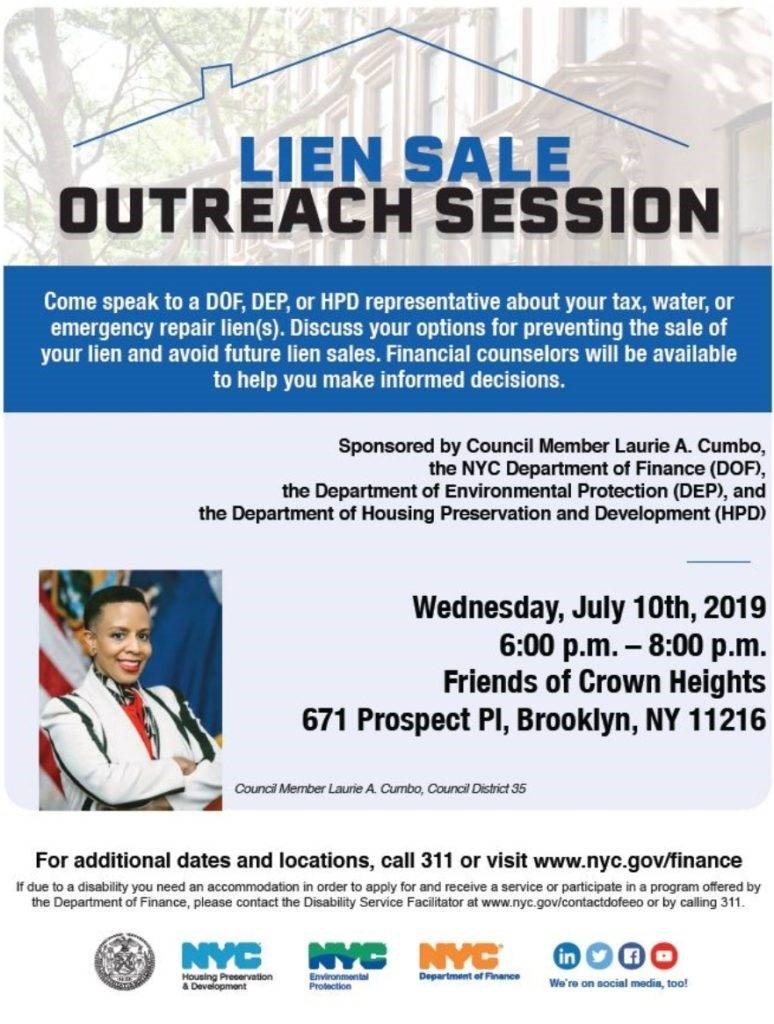 Financial counselors will be on site to talk to attendees about how to prevent the sale of their lien and avoid future lien sales, as well as inform them about the city's lien exemption programs benefitting seniors, veterans and disabled Brooklynites.
Homeowners should bring relevant documents like a copy of the deed, a government-issued ID and proof of income.
The lien outreach session will take place on Wednesday, July 10, from 6:00pm — 8:00pm at 671 Prospect Place, Brooklyn, NY 11216.
For more information about the annual lien sale, go here.