Twenty years of community service is a great reason to reflect and refresh, according to The Crown Heights Community Mediation Center which is celebrating its milestone birthday under a new name, the Neighbors in Action, and with a City Hall proclamation awarded by Council Majority Leader Laurie Cumbo on Wednesday.
"I am thrilled to be able to honor Crown Heights Community Mediation Center for their twenty years of service to our community," said Cumbo. "They are a pioneer in their field, as the first program in the state to implement the Cure Violence model of gun violence prevention with the launch of Save Our Streets (S.O.S) in 2009. They will now be known as Neighbors In Action and I am looking forward to twenty more years of building safer communities!"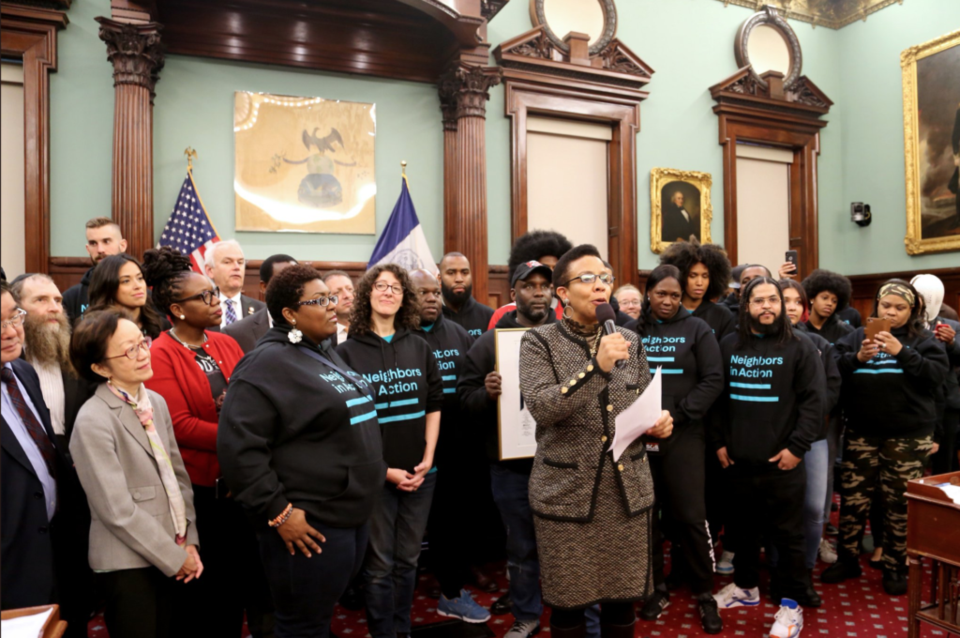 The Crown Heights Community Mediation Center started in 1998 amidst a surge of racial and religious conflict in Crown Heights. The center's original goal was to improve relations among the neighborhood's different groups and to build the capacity of residents to solve their problems. Two decades later, the organization has expanded to multiple sites in central Brooklyn and provides a variety of youth development, violence prevention and community-building programs. A fitting time for a name change, according to Neighbors in Action Director Amy Ellenbogen.
"Over the last 20 years, our work has grown far beyond our original goal of community mediation," said Ellenbogen. "Our new name encapsulates the range of tools we use to promote healing and safety—from violence prevention to youth activism to artistic placemaking. The new name also demonstrates our commitment to community-driven ideas and accountability."
The organization, which is also home of Save Our Streets Brooklyn (S.O.S.), a community-based effort to end gun violence, has made a significant impact within the communities of Crown Heights and Bedford Stuyvesant.
In 2017 alone, through its outreach workers and violence interrupters, S.O.S. helped to de-escalate more than 370 violent conflicts and completed 40 high-risk mediations. Additionally, more than 10,000 residents of all ages attended Neighbors in Action community events, including block parties and art galleries; more than 500 young Brooklynites were served through youth programs, and more than 3,000 community members received free legal assistance and services at Neighbors in Action's Legal Hand office.
"What makes this organization special is that it serves as a hub for the community," said David Gaskin, program manager of S.O.S. Crown Heights. "Whether you're struggling with an interpersonal issue, in need of support or looking to give back, we have something for you. Our staff and the community members who make up this organization literally are neighbors in action."