Crown Heights' Major R. Owens Health and Wellness Community Center, formerly known as the Bedford Union Armory, will offer $30 monthly memberships for adults, $10 memberships for seniors, and a range of discounted offers for students wanting to take part in classes.
The pricing for memberships and services was released Monday, following a report by THE CITY that half hour group swimming lessons at the new center could be as high as $50 per child, raising serious questions about the promised accessibility and affordability of the center.
The Major R. Owens Health and Wellness Community Center has had its share of controversy, centered mostly around whether the new development would be truly affordable to existing residents or would increase the tides of gentrification to the neighborhood.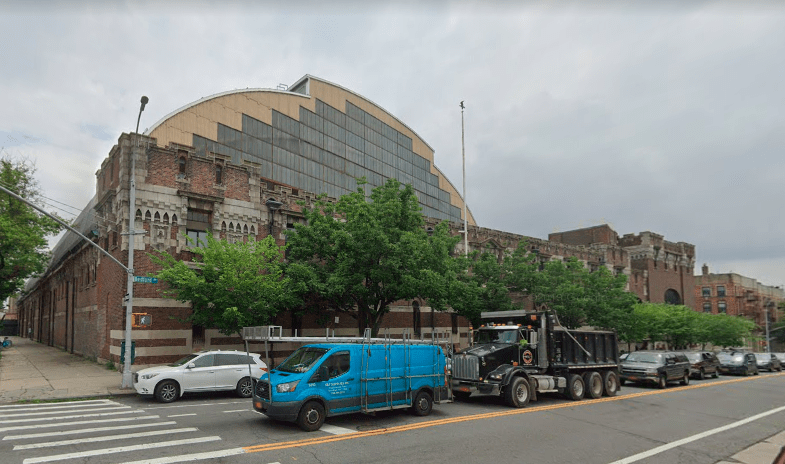 As part of the deal to convert the city-owned armory into the recreational center and housing, residents were promised a share of affordable apartments and low-cost, accessible activities at the center.
Details have so far been sparse on how this will be provided. What has been clear is that the center will offer recreational sports to children including basketball, soccer, swimming, boxing and fencing â€" but not at what cost.
In May, owners BFC Partners awarded the contract for recreational operator at the center to Boys' Club of New York, and BFC has since brought in Imagine Swimming, New Heights, Globall Sports Center and The Betty Carter Auditorium for the Arts (BCAA) who will provide programming at the center.

THE CITY reported earlier this month that Imagine Swimming advertises 30-minute lessons for $50 each, on top of a $50 registration fee, for a group class of up to four. Those prices increase to $100 per half-hour for a class with two kids, and $200 for a private session.
On Monday, BFC Partners announced that Imagine Swimming would offer 9,000 lessons per year at an 80% discount to Community Board 9 residents, making classes $10 rather than $50; allocate a portion of proceeds to local Title I schools/families; run scholarship programs for students at Title I schools; and hold at least two hours of open swim hours every day for Major R. Owens Health and Wellness Community Center discounted membership participants.
BFC added that there will be a number of other benefits and discounts available to locals wanting to use spaces or services at the center, including 250 discounted memberships for Community Board 9 members; discounted lease space at $6 per square foot; discounted rental fees for facility use; and discounted services.
New Heights, which is the center's basketball operator, will run its signature College Bound program for 400 youth, where it will hold team practices and skill development training, and offer college prep support for the College Bound enrolled student athletes â€" programs that are free for participants. BFC said the youth taking part would come from Crown Heights and surrounding neighborhoods.
New Heights will also to lead clinics and leagues that combine life skills with fundamental basketball skill development for youth in the community, which will be free or low cost to participants and open to all, the organization said, and it would provide discounted facility rentals to schools and community groups.
Globall Sports Center, which will operate the multi-sport synthetic turf, will create partnerships with local organizations to give discounted facility rentals at $65 versus $200 per hour for the organizations to run their existing programs, BFC said.
It will also hold discounted soccer clinics and lessons at $10 versus $50 per hour for Community Board 9 residents.
The Betty Carter Auditorium for the Arts (BCAA), a multi-purpose room, will be available at discounted rental rates for community organizations and non-profit tenants for events including themed parties, meetings and conferences, fairs, exhibits and performing arts, BFC said. Discounted rates range from $75 to $150 per hour.
The Armory will also provide discounted rates and free programming for health and wellness classes, including Vinyasa yoga, power yoga, meditation, mindfulness, martial arts and group fitness classes. Typical class cost is $20 per session. Discounted rates range from $10 to $15 per session.
Donald Capoccia, principal of BFC Partners, said that in partnership with program directors, BFC Partners was committed to providing "truly affordable memberships and classes to the community in order to reach everyone who wants to participate," adding that no child should miss out on classes, programs and lifesaving lessons because of the inability to pay.
"After years of hard work, we are thrilled to finally open the doors of the Major R. Owens Health and Wellness Center and welcome in Crown Heights and Central Brooklyn residents,
"From afterschool programming and dance lessons to camps and lifesaving swim classes, the Owens Center will become a key part of the lives of local Brooklynites," he said.
The center, which is slated to open later this year, is a retrofitted 60,000 square-foot drill shed that includes a 25 meter, six lane competitive swimming pool, basketball courts, and a half soccer field.
It also holds 35,000 square feet of office space for nonprofits, and will be the base for local nonprofits Ifetayo, West Indian Day Parade, Digital Girl, Inc. and the Brooklyn Pride Center. There will also be a 25,000 square-foot health center, run by Brooklyn Plaza Medical Center.
Councilmember Laurie Cumbo, who has supported the project despite a significant amount of community backlash, said she was overjoyed at the long-awaited completion of the center, which she said would provide accessibility to quality services and programming to the deserving community.
"The variety of activities available to adults and children such as dance, swimming, weight training, basketball, soccer and archery will all be available within this great space," she said.
"The hard work between BFC Partners, EDC, Community Board 9, and my office has revived the Bedford Union Armory as the jewel of Crown Heights and I look forward to all the generations who will learn, grow, and thrive within this great community."
Beyond the Major R. Owens Health and Wellness Community Center, BFC Partners will bring Phase 1 of the planned 415 housing units - 60% of them affordable - online in 2021, the company said.
The company added that when the center opens, health and safety protocols will be implemented, including mask requirements, vaccine requirements and frequent sanitizing procedures.
There will be additional information and details about the project at information sessions on Monday, September 27 and Thursday, September 30 from 6:30pm to 8:30pm, and a website with additional information will be going live in early October.