A new, eco-friendly playground designed by students opened to the public on Thursday in Crown Heights
Located by M.S. 354 and KIPP AMP Middle School, the playground is one of eight different structures popping up throughout Central Brooklyn as part of Governor Cuomo's $1.4 billion "Vital Brooklyn Initiative," which aims to revitalize communities with new healthcare, housing and recreational facilities.
The new playground will provide 32,825 Crown Heights residents with recreational space just a short 10-minute walk away from their homes.
"Often times now, we don't have these playgrounds, we don't have communities where kids are able to just simply be kids," said KIPP AMP Principal Antoine Lewis. "And we wonder, why they decide to stand on corners."
Before transforming into a playground replete with basketball courts, turf grass, a garden and murals, the asphalt space on Sterling Pl. between Troy and Albany Ave was a parking lot.
"It was bare. It was just cars that would probably park here on occasion," said M.S. 354 Principal Monique Campbell.
Students designed the playground in three classes over a ten-week span in early 2018, explained Maddalena Polletta from the Trust for Public Land's playgrounds program. The kids measured the lot, surveyed students on what components they wanted for their playground and created templates.
"They utilized their math skills," said Polletta, who taught the classes. "They were calculating the area and working on budgets."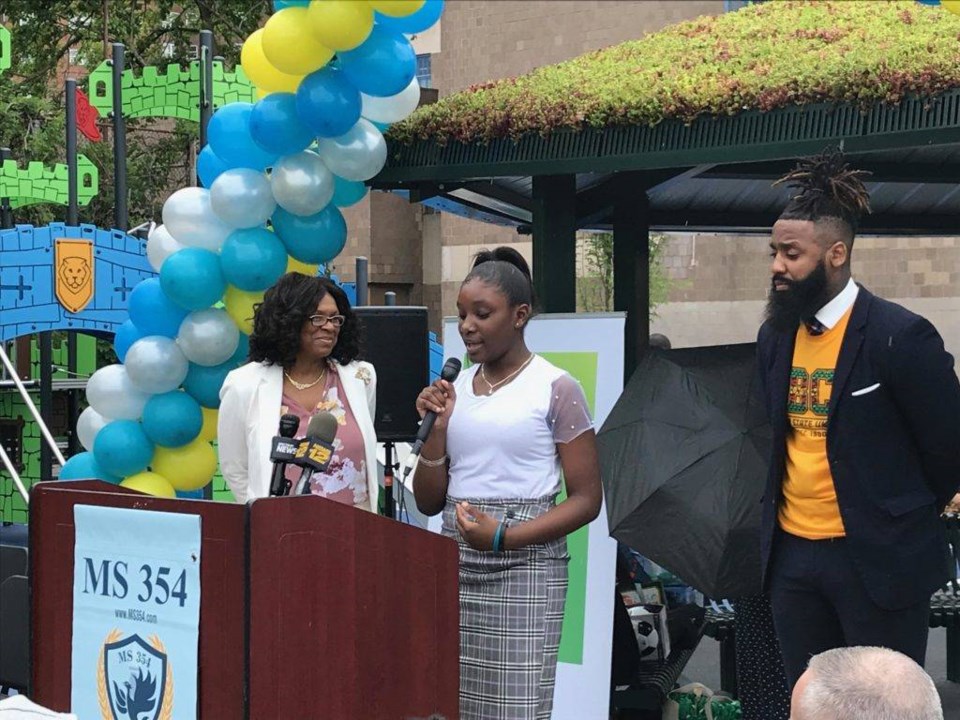 Aside from being a great recreational addition to the neighborhood, the playground also boasts several elements that help protect the environment. Underneath its turf fields, designers installed a gravel bed that stores and distributes rainwater through pipes, allowing water to infiltrate the soil below. Pervious pavers, a type of porous concrete, surrounds trees and can capture up to an inch of rainwater during storms.
These features reduce stormwater runoff that can flood streets and overwhelm sewer systems, allowing untreated water to end up in rivers and bays.
"None of the rainwater that's falling on this playground is going into the sewer system if it's under an inch and a half of rain," said Polletta.
12-year-old Reia Mason, a 7th grader at M.S. 354, helped design the playground.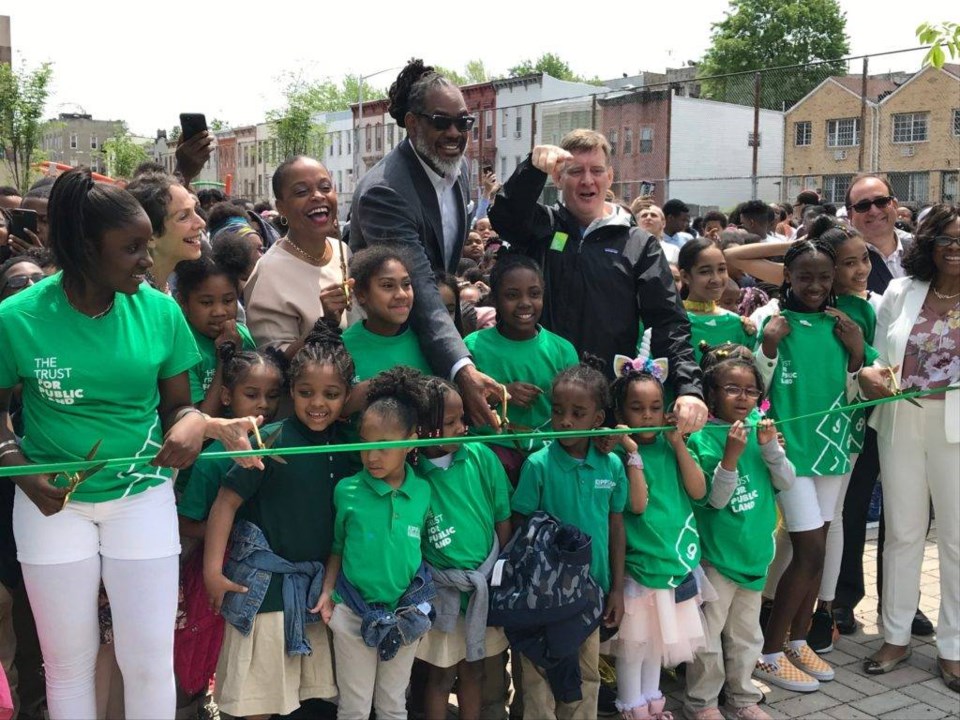 "It was pretty fun to just see it come together over time," she said.
The $2-million project was a communal effort of several partners, including school officials, the Trust for Public Land, the NYC Department of Education, the Department of Environmental Protection and BSE Global, the company that manages and controls the Brooklyn Nets and Barclays Center.
Two more eco-friendly playgrounds, at Bushwick's P.S. 145 Andrew Jackson in Bushwick and Brownsville's P.S. 156 Waverly, are currently under construction.