With Crown Heights Assemblymember Diana Richardson leaving her District 43 assembly seat for a spot in Borough Hall, a special election has been announced to fill the vacancy on March 22.
On Monday night, Feb. 14, voters will have the chance to hear from five of the democratic candidates vying to represent the neighborhood in Albany in a Democratic party sponsored candidates forum.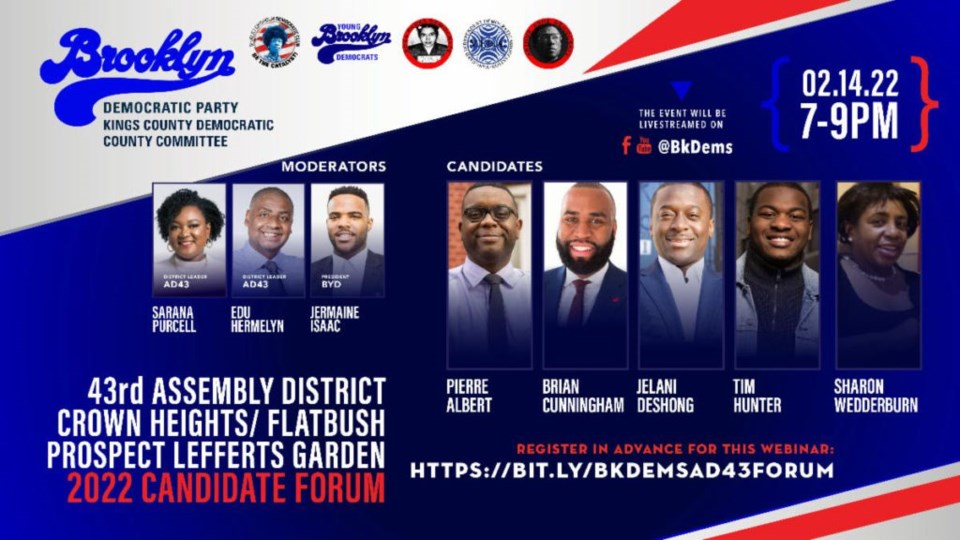 The candidates involved are Pierre Albert, Brian Cunningham, Jelanie DeShong, Tim Hunter and Sharon Wedderburn. The forum will be moderated 43 AD District Leaders Edu Hermelyn and Sarana Purcell, and BYD President Jermaine Isaac.
Already, some of the candidates are boasting high profile endorsements on their social media, including DeShong, who is backed by Richardson and State Sen. Zellnor Myrie; Cunningham, who has support from Councilmember Rita Joseph and former-Councilmember Robert Cornegy; and Albert, who is backed by former Manhattan BP Gale Brewer.
In January, Richardson announced she would be leaving the seat to join new Borough President Antonio Reynoso in Borough Hall as the deputy borough president.
Reynoso said at the time that Richardson would be focused on addressing food insecurity, reducing gun violence and supporting Brooklyn's Community Boards and ensuring they are reflective of the communities they serve.
"For years, Assemblymember Richardson has been an unwavering progressive voice and a powerful advocate for her community in Central Brooklyn. From tackling food insecurity and gun violence in our communities to delivering historic tenant protections and criminal justice reform, Diana has been on the frontlines fighting for the kind of progressive policies that transform communities," Reynoso said.
Governor Kathy Hochul supported Richardson's move and announced a special election this month, scheduling it for March 22. She said that Central Brooklyn had been "exceptionally well-served by Assemblymember Richardson and the entire borough will be better off for having her in Borough Hall."
"The residents of the 43rd Assembly District will make their voices heard next month and I look forward to building a productive working relationship with their next representative."
Monday night's candidate forum will be live-streamed on the Kings County Democratic County Committee Facebook and YouTube pages at 7:00pm. You can submit questions in advance to kcdcc2020@gmail.com. To register for the Zoom link, click here.