With the city's first new mayor in 12 years, a flood of freshman city council members, and a dramatic shift in legislative priorities, New York City Councilmembers will testify: It was a rigorous -- and at times grueling-- process hammering out the $75 billion 2015 budget, which was finalized last Thursday.
For City Councilmember Laurie A. Cumbo, who represents the 35th council district covering Fort Greene and Clinton Hill and who also serves on the finance committee, a lot of was accomplished in six short months, on behalf of the residents in her district, she said.
The finalized budget addresses public safety, employment opportunities, education, health, and infrastructure. For Cumbo's part, improving the conditions within public housing and cultural arts development were two areas where she reported she made big strides.
Earlier in the year, Cumbo champion for the 57 New York City Housing Authority (NYCHA) community and senior centers facing closure due to budget cuts, including the Lafayette Gardens Senior Center, located in Cumbo's district.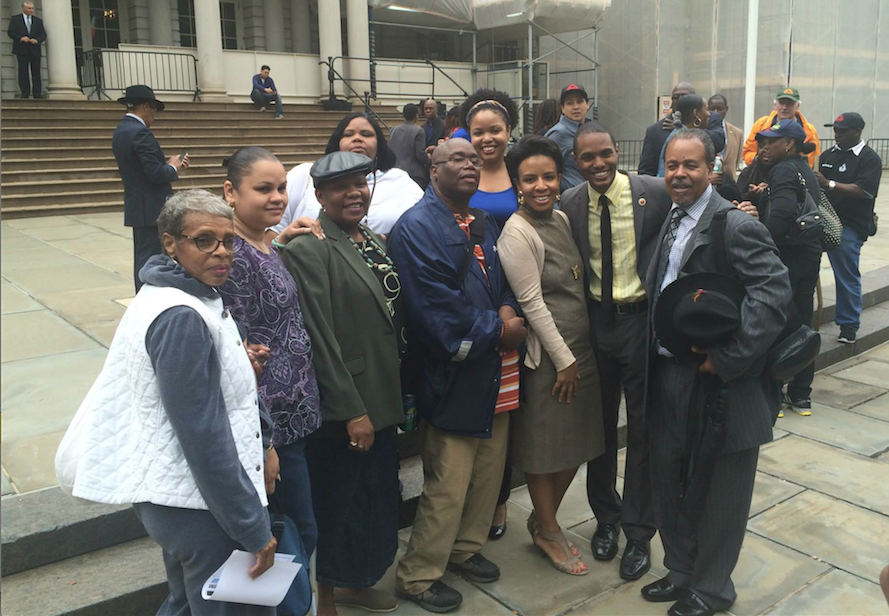 In response, Cumbo held a town hall meeting at the Whitman Ingersoll Community Center in Fort Greene with NYCHA Commissioner Shola Olatoye, where she pressed the commissioner about the future of senior centers and other public housing-related matters. The councilwoman later chartered a bus full of residents from Lafayette Gardens Houses to City Hall to testify on behalf of keeping the centers open.
Ultimately, all 57 of the senior centers were saved from cuts. Also, hours were extended at community centers, after Cubmo argued they should remain open for longer periods, given the recent spike in violence.
In addition, Cumbo helped secure $4 million in funding for The Coalition of Theatres of Color (CTC), an historical assemblage of 12 of the oldest multicultural theatrical and cultural institutions in New York, founded in 2004 at the urging of Ossie Davis and Ruby Dee to address inequitable funding for theatrical institutions of color.
Since its inception, the coalition-- which includes The Billie Holiday Theatre in Bedford-Stuyvesant-- has appealed to city officials for financial support toward renovation and marketing.
"I am proud of what my colleagues and I were able to accomplish over the past several weeks to pass a balanced budget that preserves critical services and programs both in the 35th Council District and for all New Yorkers," said Cumbo.
"As councilmembers and as a legislative body, we have met with and heard testimony from constituents whose input has weighed heavily throughout our negotiations to ensure that their needs are prioritized."