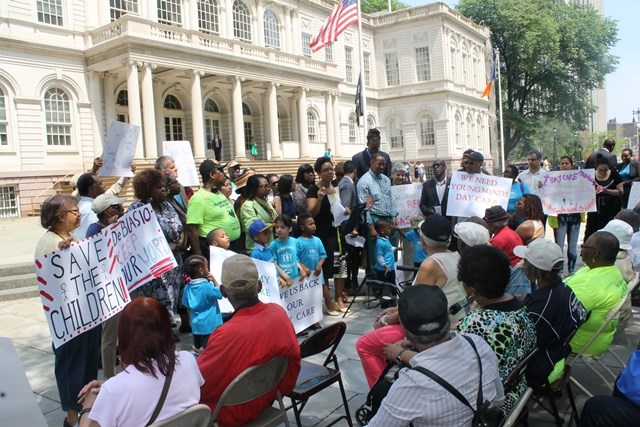 Earlier this year, through an EarlyLearn RFP process, 14 daycare providers across New York City found out they would not receive a financial award for the 2016 fiscal year from the Administration for Children's Services-- money that provides critical academic programs and services to young children-- because they did not outperform the providers selected by the Administration.
At least six of those 14 centers are in Brooklyn neighborhoods, including the Emmanual Day Center in Fort Greene, the John F. Kennedy Early Childhood Development Center in East New York, and the Young Minds Day Care Center in Clinton Hill. However, all of the centers serve the children of parents across all of the neighborhoods of Central Brooklyn.
In response, City Councilmembers Laurie A. Cumbo and Robert Cornegy, joined by other elected officials and parents in districts affected by the cuts rallied on the steps of City Hall Thursday afternoon to urge the Administration for Children's Services to restore funding.
"Stability and a high-quality education are crucial in the intellectual and social development of our children," said Cumbo, who is also chair of the Committee on Women's Issues. "The closure of our daycare centers would be detrimental to our community and places an undue burden on working families. Our youngest scholars deserve a fair opportunity to learn and excel, not a game of musical chairs with the redistribution of slots."
"For more than 30 years, the Young Minds Day Care Center has proudly served the families of Fort Greene, Clinton Hill, and Bedford-Stuyvesant," said Claudette Macey, executive director, Fort Greene Council, Inc. "Given our successful track record, the closure of this Center would be a devastating loss for more than 100 families who deserve universal Pre-K, childcare services, and after-school programming within their communities."
In addition to the Young Minds Day Care Center, the Pine Street Day Care Center, the Tremont Crotona Day Care Center, the Mary Walton Children's Center, the Audrey Johnson Day Care Center, the Williamsbridge Day Care, the Nasry Michelin Day Care Center, the Pamela C. Torres Day Care Center, Children's Growing Place, Small World Day Care, Afro-American Parents Day Care Center, Colony South Brooklyn Houses, Inc. were among the child care providers whose contracts were not renewed for the upcoming academic year.
"Low-income parents in New York City are worried about making the rent. They're worried about what the summer months will bring for the safety of their children and communities. They're juggling all of these worries, and work and child-rearing," said Cornegy, who is chair of the Committee on Small Business. "It's stressful and I'm unhappy that the city's management of its childcare contracts is adding to their stress."