The controversial development planned for 959 Sterling Place in Crown Heights — the same site as the Hebron Seventh Day Adventist School — has received a $55 million construction loan, but members of the community are not backing down in their fight against construction.
SCALE Lending announced that it would be financing the 150,000-square-foot, seven-story development, which the lender said will have 158 units, 48 of which will be set aside as affordable housing under the Affordable New York program.
Daniel Ridloff, managing director of SCALE Lending, said the company was "thrilled to continue our momentum from last year with yet another prominent project, and we are excited for what's to come throughout the upcoming year."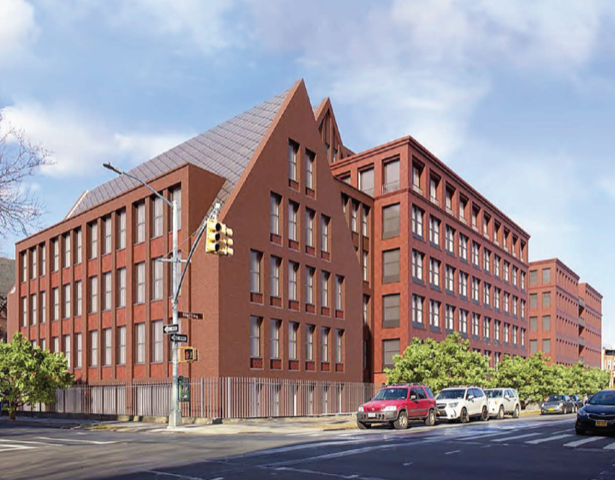 The project was approved by the Landmarks Preservation Commission (LPC) in May 2021 following a long back-and-forth process that included several design changes, and significant community opposition.
The development will be built on the site of a historic 19th century building that currently houses the Hebron Seventh Day Adventist School. The existing building's south wing will be demolished in order to build the residential development. In addition, necessary repairs would be made to the existing Hebron building, developers Hope Street Capital have said.
The LPC received nearly 300 letters in opposition following a hearing on the development last March, including ones from then-Councilmember Robert Cornegy, Community Board 8 and the Crown Heights North Association (CHNA). BK Reader reported at the time that the hearings on the development largely ignored the vocal community opposition.
"Thousands of residents, local officials and community groups were utterly dismissed after months of protest," a representative for Friends of 920 Park, a community group formed to fight the development, told BK Reader in May. "We put our weight against the door of an invading developer, and LPC has nonchalantly unlatched it, and let them in."
Despite LPC's approval of the development, Friends of 920 Park have not given up their fight against construction.
Just days ago, the group said on Instagram that it had hired a lawyer and was urging neighbors to support its legal defense fund.
"We are raising an additional $15K to cover our legal funds. 100% of your donations will go towards our legal fight," the group wrote.
"Now that the LPC has issued their 'certificate of appropriateness' we have secured legal representation with Hiller, PC to STOP THE DEVELOPMENT. Michael Hiller is a veteran land-use, zoning and preservation attorney who has a winning case record against the LPC."
The group added that Hiller was the recipient of the Historic Districts Council's Grassroots Preservation Award for 2017 in recognition of his achievements on behalf of community groups, neighborhoods, environmental organizations and preservationists.