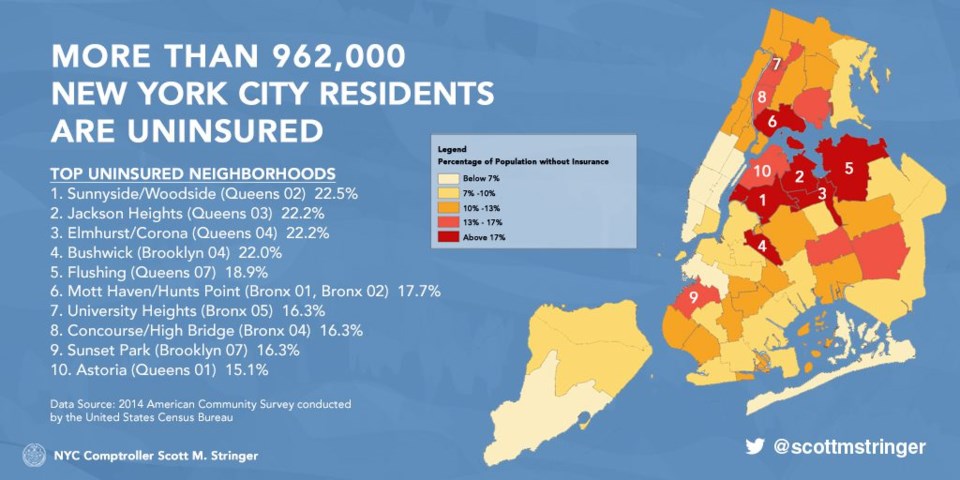 According to an analysis on healthcare coverage released on Monday by the NYC comptroller's office, the number of uninsured New York City residents has dropped 2 percent-- from 13.4% to 11.4 %-- since 2013.
But how much should the drop be celebrated, since the passing of the Affordable Care Act, after which the impact was predicted to be much greater?
The report found that, although the city experienced an overall increase in those who residents that now have healthcare insurance, more than one in ten New York City residents remain uninsured, and in parts of Brooklyn the number of those who lack healthcare coverage is as high as 22 percent.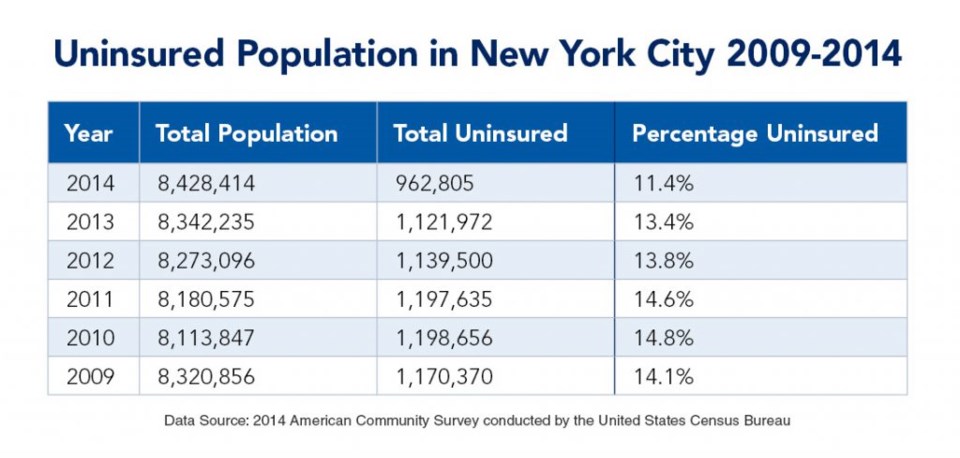 "Close to one million New York City residents lack even the most basic health coverage," New York City Comptroller Scott M. Stringer said.
"The situation is particularly dire in neighborhoods with large immigrant and younger populations like Jackson Heights, Corona, and Bushwick where close to one in four New Yorkers don't have health insurance. To ensure the long-term economic future of our City we need to make sure our residents are healthy and well. We want to get the word out: with the Affordable Care Act in place, getting health insurance is easier and more affordable than ever."
Percentage of uninsured in Central Brooklyn neighborhoods:
Brownsville (BK 16): 12.3% uninsured
Crown Heights North (BK 08): 12.2% uninsured
Crown Heights South (BK 09): 11.8% uninsured
Fort Greene/Brooklyn Heights (Bk 02): 9.5% uninsured
Bed-Stuy (Bk 03): 8.9% uninsured
East New York (Bk 05): 8.8% uninsured
The publication of this new data coincides with the beginning of the Affordable Care Act open enrollment period, which runs from November 1, through December 15 for coverage to begin on January 1, 2016.
Enrollment will remain open through January 31, 2015 for coverage to begin March 1, 2016.
Stringer said that although there is progress in reducing the number of NYC residents covered by health insurance, still more are needed, particularly as this year's enrollment period begins and there are affordable options.
"I want to encourage all New Yorkers to visit the New York State of Health Marketplace to find a plan and access critical information about the financial assistance that can make health care more affordable," Stringer said.
To see the full report, click here.