The Bed-Stuy community is rallying around the family of 36-year-old Jennifer Ynoa, who was tragically killed with her dog Blue in a shooting in a Bed-Stuy bodega on January 2.
A friend of Ynoa's family has launched a GoFundMe page to raise funds for the family of the mother of four, after she was killed while standing at the register of the Salim Smoke Shop with her 1-year-old pit bull.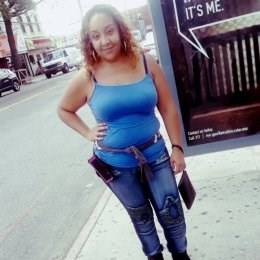 According to security footage, a man, who had pulled his car over outside the bodega, walked in and started shooting, striking Ynoa in the stomach and also shooting Blue. They made their way outside the store, but collapsed on the sidewalk, the footage shows.
The NYPD believe the gunman was aiming for another man inside the bodega. So far no arrests have been made.
Ynoa leaves behind her four children, who will be cared for by her sister, according to the GoFundMe.
"Jennifer was a 36 year old mom of 4 children," Marilyn Martinez, who launched the fundraiser, writes.
'Unfortunately, they were left without a mom. Her children were everything to her."
Martinez says that any funds raised will go towards the family to help with funeral costs and would "be greatly appreciated." So far, $9,685 of the $15,000 goal has been raised.
Animal advocacy organization PETA is offering a $5,000 for information on the man who shot Ynoa and Blue, with PETA Senior Vice President Colleen O'Brien saying in a statement the organization urged anyone with information to come forward "so that their killer can pay the price for this horrific crime."
"This dog suffered both the agony of being shot alongside his guardian and the helplessness of being unable to protect her, as loyal dogs invariably want to do," O'Brien said.
At the time of the shooting, Ynoa's boyfriend Carlton Busch told CBS2 that Ynoa could not have been a target of the shooting, saying "she doesn't have any enemies.
"She was supposed to walk the dog and supposed go to the store, probably get something to drink or something."
He told the New York Post he hoped the police could "come to a better conclusion than me."
"There should be justice. This is crazy. There's people going around with weapons. This was not a woman who was threatening anybody."
To donate the GoFundMe campaign, click here.