The nation is one month away from the start of Census 2020 on March 12, and key community stakeholders representing the city's hardest-to-count communities are arming up for what is, perhaps, the most important count in the city's recent history.
On Monday, February 3, at City Hall, the Center for Law and Social Justice partnered with the City for a roundtable discussion with news publishers covering people of African descent to enlist them in helping publicize and bolster participation in this year's Census.
Leading the media roundtable were Deputy Mayor for Strategic Policy Initiatives Phillip Thompson; NYC Census 2020 Director Julie Menin; Center for Law and Social Justice Interim Director Lurie Daniel Favors, Esq; Census 2020 Field Director Kathleen Daniel; NAACP President L. Joy Williams; United Way of New York City President Sheena Wright, Esq.; and Jennifer Jones Austin, Esq., CEO and executive director of Federation of Protestant Welfare convened a roundtable discussion with local Black-led media to insure the messages around this year's Census count reaches the areas where it is most needed: primarily underserved and under-resourced communities of Brooklyn.
"When we are talking to black communities, we have to recognize that there is a fundamental lack of understanding about what the Census is and how it connects to our day-to-day lives," said Daniel-Favors.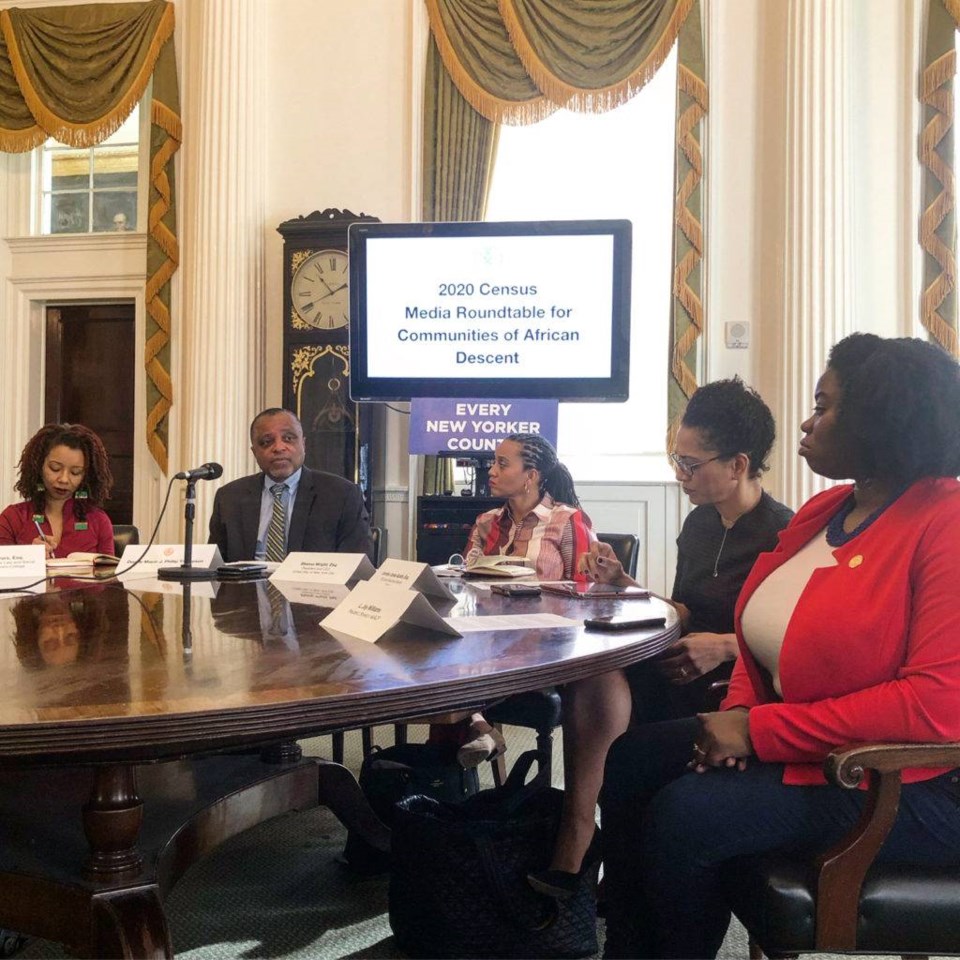 "We need people to understand that the Census is really just a survey, a population count. And that population count is fed into myriad federal formulas that determine how much each of us will get for SNAP, WIC, senior centers, hospitals, after school programs, affordable housing, all of the things we rely on... these are things that are measured according to that population count."
With a 61 percent response rate, Brooklyn (Kings County) in the 2010 Census not only was the most undercounted county in New York State but also the country. In the past, this undercount not only has led to a dramatic reduction in critical funding and resources but also a loss of political representation.
"The risk isn't spread evenly across all communities. The communities that are most vulnerable to losing representation are black and immigrant communities," said Thompson. "It's essential to get everyone engaged, especially black folks who feel that government doesn't really care about them-- which is something of concern, given our national administration right now."
Recognizing the Census response gap, the Center for Law and Social Justice in 2017 created the New York City Black Leadership Advisory Coalition (NYC BLAC), "Specifically because we were aware of what was happening in the national sphere and how it was going to trickle down to communities that we are all a part of," said Daniel-Favors.
"Representation means having a place at the table when it comes to the future of not only the City--but our nation," said Daniel-Favors.
The borough of Brooklyn already has had experience with low response rates impacting its political representation. In fact, in 1970, large swaths of Brooklyn were cited as being in violation of the 1965 Voter Rights Act because of this lack of representation, Williams pointed out. "And that had to do solely with an undercount in the Census that then resulted in redistricting and giving a low representation of people of color in this state.
"The reason we have the numbers in the City Council that we do now is because of law suits and a Supreme Court case in 1989 that got us to the number of city council seats that we have today. So it's all connected," Williams said.
The low response rate in the 2010 Census for Brooklyn translates to the borough missing out on 40 percent of the resources that would have been allocated to critical services, such as adequate numbers of day care centers, public garbage cans, senior centers and library branches, amongst other services. And barring a concerted education and outreach campaign, that 61 percent is predicted to drop as low as 50 percent in 2020.
"It's important to think about, What does my child need for the next ten years in their community?," said Williams. " When we frame the conversation about what our children need; what we need in senior services, you understand it's really about getting our fair share of resources."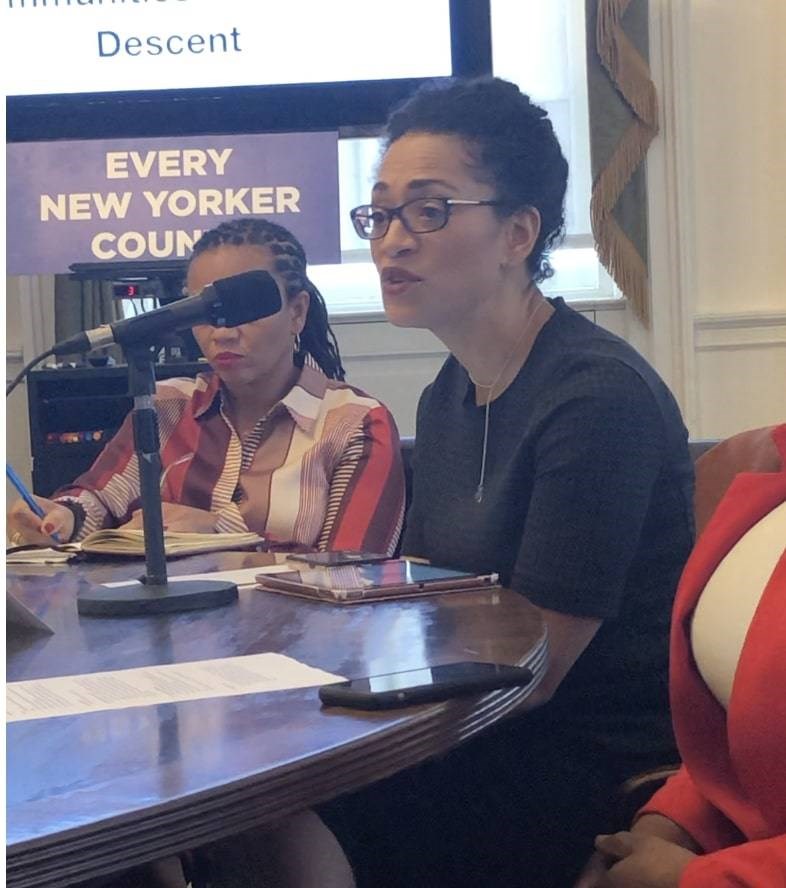 For the first time, the Census Bureau will rely primarily on internet responses — asking approximately 80 percent of the nation's households to self-respond through an internet portal or by using its automated voice response system. In the absence of self-response, Census Bureau workers go door-to-door to collect household data. Also for the first time, respondents will be provided a 1-800 number to call in their answers to the 10-question survey. And of course, there is the traditional card, mail-in option.
Also, for the first time on the Census, communities of color will be able to identify their race and their ethnicity (i.e., Black and Jamaican; or Black and Ethiopian).
"And while we might have our own opinions at the dinner table of the word "Black," depending upon which island, which borough or which part of the South you come from," said Daniel Favors, "What we need our communities of African descent to understand is that, in this country, regardless of how the word "black" is used in our neighborhoods and home, it is a protected racial category. So in this country, one must also indicate race."
Against the backdrop of a contentious election year and a federal administration working to suppress the political voices and power of POC communities, the stakes could not be higher for Census 2020 participation.
"We cannot stress enough the urgency of this matter; the seriousness of it and the impact," said Austin, of the upcoming Census. "When you look at black response, it's not just the families that rely on government, it's each and every one of us. We've got to complete this Census to to make sure we have the representation we deserve, come 2022 and 2024 in our respective communities."
"Representation means having a place at the table when it comes to the future of not only the City--but our nation," said Daniel-Favors.