Residents and community leaders gathered on Sunday in Canarsie for a rally calling on the city and state governments to provide more funding for education and social programs in their neighborhood, in the wake of an uptick in shootings and violence during the pandemic.
"We have to focus on what creates violence," City Councilmember Charles Barron, who represents an adjacent district, said in a press conference held Sunday evening outside the Rockaway Parkway subway station:
"More violent than guns is poverty. More violent than guns is unemployment. More violent than guns is a lack of mental health services."
The event, which follows Mayor Eric Adams' visit to Canarsie last week for an NYPD showcase of gun violence arrests, was an emotional one, starting with a passerby who interrupted Jibreel Jalloh, founder of Canarsie advocacy group The Flossy Organization, to shout at city leaders to "stop the bulls***" punctuated with the repeated sound of police, fire and ambulance klaxons.
"As you can see, our community is in crisis," Jalloh said halfway through the event. "Every couple minutes, there's sirens going on."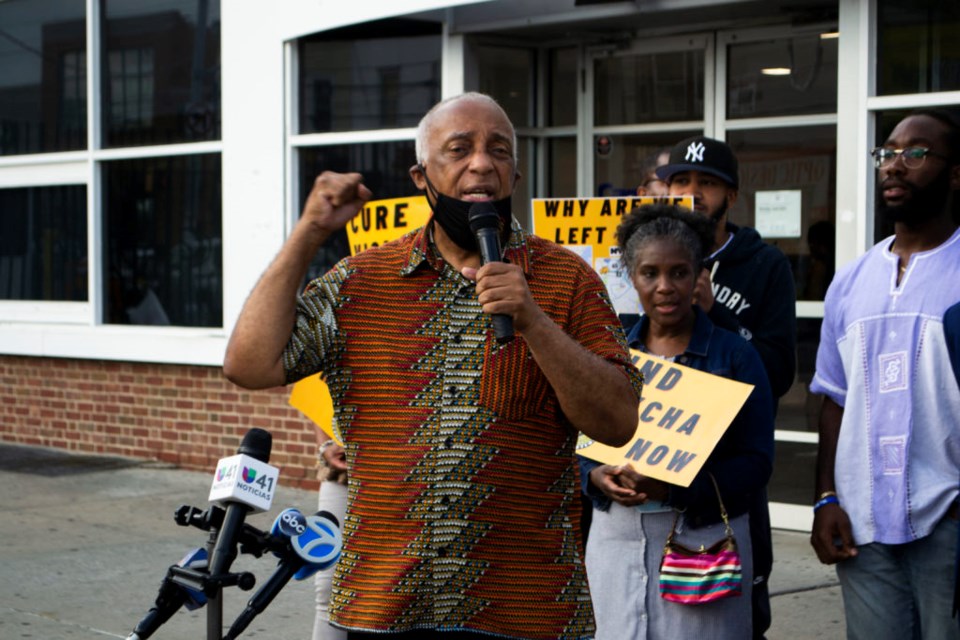 Barron decried the amount of city funding going to police in this year's budget. Though a budget deal reached earlier this month keeps police spending flat, Mayor Eric Adams had wanted millions to increase jail staffing and slightly increase the police budget.
"When you have groups like the NYPD getting $11 billion dollars," Barron said, "and violence is up 41 percent, you don't need more police, we need more jobs."
While murders in New York City remain down significantly from their heights in previous decades—there were 488 in the city in 2021, compared to 2,262 in 1990—majority-minority neighborhoods like Canarsie have long seen lower levels of funding for things like schools and community centers and higher levels of shootings and gang-related violence in comparison to their whiter, more affluent counterparts.
And the pandemic has seen an uptick in that violence: That number of murders in 2021 included 11 in the NYPD's 69th precinct, which serves Canarsie, up from four the year before.
Just the Friday prior to the press conference event, 25-year-old Isaiah Bowman was shot to death in the New York City Housing Authority's Breukelen Houses complex. Canarsie has seen other killings this year, too, including the shooting of 22-year-old rapper TDott Woo.
Specifically, the leaders at the Sunday event, which also included Councilmember Mercedes Narcisse and Assemblymember Monique Chandler-Waterman, were there to call for a Cure Violence crisis management program to be added to Canarsie. Other neighborhoods in the city's high risk crisis management system have seen a 40% decline in violence over the previous decade.
"It's not acceptable to have children killing children," Narcisse, who represents most of Canarsie, said. "No community, no mothers, no fathers want their kids to die so early, under 20 most of them."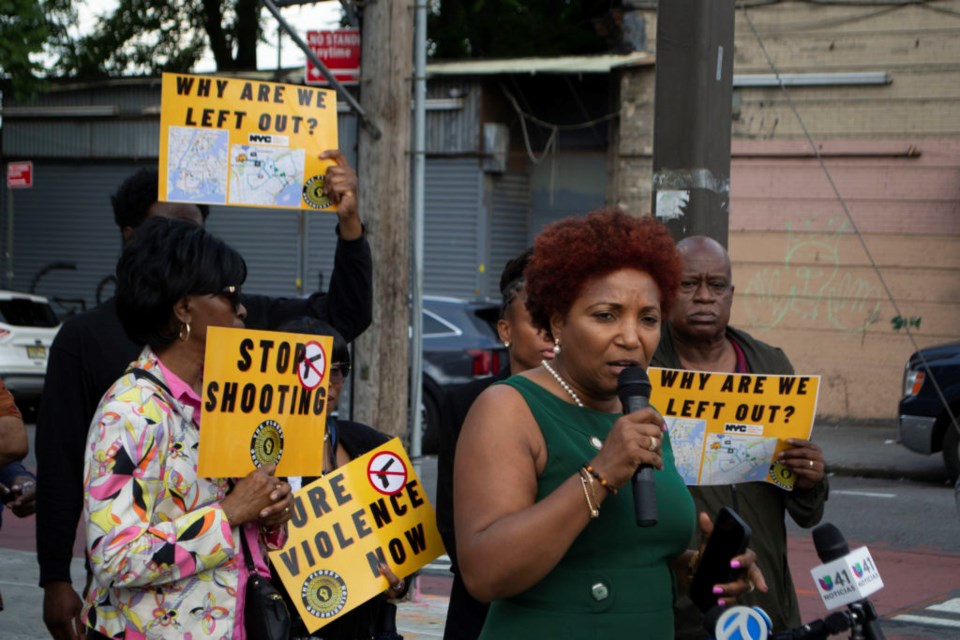 But they drew attention to other systemic issues as well.
"If I don't know where I'm gonna lay my head at night because I can't afford rent or my mortgage, how can I function as a human being? If there's no equity in education, how can I function?" Chandler-Waterman said. "The trigger is pulled when we don't have adequate education. The trigger is pulled when we don't have affordable housing—true, income-targeted affordable housing. The trigger is pulled way before the trigger is pulled—why are we surprised when it's physically pulled?"
The community leaders said it was important to highlight the issue now, at the start of the summer months that typically see a spike in gun violence.
"Unfortunately for us, when the sun comes out, the guns come out," Barron said. "This is gonna be a long, hot summer."