On Wednesday evening, Community Board 5 had their final general meeting before the summer recess. As part of the board's neighborhood tour, they gathered at P.S 346 in Starrett City. Before starting the meeting, Chairman Andre Mitchell announced that the board is seeking input on how to run better meeting for this coming September.
In the meantime, they continued on with what Mitchell called the "unorthodox but appropriate" practice of letting the community address the board first.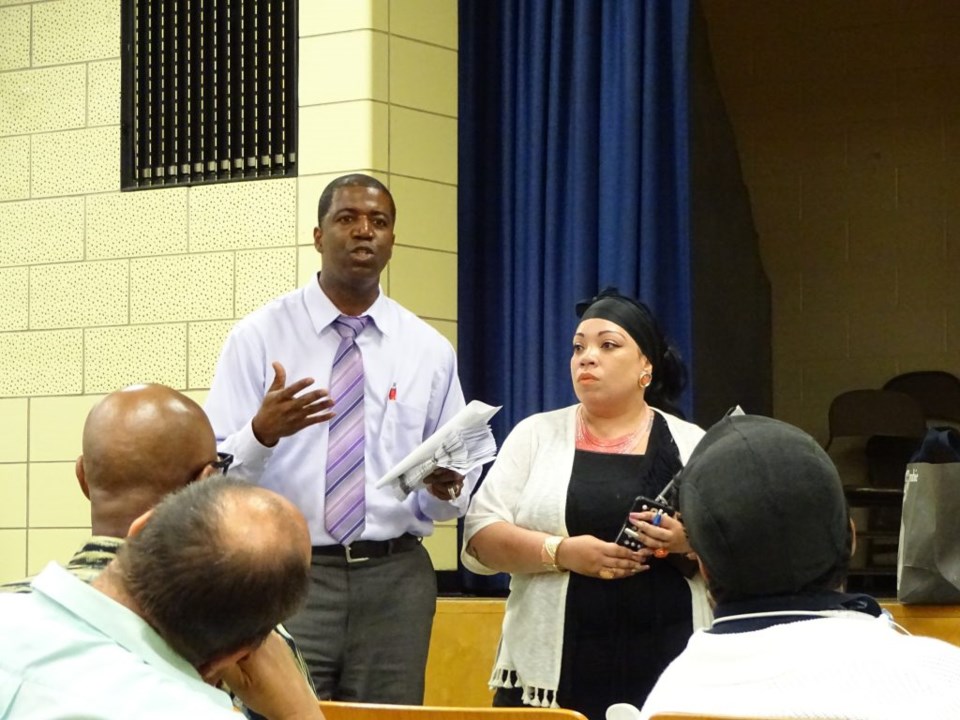 Community Speakers
Non-profit environmental organization, NYC H20 informed the community that it will be hosting a horseshoe crab discovery walk on Saturday, June 25 at Plumb Beach. In addition, they asked for the community's help in caring for the Highland Park Reservoir. The group is conducting a survey of what the community would like to see happen there.
The COO for Healthcare Choices announced the opening of an additional location at 179 Jamaica Avenue. There will be a ribbon cutting ceremony on July 19. Healthcare Choices is also seeking to fill the positions of receptionist and medical assistant at its new location.
Healthy Women, Healthy Futures wanted to make the community aware of its services providing emotional and physical support for expectant and new mothers. The will host mothering events this summer and encouraged people to visit their website anewcs.com.
Sisters Building Sisters, a group that helps foster relationships between women and girls, announced that it will hold a Big Hat and Tea Cup event at Success Gardens on July 16 from 1:00pm - 5:00pm. The group encourages attendees to "bring your fashion and strut your stuff." On August 16, the group will also hold a "Free Your Mind" event at Gershwin Park.
Millennium Development asked seniors to utilize their services. They offer breakfast for seniors for 30 cents and lunch for $1, though they will not turn away any senior who cannot afford these prices. Seniors also have access to dances, club activities and classes. Millennium Development is located at 895 Pennsylvania Avenue.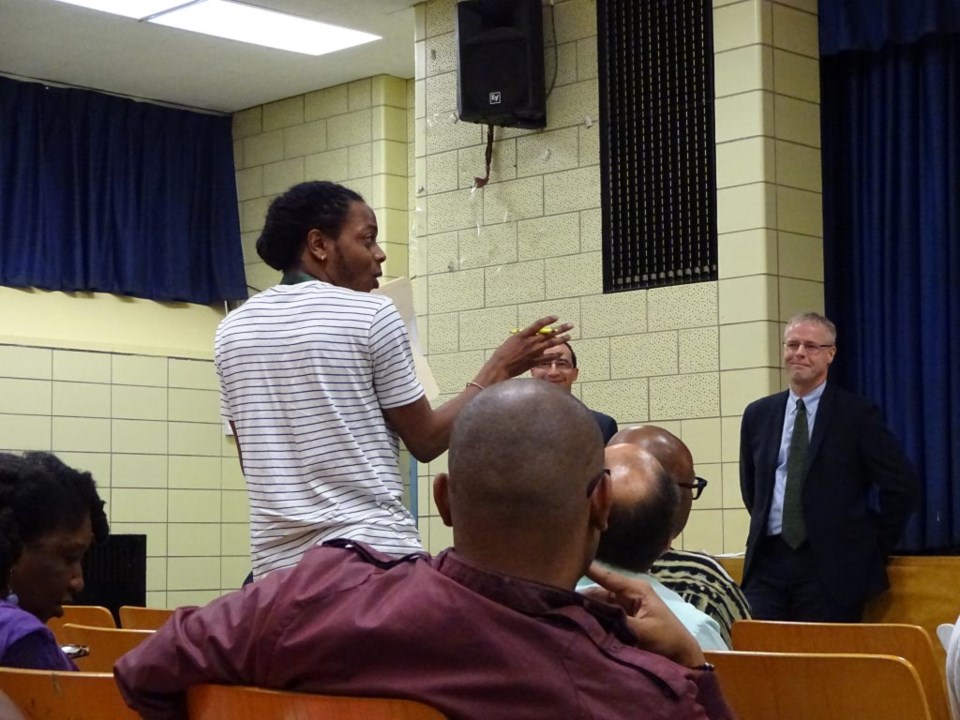 Presentations
The Department of Transportation came before the board with two presentations for the night. The first presentation informed the board that the DOT is looking to bring staff to community events to get input on bike lane installations in the area.
The DOT's second presentation concerned making changes along Conduit Boulevard to increase safety for pedestrians. The boulevard has seen four pedestrian fatalities and 10 severe injuries since 2008, making it one of the highest areas for the DOT's concern in Brooklyn. The DOT proposed reducing the speed limit for 40 miles an hour to 30 miles an hour, extending sidewalks and making zebra-striped crosswalks for more visibility.
At the intersection of Conduit Boulevard and Pine Street, as well as at Grant Avenue, a new traffic signal will be installed. At Conduit Boulevard's intersection with Glenmore Avenue and with Pitkin Avenue, they propose creating a new crosswalk and banning left turns. At Liberty Avenue, they propose a new crosswalk and sidewalk extensions.
The DOT sought a letter of recommendation from the board; however, the board was two members shy of making quorum, causing them to table this and other decision-making for the night. The board did question the DOT representatives about what is being done at Drew Street and Loring Avenue, an intersection many consider to be dangerous. The DOT was unable to provide the board with a satisfactory answer at the time, so Chairman Mitchell encouraged them to return with someone able to address this concern.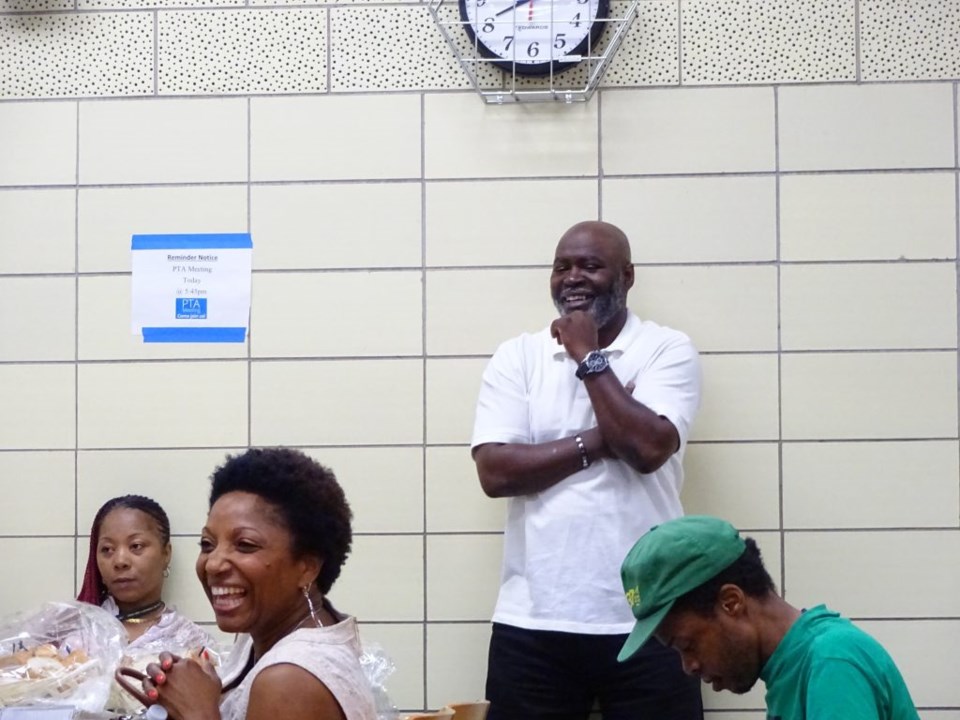 Two representatives from the MTA informed the community on the L line reconstruction that will take place in 2019. The representatives said one of two options for repairs will take place: The first option, which one representative called, "ripping off the band-aid sooner," would have the L only running in Brooklyn from Lorimer Street to Rockaway Parkway during 18 months of repairs. There would be no L service to Manhattan, but affected commuters will have bus and ferry options to get into the city, as well as a free transfer to the 3 train line from Lorimer Street station.
The second option would result in 36 months of repairs but provide limited L service in both Manhattan and Brooklyn. Shuttle buses and free transfers to the 3 train will still be offered. No matter which option is chosen, the MTA assures that there will be L service in East New York. They expect to make their final decision in late July or early August.
Dr. Torian Easterling, the assistant commissioner of the Department of Health and Mental Hygiene, announced the publication of the East New York Health Profile, which contains health statistics on the area. Also, as we are now two months into mosquito season, Dr. Easterling advised taking precaution against the Zika virus and mosquitoes in general. Dr. Easterling recommended not traveling to countries where the virus is prevalent if you are pregnant or are planning to start a family. He also said to eliminate standing water or call 311 to take care of it for you.
Community Board 5 will not hold another general meeting until September. However, it may hold committee meetings over the recess.