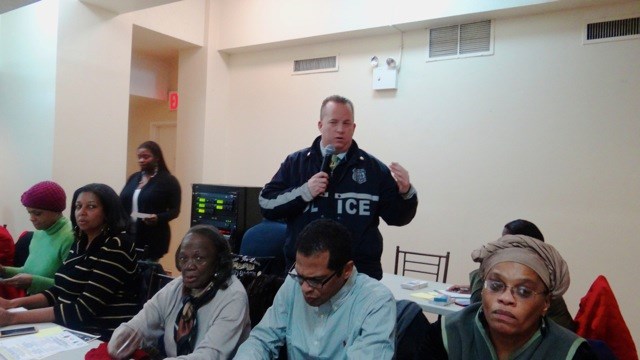 Community Board 3, covering the neighborhood of Bedford-Stuyvesant, held its monthly council meeting Monday, January 5.
The meeting opened with remarks from Chairperson Tremaine S. Wright, followed by updates from the district offices of local elected officials.
The first half of the meeting centered around the killing of two NYPD officers in Bedford-Stuyvesant on December 20 by a mentally unstable 28-year-old man who then shot and killed himself. The shooting deaths of officers Wenjian Liu and Rafael Ramos dominated the news nationally, as the shooter claimed his aim was to avenge the chokehold death of Staten Island resident Eric Garner by a police officer who was later exonerated by a grand jury decision.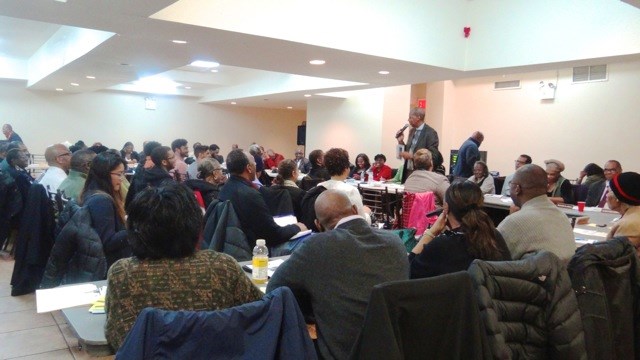 City Councilmember Robert Cornegy, Jr., opened the discussion with a focus on community-police relations and the need to begin a process of healing, beginning with a peace vigil organized by his office.
The second half of the meeting centered around burgeoning MWBE opportunities for local contractors at Building 77 of the Brooklyn Navy Yard, as well as informational presentations and a public hearing for a liquor license by Brooklyn Nights.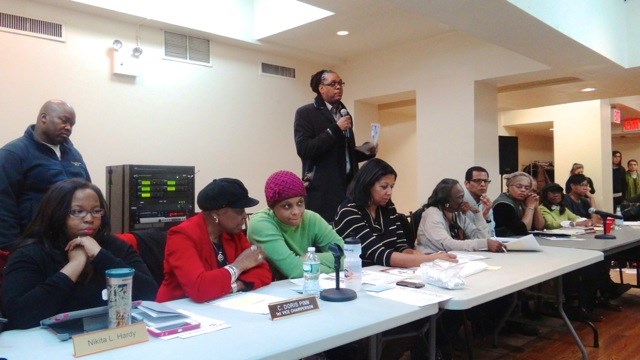 Remarks From Elected Officials
Robert Cornegy acknowledged and commended the Bed-Stuy Ambulance Corps who were the first responders to the December 20 shooting. He also played up the crime reduction, which he tied to an actual improvement in community-police relations:
"There's actually a 33 percent crime reduction on the north side of Bedford Stuyvesant. You don't get a reduction by over-policing," said Cornegy. "You get it by a community police relations.
Deputy Inspector John Chell of the 79th Precinct spoke briefly about his commitment to continually improving relations, as well as reducing crime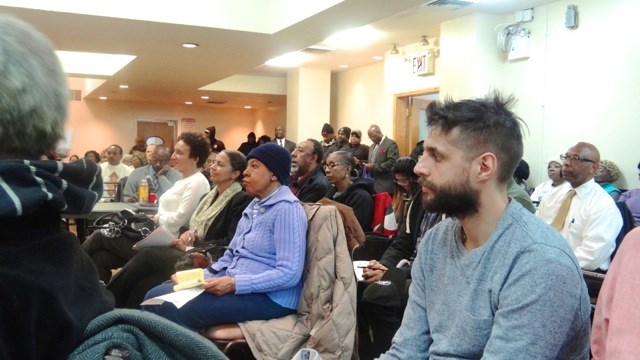 Cornegy announced a "Peace March and Vigil" organized by his office, along with local clergy in the community, taking place on Sunday, January 11, from 2:00pm — 4:00pm. Churches and some members of their congregations planned to march, leaving from their church home and walking to Restoration Plaza, to honor the 18 individuals that were lost to shootings in 2014.
"We will be releasing sky lanterns and beginning a healing process with a declaration that we will be the most peaceful community for 2015," said Cornegy. "And we need a good relation with our police departments, our clergy and our local business, in order to make that happen."
The office of Congressman Hakeem Jeffries: Lee Church announced the congressman's 2nd Annual State of the District address on, Jan 29, at LIU's Paramount Theatre, 6:30pm, seating is limited. Please RSVP 718-237-2211, jeffries@house.gov
Councilmember Laurie Cumbo: Cumbo announced that Jan 7 marked the opening of Bldg 77 in the Brooklyn Navy Yard, where over 3,000 jobs will be created for MWBE's, across a a number of different types of professions. You can call her office surrounding workshops on local workforce opportunities, along with information on weekly legal clinics that offer free legal assistance, at 1 Hanson Place, Ste. 201.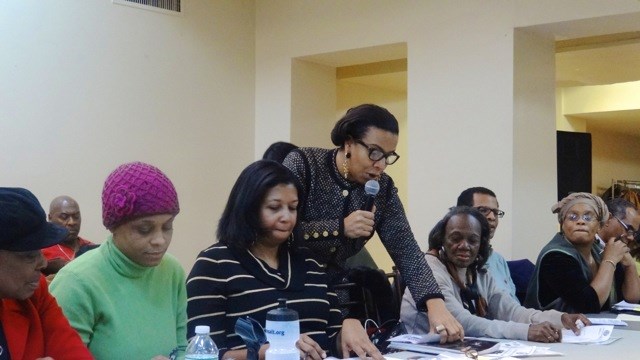 Also, Cumbo's office, along with a majority of the elected officials around Central Brooklyn will be holding a community discussion on the "Affordable Housing Crisis," on Thurs. Jan 15, from 6:00pm - 8:30pm, at the Lafayette Avenue Presbyterian Church:" It's a discussion so that we have an understanding what affordable housing will look like in our district," said Cumbo.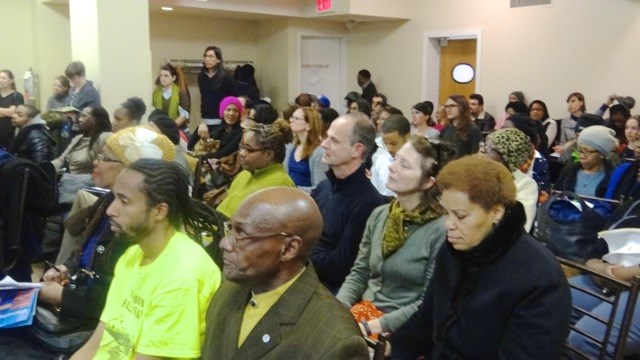 City Councilmember Steven Levin: A representative from his office announced that the state was commissioned the DOT to conduct a street study in S. Williamsburg and a part of CB3 (Bed-Stuy). On January 20, at 6:00pm at the Marcy Library, there will be a presentation by the state DOT to report the findings of the their study. Community feedback will be welcomed and accepted at that meeting.
I. INFORMATION PRESENTATION
The Mayor's Office to Combat Domestic Violence sent a representative from the NYCHA Domestic Violence Response Team, a new initiative that will be launching in CB3. Will be doing outreach to educate people on the issue of domestic violence, sex trafficking or elder abuse. Grassroots outreach to alert people to the services are available, and how to connect people to the family justice centers. You can come to these one-stop-shops, and there will be a steam of workers, case workers, lawyers, so that people can be serviced for free in one place. Call 212-788-2602 to schedule an appointment or walk into any Family Justice Center. This initiative is specific to 15 designated NYCHA locations are across the five boroughs. Tompkins Houses is the Bed-Stuy Location.
Nelson Stoute, Committee Chair of the Transportation/Sanitation/Environment Committee hosted presenters from Citi Bike to discuss the upcoming expansion of the Citi Bike program into CB 3. Actually, the Phase 2 will add 6,000 Citi Bikes and about 375 stations. The representatives pointed out that the new sites were allocated years ago, but were destroyed during Hurricane Sandy. The new effort is actually a renewed effort to move forward with the original plan. Site plans (locations) for all CB3 locations have been completed, have been shared and posted on DOT's web site. By end of spring, early summer will begin seeing some of the stations erected. Stout pointed out that anyone who has any questions or concerns can attend the next committee meeting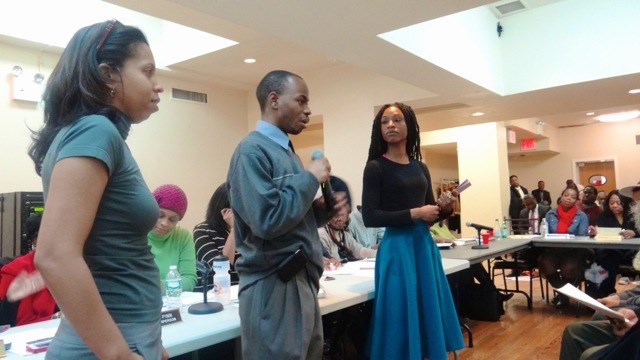 II . PUBLIC HEARING
CB3's Economic Development Committee introduced Dathan Jones, owner of Brooklyn Nights, located at 497 Dekalb Ave, and his legal counsel Bob Romano whom, together, were requesting a letter of support for an alcohol beverage control license.
The committee moved to approve the request.
Community Board 3 meets the first Monday of each month, 7:00pm, at Restoration Plaza, 1368 Fulton Street, basement level.