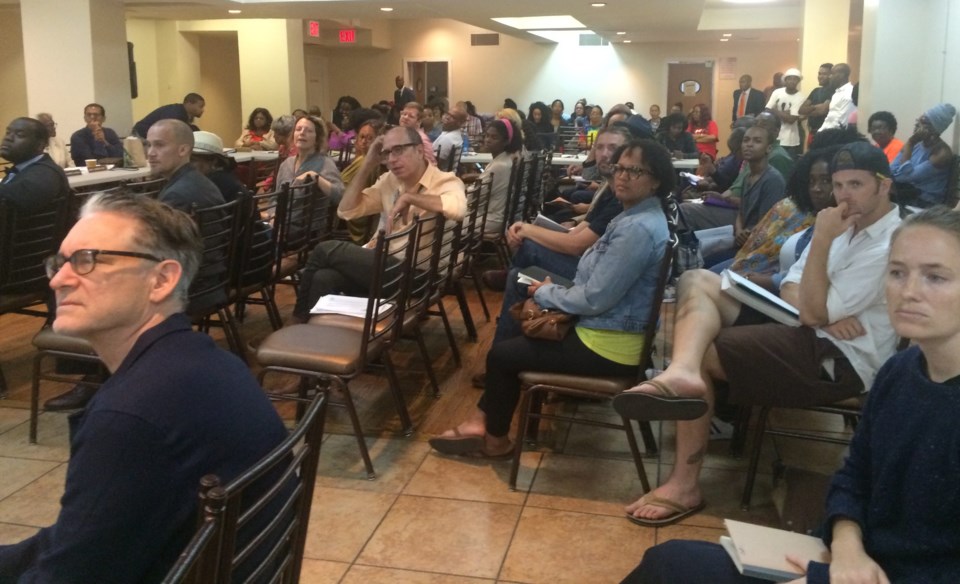 Community Board 3 had its first meeting of the 2016-2017 season this Monday. With new members to welcome, a summer's worth of announcements to be made, and the primary elections the next day, this was by no means a slow start.
The packed-full evening started out with an opening address from Chairperson Tremaine Wright, now the state assembly member for District 56. Vice Chair Omo Holloway ran the meeting afterwards.
Announcements and updates from the second half of summer filled the first half of the meeting as representatives from elected officials and city departments reported in. Some highlights include:
Deputy Director for the Office of Public Engagement Shelton Jones, from District Attorney Ken Thompson's office, announced the success of a Gun Buyback in August which brought in 56 guns including several assault rifles.
Assistant Commissioner Dr. Torian Easterling of the NYC Department of Health and Mental Hygiene announced a new clinic to meet "necessary medical needs" starting in 2017 in response to continued demand from residents. He further addressed recent concerns with the sales of K2 and increased cases of Zika. He noted that mosquito season continues through to November, and that cases in NYC have been the result of travel, often to home countries in South America and the Caribbean. He urged people to not travel to these countries if they are pregnant or likely to get pregnant.
Kathleen Daniel from the Borough President Eric Adams' office announced that a Smart Gun Design Competition is underway with a $1 million prize for the winning design. She further announced mini-grants of $1500 from the Brooklyn Arts Council for cultural organizations to promote the arts and tourism in Brooklyn.
The new 81st Precinct Community Council President Daniel Fisher introduced himself and announced a new season of meetings at the Bedford-Stuyvesant Multi-Service Center at 1958 Fulton St. The council meets on the second Tuesday of the month.
On the main agenda was an informational session on kidney health from the Rogosin Institute, and a public hearing from the NYC Parks Department.
The board voted yes to provide a letter of support for renovations to the historic building in Fulton Park following the public hearing from Chief of Staff of the Parks Department Martin Maher.
Program Manager Molly Phillips of the Rogosin Institute spoke about kidney health, how diabetes and high blood pressure are the major contributors to kidney disease and kidney failure and organ donation. Pointing out that the vast majority of people with kidney disease aren't aware until it's far into its progression, she urged everyone to ask their doctor to test for kidney function, a simple blood or urine test.
She came as part of an multiple organization initiative started by the Obama Administration to increase organ donation rates. She noted that one organ donor can save up to 8 lives and impact a further 50 or more. They are starting with the goal of surveying 10,000 people in New York City to find out attitudes toward organ donation in order to identify both barriers to seeking transplant and barriers to donation.
Chief of Staff of the NYC Parks Department Martin Maher gave a presentation on the proposed renovations to the historic brick building in Fulton Park. The proposal mainly aims to make the existing comfort station more usable and appealing. The plan includes adding accessibility ramps, getting rid of the clutter in the central colonnade, opening up that space on the plaza side, and adding recessed lighting for safety. The bathrooms will get wheelchair accessible toilets, baby changing stations on both sides, and all new porcelain fixtures. In response to questions, Maher answered that there are no plans to change anything on the building's exterior which was originally built in 1910 and renovated in the 1990s, that traffic in the area will not be effected, and that construction is expected to take between 12 and 15 months from the start of construction.
The Community Board voted to grant the Parks Department the letter of support requested. The next meeting will be Monday October 3.
Further announcements during the meeting included:
The bus shelters at the Franklin Avenue Shuttle will be moved forward, and an art project is being planned for the wall. New lights on Lefferts Place and Franklin Avenue will hopefully improve safety.

District Manager Henry Butler gave an update on the

proposed shelter

at

1217 Bedford Ave.

noting that

Breaking Ground

, the not-for-profit that had responded to the RFP (request for proposal) from the city, had not yet submitted a proposal to the DHS.

Respresenting DA Ken Thompson's office, Shelton Jones also announced convictions in two major cases. The last gun runner caught last year transporting guns into Brooklyn was sentenced, receiving

10 plus years

, and a Brooklyn man convicted of stealing properties received

18 years

.

From Council Member Stephen Levin's office, an announcement was made that his bill to ban the use of hydro-fracking by-products in the city was

signed into law

by Mayor Bill De Blasio. Oil waste by-products from the fracking process are used to de-ice roads. This ban makes New York the first city to ban the use of fracking by-products.

Carl Luciano, from Council Member Darlene Mealy's office, urged residents to take advantage of free legals services available three days a week through the council member's office.

Dr. Easterling also mentioned the Healthy Start Brooklyn monthly meeting coming up September 20 from 10am to 12pm at 485 Throop Ave. in the basement auditorium.

Nicole Wright of Council Member Robert Cornegy's office announced two recent bills, one addressing commercial tenant harassment, and a

lactation bill

.

From the City Comptroller Scott Stringer's Office, Hispanic Heritage and Polish Heritage events are upcoming on September 20 and October 7 respectively.
Announcements from the community included:
-Programs and events are ongoing at Brooklyn Public Library locations for

older adults

, including Creative Aging classes and books by mail. Architectural tours are also being given now in celebration of the library's

75th Anniversary

.

-John Joyner Jr. introduced his ongoing

petition

in support of the building of the shelter at 1217 Bedford.

-Kimberly Hill on behalf of Alpha Kappa Alpha Sorority announced a event for women in business at the Central Library Info Commons on October 1 from 11am to 3pm with refreshments served.
Community Board 3 meets the first Monday of each month at Restoration Plaza, 1368 Fulton Street, at 7:00pm. The next scheduled meeting is on Monday, October 3.