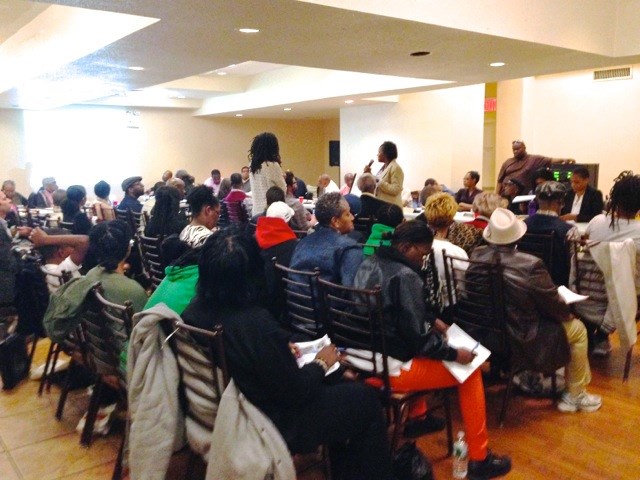 Community Board 3, covering the neighborhood of Bedford-Stuyvesant, held its monthly council meeting Monday.
The meeting provided updates from district electeds and centered around three public actions to approve liquor licenses at new restaurants coming to Bedford Stuyvesant.
ANNOUNCEMENTS
City Councilmember Rob Cornegy announced that his office would be co-hosting a Lien Sale Help Night May 7, from 5:00pm - 8:00pm at Restoration: "If you're on that lien sale list, this night you can make a payment plan or find out about help services by DEP or the Department of Finance," said Cornegy. He also mentioned that his Door Alarms Bill is in committee awaiting final approval, after which time it will go to the floor for a vote. He is hoping that by September, the bill will have passed and all doors in public schools across the city will be equipped with alarms.
Michael Smith, representative from the office of Assemblywoman Annette Robinson, announced a forum with state legislators to discuss the budget, and how it will impact the community. The forum will be held on Thursday, May 22, at 7:00pm at Restoration.
Scott Henderson, 81st Pct Deputy Inspector, introduced Officer Tiffany Mitchell, the new community affairs officer who will replace Officer William Manderson. He addressed the 16 shootings that have happened in the precinct over the past three months: "We will be addressing some of the shootings in the area," he said. "One of the things we focus on are the block parties when they're ending. People who don't even live on the block hear the music, see the food, come out at the end and that's where some of the problems start. So certainly we're going to looking to reduce that."
Shelton Jones, community liaise in the Brooklyn D.A.S office, announced that last week, in conjunction with the police department, there was a 558-count indictment against 6 individuals who were transporting firearms from the South into Brooklyn.
Oma Holloway announced that on Saturday, May 10 is "Flower Bed-Stuy" at the Quincy Senior Center, beginning at 8:00am; on May 21, the Youth Advisory Council will hold a career education and resource fair for 16-24 yr. olds, offering internship programs, clothing, employment opportunities, coaches for resume workshops at Restoration, from 3:00pm - 7:00pm; On May 31 will be a Youth and Community Cultural Fair in Northern Bed-Stuy on Tompkins Avenue btw Myrtle and Vernon Avenue, offering resources and information for the entire family, from 1:00pm - 6:00pm.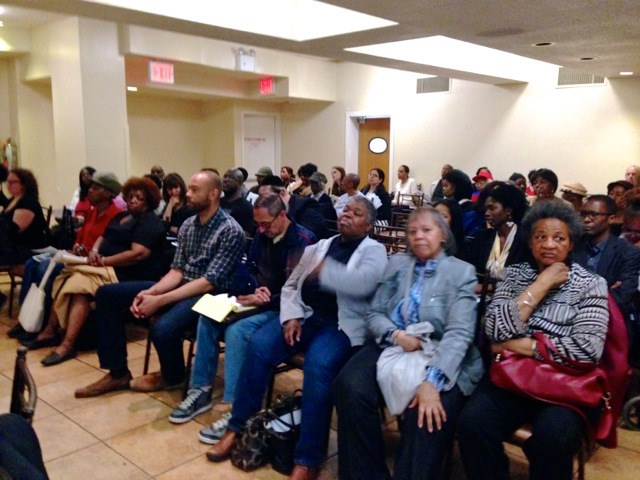 INFORMATIONAL PRESENTATION
The Bedford-Stuyvesant Museum of African Art gave a presentation on creating an African Cultural Museum in Community Board 3, presented by Ms. Vira Jones, executive director of the CB3 Committee for Parks, Arts & Culture.
PUBLIC HEARING
The Housing and Land Use Committee introduced Rothkrug, Rothkrug & Spector LLP, who requested a letter of support for two special permits to build a physical cultural establishment (A Planet Fitness) within the existing buildings on the premises of 1245 Fulton Street (between Bedford and Nostrand).
The Economic Development Committee introduced the owners of three establishments requesting a letter of support for an alcohol beverage control license:
1. Dinners 4 Winners dba "Blind Pig," at 562 Halsey Street (btw Stuyvesant and Malcolm X), currently Celestino's. Lawrence Page, owner, and Anastasia Witt, manager, said their current restaurant, "The Pink Teacup" located in Fort Greene, was doing well. So they wanted to open a second one in Bed-Stuy because "Bed-Stuy still has culture." The establishment will be serving "comfort food," such as Cajun food, étouffée, catfish, grits, jambalaya. The restaurant will offer breakfast, lunch and dinner, opening at 8:00am, also opening on Sat-Sun, kitchen closing around 11:00. The plan to open at the end of June.
2. Brown Liquor Alchemy LLC presented for its new bar and lounge, Khemistry, located at 216 Malcolm X Boulevard (between Jefferson and Putnam). The two owners, Kristen Amendola and Shana Cooper plan to open by late summer, early fall.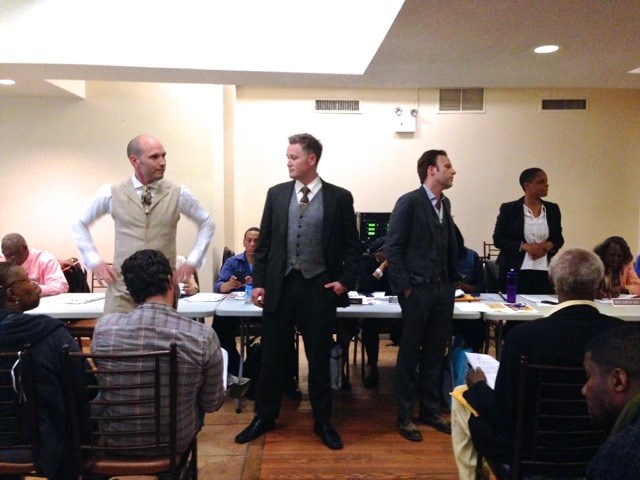 3. The three owners of Silver Lining Bar, LLC, located at 1223 Bedford (at the corner of Halsey) said their establishment will be a jazz club and bar/lounge that "harkens back to the refined and civilized era of drinking." It will be a gentlemen's drinking bar, with live jazz and jam sessions and great spirits.
The committee moved to approve all of the requests.
Community Board 3 meets the first Monday of each month, 7:00pm, at Restoration Plaza, 1368 Fulton Street, basement level.