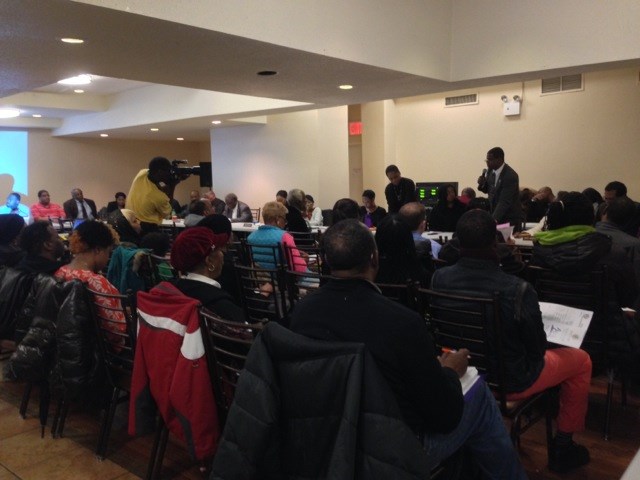 Community Board 3, covering the neighborhood of Bedford-Stuyvesant, held its monthly council meeting Monday. The meeting provided updates from the mayor's office and district electeds and centered around a public action to approve a liquor license at a new restaurant coming to Franklin Avenue. Announcements:
A representative from the office of D.A. Kenneth Thompson introduced the launch of a new "Action Center Hotline" a 24-hour hotline for residents to call in complaints surrounding suspicion of corruption by public officials, police officers or anyone receiving funding from the government. The hotline is also made available to residents to talk to someone about issues they are confronting as a crime victim or witness. The hotline number is (718) 250-3820.
A representative from the mayor's office provided an update on the Universal Pre-K and after school programs, both of which have recently received budget approval from the state. Next-steps is getting kids enrolled, she said. Parents can apply online here.
A representative from the Brooklyn Public Library announced the 2nd annual Bike the Branches, a fun one-day bike ride where bike riders can discover Brooklyn while also support Brooklyn Public Library at the same time. The event kicks off Saturday, May 17.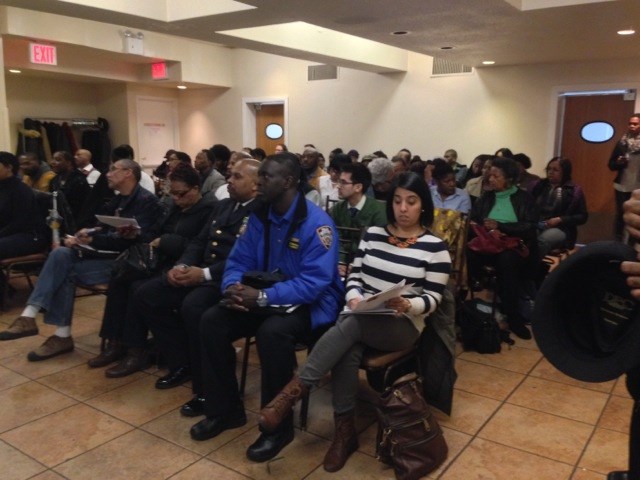 A representative from the office of City Councilmember Stephen Levin talked about Participatory Budgeting, an initiative that allows the council members to allocate a certain portion of funds allocated by the residents of the district. Community sessions will begin in August at which time the neighborhood assemblies can advice on what kinds of things the councilman should be funding, specifically capitol projects (things that can be built). These ideas become proposals which get feedback from the city agencies, could include repairs to playgrounds, sidewalks, renovations can be placed in this proposal. Gives power to the residents of the community to make a difference in what agencies might miss or might not be doing. Currently, 10 council members out of 54 take part in the participatory budgeting process. Councilmember Robert Cornegy of the 36th District, representing Bedford-Stuyvesant and Crown Heights, does not participate.
This Tuesday, April 8, there will be a Transportation Committee meeting at the Community Board office, located at Restoration Plaza at 6:30pm. They will be discussing the controversial issue of slow zones. The public is invited.
An elevator will be installed at the Utica avenue station; should go into service at the end of April or early May.
A new Select Bus Service stop will be installed along the B44 route on Nostrand and Bedford avenues at Gates Ave. The new bus stop will be here sometime in May.
Informational Presentation
The Transportation, Sanitation & Environment Committee brought in guests Charles Sturcken, director of Economic Development at the Department of Environmental Protection to give a presentation on how to address noise violations in the neighborhood. He also invited restaurant owners to take part in workshops on how to properly dispose of oil and grease, which is the number-one cause of pipe corrosion and flooding in drains. "We have a tremendous problem of grease buildup in the pipes and in the buildings," said Sturcken. "What happens is it gets into the city sewers, it builds up in the pipes and causes flooding 60 percent of all flooding in the U.S. is caused by grease in the sewers. We are beginning to regulate the business to make sure they are disposing the grease properly. "We will be fining but also running workshops to those business that accumulate a great deal of grease, but we would be more than happy to come to the community and hold workshops."
Public Hearing
Restaurateurs "Three and a Half Men,LLC" made a request for a letter of support for an alcohol beverage control license. The restaurant will be located at 323 Franklin Avenue, between Greene and Clifton (they are the co-owners of Mayfield in Crown Heights).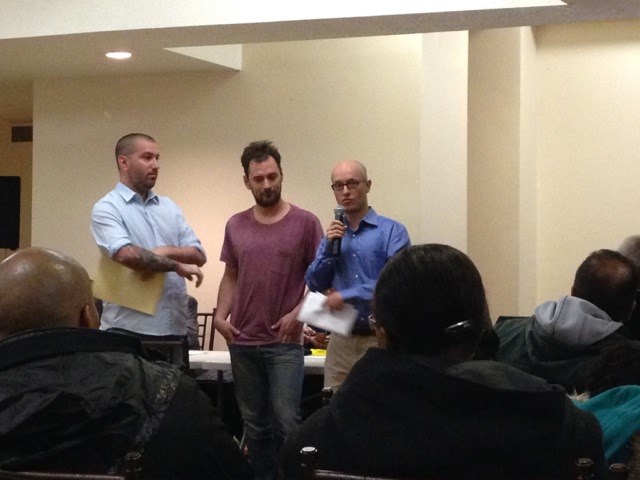 The restaurant will serve classic Mexican food, with an emphasis on tacos and tortas and weekly specials. It will have a big backyard that will accommodate a taco truck; will be collaborating with a local gardener. Gardening will be the signature design for outside area. The restaurant's hours are weekdays: noon — 4:00am; and weekends: noon — 2:00am. Capacity is about 35 people. "We will project movies for kids and also host events in the area," said Lev Gewirtzman, the restaurant's chef and co-owner. "The inside will have white walls and a white ceiling; we will bring the glory of this building back to life." The committee moved to approved the request.
Community Board 3 meets the first Monday of each month, 7:00pm, at Restoration Plaza, 1368 Fulton Street, basement level.