Central Brooklyn's newest local plant-based restaurant brings a different twist to veganism.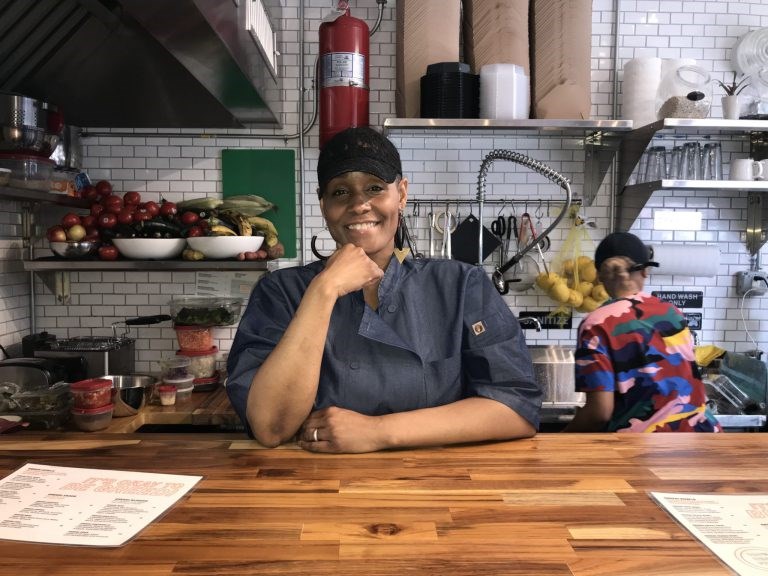 Greedi Vegan, a black-owned restaurant that specializes in plant-based food, is the newest addition to Crown Heights. Founded by Latisha Daring, who was born and raised in the neighborhood, the intimate takeout spot just opened its doors on May 1, but business has been flourishing ever since.
Having been a vegan all her life, Latisha was frustrated that there weren't a lot of spots in Brooklyn that serve the vegan community. In order to get a decent meal, she often had to put different dishes and pieces together from various restaurants. So she decided to take matters into her own hands and opened up Greedi Vegan. And, as Latisha explained, she was very intentional about where she wanted to establish her eatery.
"In light of the gentrification, there needs to be a version of that gentrification that comes from us, that's our narrative, that's just as good and comparable to diversity in the community," Latisha explained.
Latisha's plant-based cuisine is inspired by her travels. She incorporates different cultural influences from all over the world, offering Carribean, African and Southern flavors in her dishes. She is committed to catering to people of all backgrounds in the way that she makes their meals and how she interacts with her customers to ensure that they are comfortable and satisfied.
"I just really wanted a great place in Brooklyn where people could come, and everyone felt comfortable whether they're a vegan, pescatarian,vegetarian or carnivore," said Latisha. "There really is no label. It is just good food. Everybody can actually enjoy what they're eating and feel full and satisfied."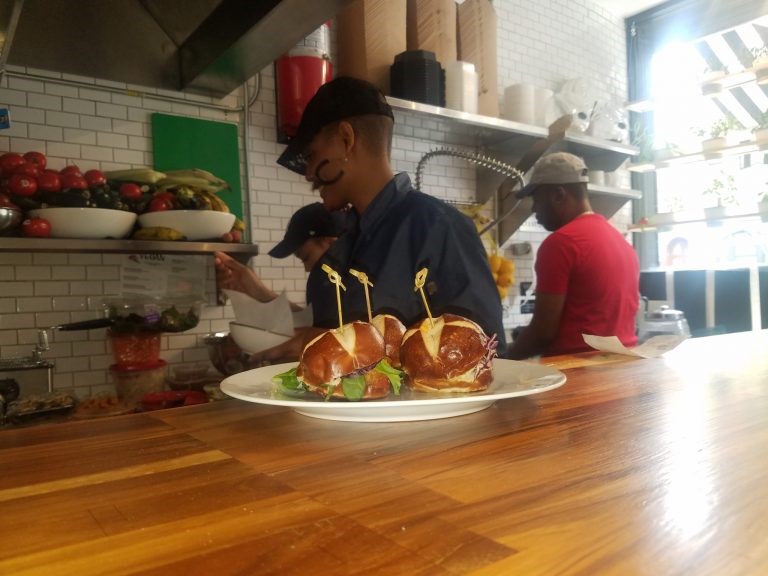 Greedi Vegan has a great variety of food at reasonable prices that range from $8 to $15 dollars. They serve fun snacks like their "Greedi Nachos" with gluten-free blue corn chips topped with sweet and spicy vegan beef, mozzarella cheese, pickled jalapenos and sweet corn black bean salsa for $12. Other popular dishes include the Greedi Sliders which are available as Greedi Beef Sliders, Greedi Meatball Sliders, Greedi Portabello Mushroom Sliders and Greedi Crab Cake Sliders, ranging from $12 to $15 dollars.
Latisha shared that her eatery has not only been getting recognition in her neighborhood but also all the way from the Bronx.
"I had two guys come in today who have a board in their building and I guess we were the talk of the board. So the whole entire building is talking about this new restaurant in the neighborhood, which I think is really cool," Latisha said. "I also had a customer today who came all the way from the Bronx to eat with us and that almost made me cry."
Greedi Vegan with its secluded location and its simple but urban style is a breath of fresh air. And hospitality is important to Latisha, who cares about sharing cultures and experiences; she and her staff treat their customers with such grace, it's like being a part of a big family.
"Obviously, a small business really only survives by word of mouth and I've always believed more in that than any other form of advertising," said Latisha. "I've always worked hard to make sure my customers are always happy with whatever it is I'm presenting to them. And if not, I hope that they feel comfortable enough to give me feedback, so that I can grow and evolve from that feedback."
And what's next for Greedi Vegan? Of course, Latisha wants to expand her business. Aside from that, she also plans to start traveling again and wants to continue working on her blog, "Global Style Gypsy," in which she shares her insights on fashion, culture, food and travel -- and maybe develops more delicious ideas for Greedi Vegan!