In light of the spike in anti-Semitic attacks and hate crimes in Brooklyn, Rep. Yvette Clarke is working with City Councilman Chaim Deutsch to establish "The Office of Hate Crime Prevention."
"We must come together as a community to denounce the undeniable spike in hate crimes in Brooklyn and across the nation," said Clarke, who represents New York's 9th Congressional District including Crown Heights, Flatbush and Prospect Heights. "I am working with NYC elected officials and community advocates to ensure this community is protected. I support Councilman Chaim Deutsch and the NYC Council's Jewish Caucus' efforts to create this special office in New York City dedicated to the prevention of hate crimes."
In October, Deutsch proposed legislation to establish The Office of Hate Crime Prevention. According to the bill that City Council passed last month, the office will not only monitor hate crimes, but also conduct training and outreach programs to address hate speech and hate crimes of all forms.
"This bill will tackle hate in a way that's never been done before in our city, by taking preemptive measures to reach children and adults about the impact of hate," said Deutsch. "The Office of Hate Crime Prevention is an innovative solution to a problem that is affecting more and more New Yorkers every day."
Deutsch says the bill will push for educational programs in schools and community centers while also collecting data from the NYPD to understand the motives fueling hate crimes.
"Having that information will allow us to understand the motives behind these crimes," said Deutsch. "In some cases, they are hateful, racist. In other cases, they might just be uneducated or dealing with mental health issues. The more we understand about these people, the more we can prevent them from doing these things."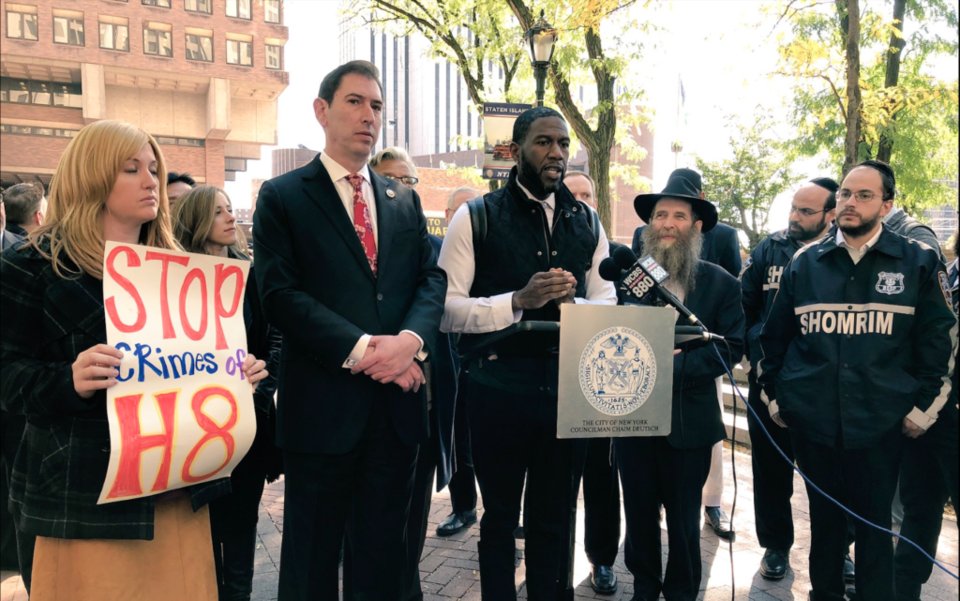 Deutsch proposed the special office after a rise of anti-Semitic attacks last October. Within one week, two Jewish men were attacked in Borough Park and Crown Heights in broad daylight. Since the beginning of the year, there were numerous incidents of synagogues and other Jewish institutions being defaced with swastikas and vandalized.
But anti-Semitic incidents aren't the only hate crimes on the rise: Earlier this week, a Muslim woman was attacked in Flatbush in a possible hate crime the police is now investigating. In February, the NYPD said that it's investigated 55 hate crimes, which marks an increase of 72 percent over the same period last year, according to the NY Times.
"As a Black woman, I am ever-conscious of the existential threat hatred poses to humankind," said Clarke. "I was born and raised in this district, and I share the deep pain my community feels due to the recent uptick of hate crimes."
She believes the government must play a role in fighting hate speech and hate crimes.
"The United States government has a role to play in bringing those who commit these terrible crimes to justice," said Clarke. "We must embrace the beauty in our diversity instead of tearing it down with intolerance and hatred."
The Office of Hate Crime Prevention is currently in the process of being developed.