Put your fall leaves to work, don't let them work you - the city will take them off your hands and put them to good use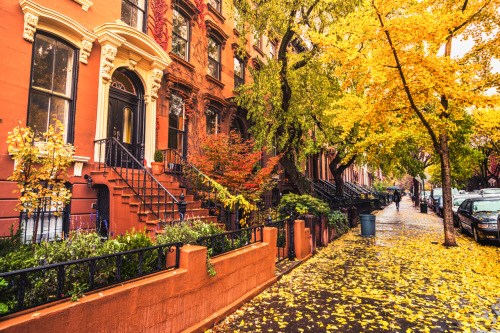 Despite the unseasonably warm temperatures of the recent weeks, seeing the colorful leaves of the trees in our neighborhoods remind us undoubtedly: it is fall! The beauty of NYC's fall foliage is certainly quite endearing to most of us, but the bi-product of the shedding trees - their leaves - not so much.
But help is on the way: The Department of Sanitation (DSNY) has released its annual list of rules for fall leaf collection, taking the leaves off your hands and using them for composting.
The NYC Compost Project not only helps to reduce waste in NYC, it also rebuilds city soils. Moreover, for New Yorkers interested in composting, the project provides assistance and knowledge through workshops on how to compost, and connects residents with community compost sites who use leaves as a part of their composting process.
Brooklyn homeowners and landlords who belong to Community Boards 5, 9, 14 or 17 should set out leaves for curbside collection after 4:00 pm on Saturdays, November 11 and November 25. Leaves can be set out in either a paper lawn and leaf bag, or in an open, unlined container.
Learn more about the DSNY fall leaf collection program here.
Special Fall Leaf Collection: Brooklyn Community Boards 5, 9, 14 and 17
Saturdays, November 11 and November 25 (leaves can be set out after 4:00 pm)