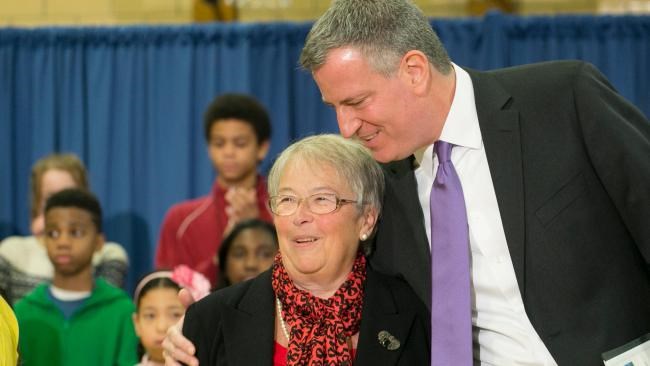 In a speech Monday before hundreds of parents and community leaders, Mayor Bill de Blasio unveiled the School Renewal Program, a new strategy to turn around New York City's most challenged schools.
Through the School Renewal Program the city will invest $150 million to transform 94 struggling schools into "community schools," tying together a whole suite of services that support a child's whole development, including their mental health and physical well-being.
Each Renewal School--identified by the state to have demonstrated low academic achievement for each of the past three years, ranking in the bottom 25 percent of City schools on Math and ELA state exam scores or graduation rates-- will receive additional resources to provide an extra hour each day of extended instruction; after-school, weekend, and summer learning opportunities, as needed; academic intervention and professional development.
Each of the new community schools will increase education capacity across the elements of the Chancellor's Capacity Framework: rigorous instruction, supportive environment, collaborative teachers, effective school leadership, strong family-community ties, and trust.
We're going to lift up students at nearly one hundred of our most challenged schools. We'll give them the tools, the leadership, and the support they need to succeed—and we'll hold them accountable for delivering higher achievement," said Mayor Bill de Blasio.
The Department of Education will develop tailored implementation plans, closely track every school's progress, and hold schools accountable to meeting strict goals over the next three years. Schools that do not meet targets for each academic year would face a leadership and faculty change, as needed, and possible reorganization.
"Today marks an unprecedented commitment to deliver for our schools that need extra support, and I know this will translate into real improvements in student outcomes," said Schools Chancellor Carmen Fariña.
"With the right leadership, rigorous instruction, community partnerships, family engagement, and ongoing support, every school can be great. We will ensure our school communities are anchored in trust, and with the cooperation of all major stakeholders, we will support our schools—our students deserve no less, and I'm determined to get this right."
Among the 94 schools participating in the School Renewal Program, 43 are located in the Bronx, 27 in Brooklyn, 12 in Manhattan and 12 in Queens.