The New York City Department for Cultural Affairs unveiled on Wednesday the five finalist proposals for Prospect Park's Shirley Chisholm monument.
In November 2018, New York City announced it would build a statue of Rep. Shirley Chisholm, the first African-American woman to serve in Congress, at the Parkside entrance to Brooklyn's Prospect Park.
The Chisholm monument is the first one to commissioned as part of She Built NYC, an initiative spearheaded by First Lady Chirlane McCray to construct public monuments honoring the New York City women who have changed history.
With the unveiling of the proposals, the city is now asking for your feedback. New Yorkers have time until Sunday, March 31 to share their thoughts here.
Below are the five proposals.
Tanda Francis
Tanda Francis' memorial is a bold and timeless dedication to Shirley Chisholm, supported by her own powerful words. In the proposal, Chisholm's inspiring quotes would be embedded into the ground on the sidewalk leading to the Ocean Avenue entrance of Prospect Park. This trail tempers visitors to the mindset of this great woman as they approach her monumental bronze representation framed by vertical jets of water and light.
La Vaughn Belle
La Vaughn Belle's proposal reinterprets Shirley Chisholm's famous quote, "If they don't give you a seat at the table bring a folding chair," and positions it into a larger framework of mobility.
The monument invites visitors to not only think about Chisholm's personal journey from childhood to elderhood but also the movement of a people and a nation. Chisholm, wearing a turban and an eagle pin, steps boldly into a re-envisioned version of the presidential seal. The artist challenges visitors to think about how this petite black woman with a Bajan accent marking her immigrant roots could represent the promise of the United States both literally and symbolically and how her trail—to use her campaign slogan—could "bring U.S. together."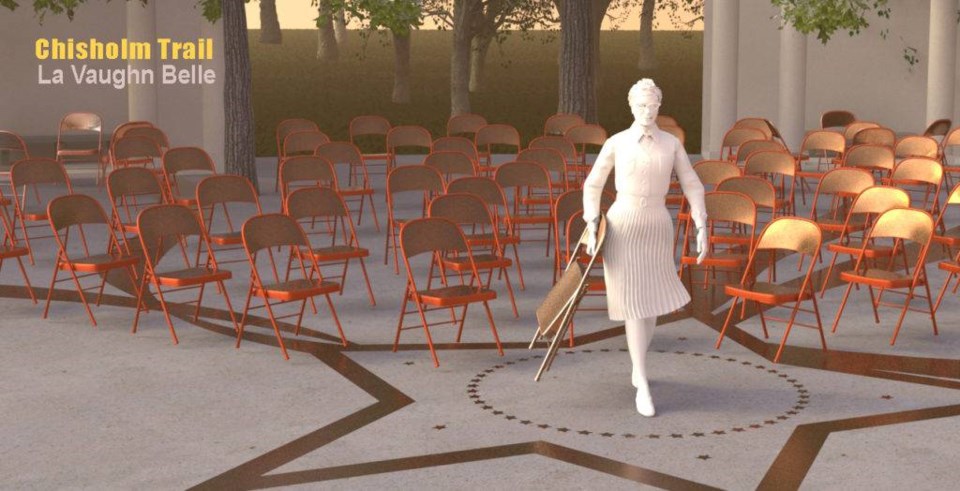 Mickalene Thomas
For Mickalene Thomas, art is about accessibility and immersive experiences. Rather than portraying Chisholm standing at a podium and speaking down to her audience, this model will instead show her rooted in the peoples' space and speaking to their truths, deeply in touch with the people of the Brooklyn community
Inspired by Chisholm's famous quote, I"f they don't give you a seat at the table, bring a folding chair," her figure will be created at human-scale and seated on a car at the viewers' level so that audiences can engage with her. The car on which she'll sit not only captures a moment in time, but it also emphasizes the social relationships of the community— this will be a space for people to congregate. The surrounding environment will have dual-purpose benches/planters and in them the plant life will be selected to reference Shirley's Caribbean heritage.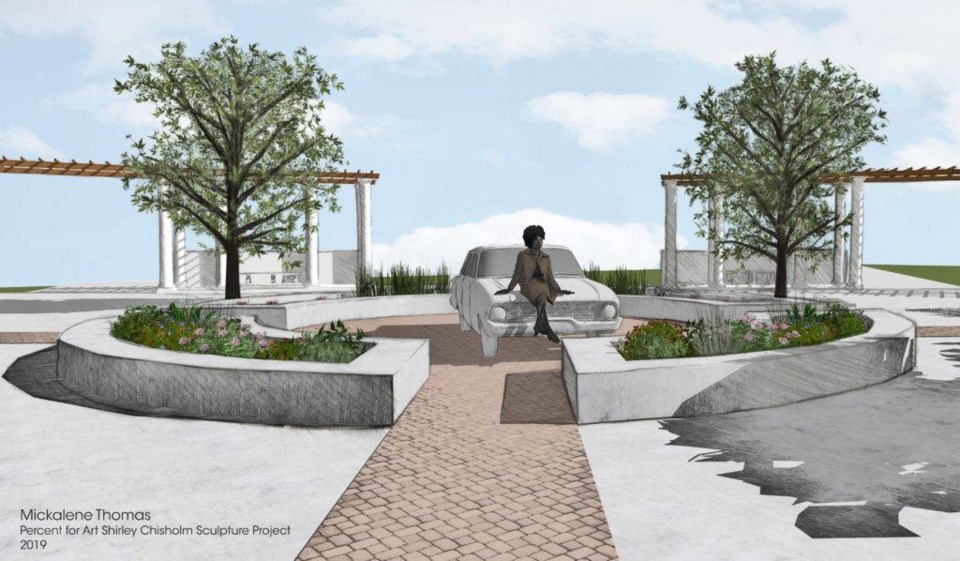 Firelei Baez
Firelei Baez' proposal is comprised of a series of hand-painted metal columns that collectively shape-shift into three respective portraits of the trailblazing legislator. When viewed from different angles, this traversable forest of flower-like posts will transform into three different representations of Shirley Chisholm.
The three representations incorporate hand-painted imagery tied to inherited Afrodiasporic narratives. Two of the portraits liken Chisholm's characteristics to those of Orishas, human embodiments of elemental spirits from the Yoruba tradition, while the third incorporates the Pan-African flag. When viewed aerially, the beams of Chisholm's monument are arranged into the form of Sankofa, the West African symbol of a bird, which reaches back to move forward and construct our future.
The eastern-facing portrait memorializes Chisholm's role as an activist. In this depiction, Báez reenvisions a source-image of Chisholm orating—in "activist mode"—with likeness to Oya, the fiery Orisha of destruction and construction. The western-facing blue-hued portrait memorializes Chisholm's role as a an advocate for healthcare and access to nutrition for families as fundamental rights. Here, Chisholm's portrait is related to the Orisha Yemanya, who harbors wisdom and offers care. The front-facing portrait, visible from the intersection of Park and Ocean Avenues, weaves together the red, black and green hues of the UNIA flag.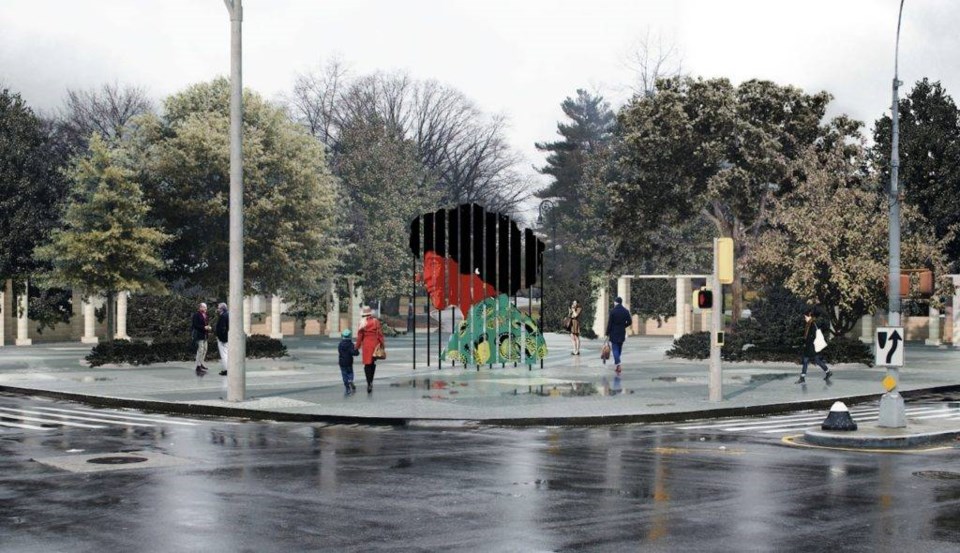 Amanda Williams and Olalekan Jeyfious
With their monument, Williams and Jeyfious celebrate Chisholm's legacy as a civil servant who "left the door open" to make a space for others to follow in her path toward equity and a place in our country's political landscape.
Depending upon your vantage point, you can see Chisholm's silhouette inextricably intertwined with the iconic dome of the U.S. Capitol building. This mashup symbolizes how she disrupted the perception of who has the right to occupy such institutions and to be an embodiment for democracy.
This monument represents how Chisholm's collaborative ideals were larger than herself. The ground plane is carved in a shape that mimics the amphitheater-like style of congressional seating. Each seat pays homage to those who came after Chisholm as well as leaves room for those who have yet to come.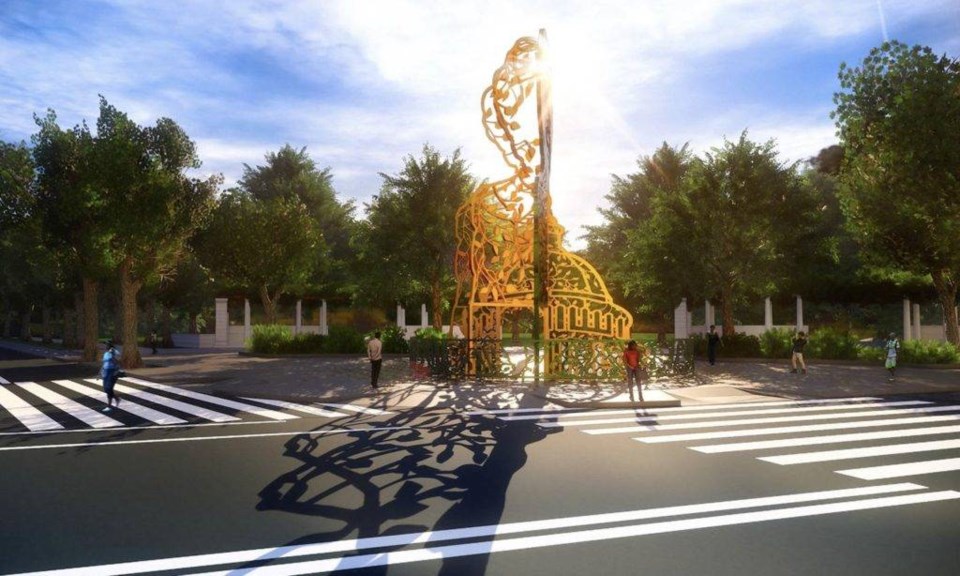 The winning proposal will be announced next month and the monument is expected to be completed in 2020.