In February, New York City hit a shameful record with 20,822 single adults spending the night at a New York City Department of Social Services-Department of Homeless Services (DSS-DHS) shelter.
This comes after record totals were set in ten months of 2020, during the height of the coronavirus pandemic, advocacy organization Coalition for the Homeless' recently released State of the Homeless report shows.
Those numbers posed grave threats to the wellbeing of people staying in congregate shelters, which often have shared dorms, dining areas and bathrooms, as well as rotating staff and poor ventilation, the report found.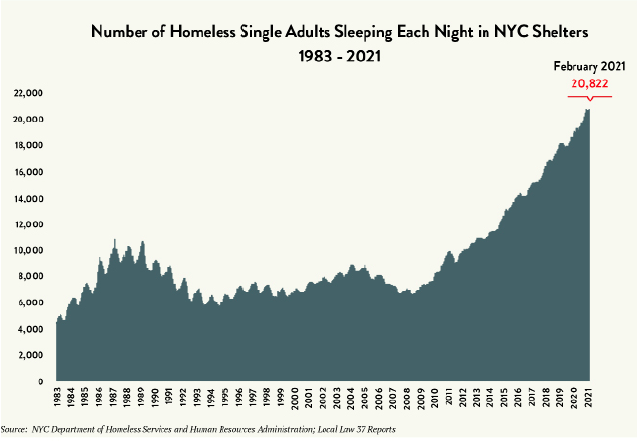 Who's to blame
Mayor Bill de Blasio and Governor Andrew Cuomo were fully unprepared to deal with the devastating scope of the pandemic and resulting economic crisis, the report claims.
It adds that both made critical errors that placed homeless New Yorkers at risk, including homeless children, of which there are an estimated 111,000 across the five boroughs who were often left without WiFi for remote schooling, and unsheltered homeless folks.
City sweeps of encampments increased in 2020 during the pandemic and the State's decision to shut down overnight subway services further decreased options for the unsheltered, while increasing their interactions with the police.
"Thirteen months into the pandemic and the number of homeless adults continues to skyrocket -- we are hitting new records almost every single day," Coalition for the Homeless Executive Director Dave Giffen said.
While a spokesperson for DSS-DHS acknowledged that there is always more work to do, they believe that the strategies implemented by the administration have worked.
"Through this pandemic, our essential frontline staff, provider partners, and outreach teams have continued to show-up 24/7/365 to support New Yorkers experiencing homelessness," they said. "the data shows that our strategies, including the use of commercial hotels, our proactive testing program, and now our ongoing vaccination efforts, worked and continue to save lives."
Hotels saved lives
In Brooklyn, there are 127 DHS shelters and in de Blasio's 2017 Turning the Tide plan to combat homelessness at least 19 more are planned for the borough. As part of the plan, the City has said it will stop using commercial hotels to house homeless people.
However, during the pandemic hotels proved lifesaving, the report shows, although it says the adjustment came too late.
Between March and December, there were 1,919 confirmed cases of COVID-19 among homeless individuals and an additional 608 cases of COVID-like illness, many of which were reported before widespread testing was made available.
While infection rates for the homeless were lower than those of New York City, mortality rates were 49% higher than the citywide rate. Much of this disparity came during the early months of the pandemic, before the move to hotels.
The report recommends de Blasio not only oversee the redesign of congregate shelters to prevent the spread of future diseases, but also provide single-occupancy hotel rooms for all homeless individuals for the remainder of the pandemic.
Assistance needed
Emergency food distribution efforts were a huge help to New Yorkers at risk, and the eviction moratorium resulted in a 27% reduction in families applying for shelter, the report found.
"The coming year could see a new and shocking increase in homelessness if our elected leaders do not take urgent and large scale action," Coalition for the Homeless Policy Director Gisele Routhier said. Lack of affordable housing remains the biggest factor in the rise of mass homelessness and the threat of an eviction crisis.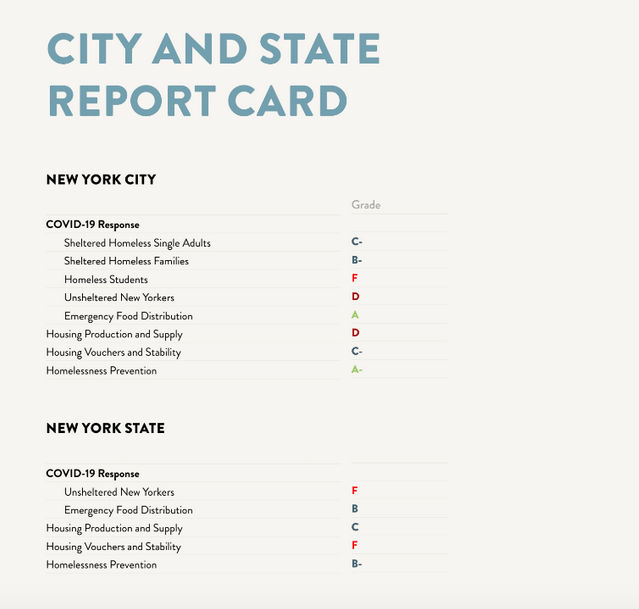 In response, many City Council members and advocates are calling for the city to pass Intro 146, a bill that would increase the value of its housing voucher system for people experiencing homelessness.
The vouchers, called CityFHEPS, provide a year of rent for families transitioning out of shelters. However, they currently run well below market rate with only five percent of voucher holders actually able to find an apartment using them each month.
For Natalie Piggee, a single mother of three who became homeless after fleeing a toxic living situation, the program was ineffective.
"We looked to the city for help in the form of a CityFHEPS voucher. It gave us the worst thing it could have ever given us, which was false hope," she said at a discussion held last week by VOCAL-NY and Neighbors Together.
Help could also be on the way at the federal level with the Department of Housing and Urban Development recently announcing $464.6 million for affordable housing in NYC for those at risk of homelessness.
Ongoing threat
Today, COVID-19 remains a threat to the homeless community. Nearly 7,000 people remain housed in congregate shelters and positivity rates among the homeless are on the rise in 2021.
Between December 29 and March 2 there have been an additional 1,280 positive cases.
"[In order for things to improve], the governor and mayor must work together," Giffen said. "They have to stop treating this problem as one to be managed and instead treat it as a problem to be solved."
This story has been updated to reflect the viewpoints of DSS-DHS.