According to the National Domestic Violence Hotline, on average, 24 people per minute are victims of rape, physical violence or stalking by an intimate partner in the United States — resulting in more than 12 million women and men over the course of a year.
Domestic and gender-based violence is also critical issue in New York City, despite occurrences being severely underreported. On Friday, Mayor de Blasio signed an executive order to launch the new Mayor's Office to End Domestic and Gender-Based Violence (EDGBV) which is tasked to create a coordinated response to this public health crisis.
"All survivors in New York City — whether they experienced violence in the home, sexual assault, stalking or trafficking — should have easy access to pathways for safety, healing and the support they need for a full recovery," said First Lady Chirlane McCray. "When they take the courageous step to seek help, we want them to find that every door is the right door. The Mayor's Office to End Domestic and Gender-Based Violence will be central to our efforts as a city to address the needs of all survivors."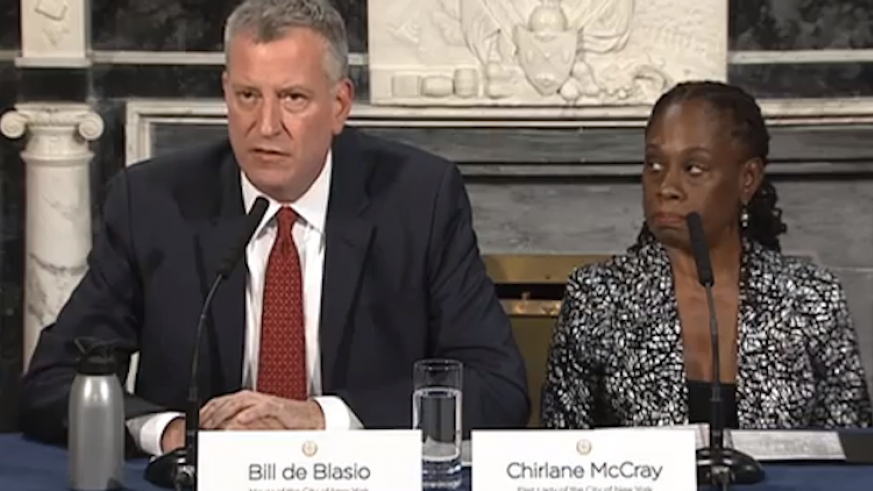 In 2017, there were over 282,000 Domestic Incident Reports and 8,260 sex offenses reported to the NYPD. Additionally, almost one in every five homicides and two in every five reported felony assaults are domestic violence related, according to the city.
Domestic violence is one part of a larger continuum of issues related to gender-based violence, which includes intimate partner violence, family violence, sexual assault, stalking and human trafficking. These issues all require comprehensive, coordinated, multi-agency responses, policies and programs. Too often, responses to incidents in these areas are largely criminal justice focused.
Under the new mandate, the office is authorized to expand and coordinate services; create policy and interventions; launch a citywide outreach team; enhance trainings for city agencies and community stakeholders; and develop a legislative agenda for domestic and gender-based violence.
"The office's broadened scope of work will empower it to expand services for survivors of trafficking and find innovative ways to combat sexual assault, stalking and other gender-based violence," said Mitchell Katz, MD, president and chief executive officer of NYC Health + Hospitals. "We look forward to continuing to help an incredibly vulnerable population heal and regain control of their lives."
The executive order comes after the city launched in February its first-ever web-based portal, NYC HOPE, dedicated to providing resources to survivors and information about how to help someone experiencing domestic violence.In May, First Lady McCray announced Interrupting Violence At Home, a citywide effort to address domestic violence through services, training and intervention for abusive partners who are not involved in the criminal justice system.
"Gender-based violence is unacceptable and we need to address it through social programs, as well as having the tough conversations in our families and communities," applauded State Senator Roxanne Persaud the city's effort. "The cycle of abuse needs to be broken."