The New York City Council voted on Wednesday to launch a three-year pilot program to create livable basement apartments in East New York.
Councilmembers Brad Lander, Rafael Espinal and Inez Barron introduced the legislation last year with the hopes that the program will create more affordable housing within existing buildings while bringing illegal units up to code. The newly-passed legislation will make changes to the city's building and fire codes, allowing qualified basement units to be made habitable and therefore legal.
"Converting basement units into safe and legal housing is an important way to address New York City's affordability crisis," said Councilmember Lander.
According to a study by the Pratt Center for Community Development and the Chhaya Community Development Corporation, there are more than 114,000 units in New York City's housing underground, and a substantial portion of them are illegal basement units.
East New York was chosen as the pilot's launch site because of its ideal mix of one- and two-family homes, which often have unoccupied or illegally occupied basement units; the program is also part of the 2016 East New York Neighborhood Plan that includes a focus on preserving and creating affordable housing in the area.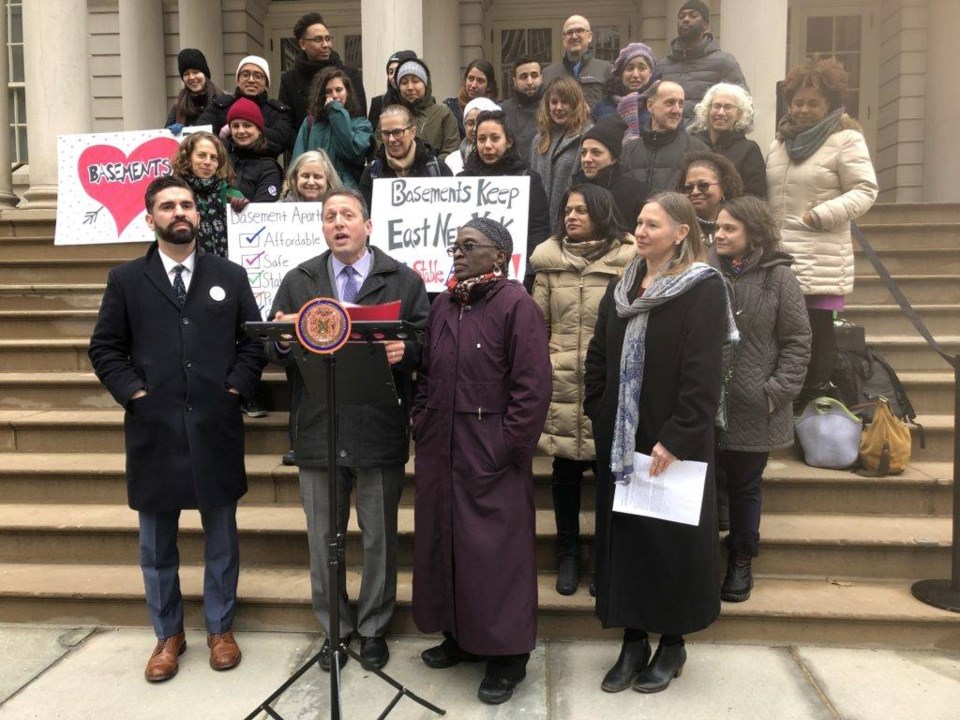 "At a time when we are facing an affordable housing crisis in our city, we need to think creatively about ways to increase supply and help struggling homeowners," said Councilmember Espinal. "The basement legalization program is a two-birds, one-stone approach to tackling this crisis. With foreclosures on the rise throughout the city, we need to make sure homeowners hold onto the assets that give them a pathway to the middle class. And by giving them extra income through basement rentals to help pay off their mortgages and catch up on bills, we can achieve that."
The program, developed in partnership with various city agencies including the Buildings Department, FDNY and HPD, is the city's first effort to address these illegal dwellings, officials said. The city will provide $12 million in low-interest loans and grants to qualified low- and moderate-income homeowners to make improvements to their homes that will create safe, legal and affordable basement apartments in compliance with the new legislation.
"This pilot program will create affordable housing for tenants, financial stability for homeowners and investment in East New York," said Lander. "It will also enable us to learn useful lessons to smartly expand the program to neighborhoods around the city in the future."