In recent years new transportation companies have tapped into billions of dollars as they change the way people move around a city. The best way to ease congestion in largely populated regions is to provide more options for individuals to chose from. Since its inception, Citi Bike has introduced dozens of neighborhoods to the joys of bikesharing. In an effort to include more neighborhoods, Citi Bike will attempt to double their expansion starting in August of this year. The plan is to increase their bike stations throughout Brooklyn while introducing bikesharing to Queens.
Over the next two years between 6,000 and 12,000 bikes will distributed to neighborhoods like Long Island City, Williamsburg, Greenpoint and Bedford Stuyvesant.
"This is the start of something big. Citi Bike is rolling into the outer boroughs like never before. That means hundreds of thousands more New Yorkers will have a fast, sustainable, low-cost transportation option. We are thrilled to work with Motivate on the next phase of this great success story," said Mayor Bill de Blasio.
Although plenty of New Yorkers partake in bike riding with their own bikes, this option allows riders to quickly rent a bike and return it at a different location if necessary. For some, it's a unique solution to their transportation needs without the hassle of maintaining a bike. The bikes are available for rental 24 hours a day, 7 days a week, including all holidays.
"I love that I don't have to worry about the bike getting stolen. I don't have to worry about chaining it to a fence or carrying it up a few flights of steps to get it back into my apartment. It's the perfect amount of responsibility and I can get to work in a matter of minutes." - Brooklyn Resident Tatyana Yu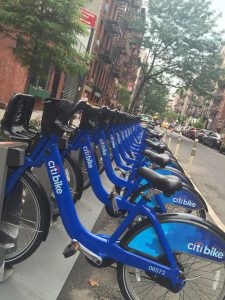 It's important to note that these bikes are made with respect to the most functional design. The bikes were developed in partnership with Olympic bike designer Ben Serotta, who was thrilled to offer his expertise. The collaboration created a series of new features and comforts aimed at leisure. With high quality parts and upgraded seats that resist water damage from the rain, Citi Bike hopes to drastically decrease the amount of time bikes need to go to the shop for wear and tear.
While renting a Citi Bike is far from free, there are discounts in place when you only need to rent a bike for a quick ride. In an effort to work with all communities regardless of income, Citi Bike offers a discounted membership to residents of affordable housing developments.
In Bedford Stuyvesant, the Citi Bike program and the Department of Transportation are partnering with the local non-profit Bedford Stuyvesant Restoration Corporation to conduct community outreach. They hope to enlighten residents about the perks of this transportation option with bike safety classes and free helmet giveaways.
For more detailed information about this exciting expansion, please visit Citibikenyc.com