The weather in Brooklyn has not been fun recently, and this weekend will continue that trend. The forecast is calling for more rain, and the temperatures won't even get up past the 60 degree mark, but that's no reason to have some fun. Mother nature clearly needs an attitude adjustment. She's probably voting for Trump and pretty sure she hates Beyonce's Lemonade album. I bet Mother Nature owns stock in Uber, because with all this rain, it's the best way to get around!
It is the weekend of Cinco De Mayo, so people will be out in Brooklyn, celebrating the culture and history of Mexico, in the way that Americans always celebrate other's culture and history...by getting ridiculously drunk and gorging on food. It's a little bit of everything this weekend, a proverbial Pu Pu platter of events, so I'm here to cut through the clutter and give you some suggestions.
Check 'em out: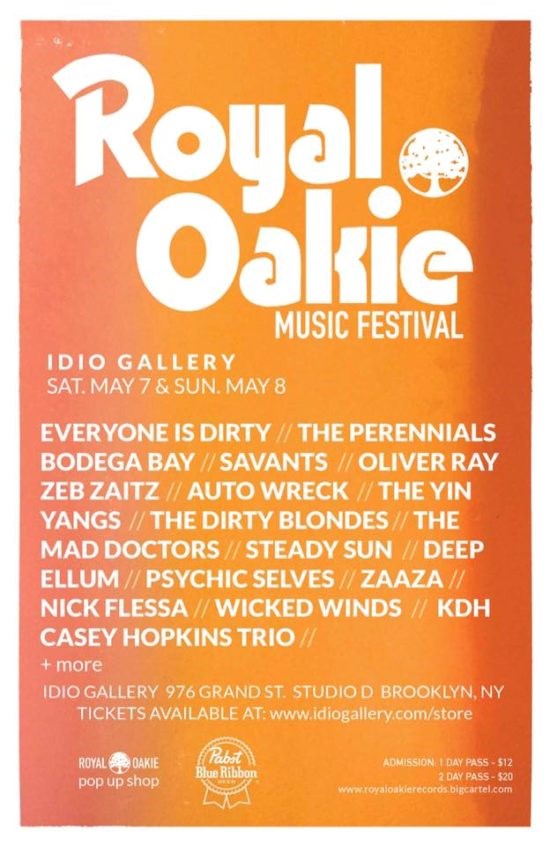 Royal Oakie Music Fest, Opening Reception, Idio Gallery, 976 Grand St. 6pm-12pm, Studio D, $12-$20 (Williamsburg)
This is punk leaning music fest sounds awesome, put on by the record label Royal Oakie Records, a Oakland, CA based outfit that specializes in high quality releases of original, interesting and artful music. This music festival brings bands from the West Coast, to Brooklyn, to play on bills with their New York counterparts.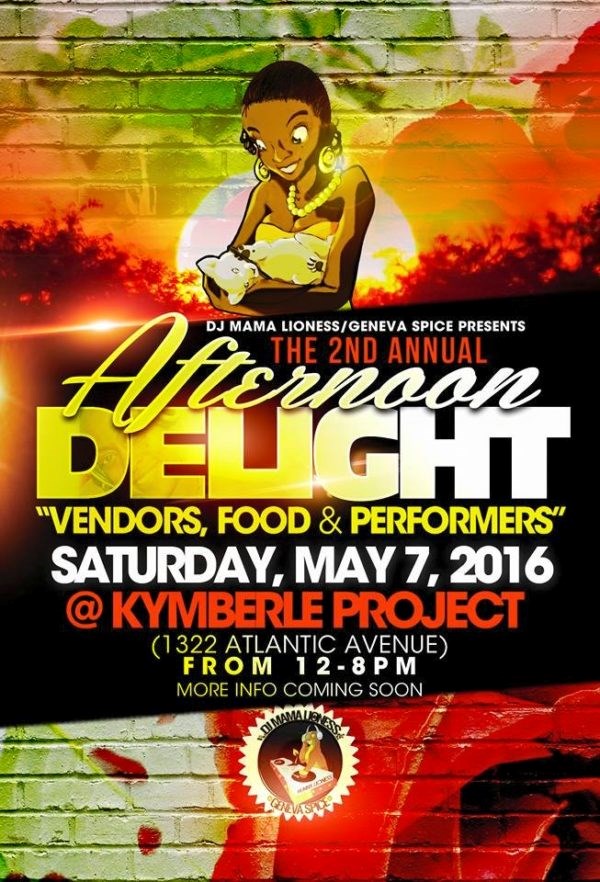 Afternoon Delight, Kymberle Project, 1322 Atlantic Avenue, 12pm-8pm$10 (Bed-Stuy)
This is a good deal for a Saturday afternoon. For your ten bucks, you get a free mimosa and a free sample from each chef's sample menu. There's arts and crafts, live performances, DJs, vendors and, of course, chefs. It's a fun weekend event and it's also a great place to nab a last minute Mother's Day gift. It's early, so you can have some fun, grab a gift and go see your mom on Sunday, without smelling like you've been partying all night. You can get more info, at the Facebook event page, by clicking here.
Being Here... In Memory, Opening Reception Saturday May 7th, MoCADA - 80 Hansen Pl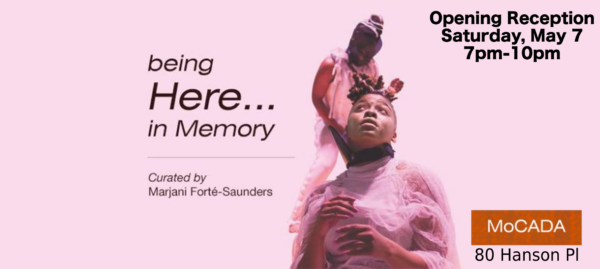 If you're in Brooklyn and appreciate visual art, mixed with performance, and in particular, dance performances, then you should hit the opening of this exhibition! It's at Mocada in Fort Greene, and since you should be supporting Brooklyn art institutions ANYWAY, this is a great event to turn up and turn up. You can get more information by clicking here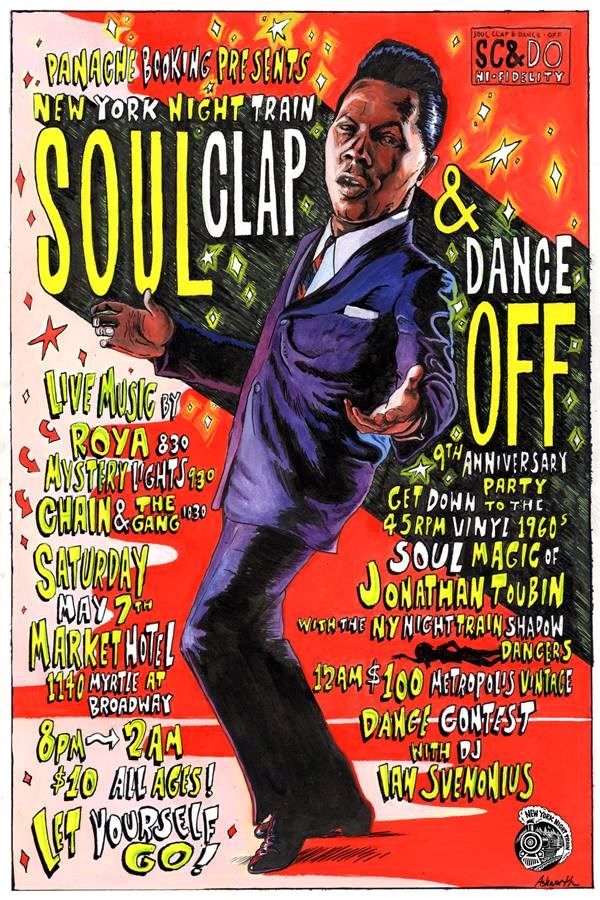 Soul Clap, Market Hotel, 1140 Myrtle Avenue, 8pm-2am, $10 (Bushwick)
First of all, this flyer is fire! It's the Five Heart Beats meets Jonathan Toubin! If you've never been to a New York Night Train event, then this is an awesome introduction to the party. Think classic 45 vinyl and amazing music from the 60's, played for an audience that appreciates and gets up on a good foot. It's also a dance contest at midnight, so if you have an awesome 15 year old in your house, that kills the dance game, then invite her, because this event is all ages. Get more info by clicking here

Balmir Latin dance Studio, 5th Anniversary Celebration, Sanders Studio, 525 Waverly Ave., 9pm, $20 Complimentary food (Clinton Hill)
Latin dance looks magical when wielded by professionals and at Balmir, it's definitely a stable of pros that range the gamut in styles: Salsa / Bachata / Cha Cha and more. These guys and girls are competing in Salsa congresses and can dance a ring around anybody, but fortunately, they're also teachers and instructors who enjoy turning students into dancers and have been doing it at Balmir for the last five years. So join them as the celebrate with a dance performance showcase, art exhibition of Carlos Mateu, and a dance party, with music by DJ Neiri, DJ Woody & DJ Ray Suave. For more info, and to buy a ticket, go to the Eventbrite Page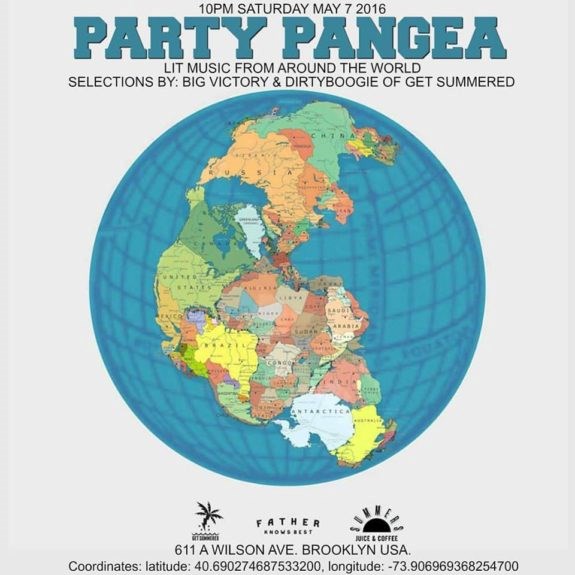 Party Pangea, Father Knows Best, 611 Wilson Avenue, 10pm, Free (Bushwick)
Party people are everywhere. Party people dot the globe. Music that people party too, comes in all different flavors and Party Pangea is gonna serve you a scoop from errrwhere. If it's lit, they finna play it. If you was a bit more analogue, you might have an actual globe, but you don't. They've provided an image of a globe, in case you forgot what one looks like, which enables you to point to a country and think about the boogie that comes out of that region and possibly hear it at the party. For more info, visit the Facebook Page. It's presented by Get Summered, so expect Dirty Boogie to make you dance.
There you go. Six events that won't steer you wrong! Hit the streets, show some love and enjoy the weekend