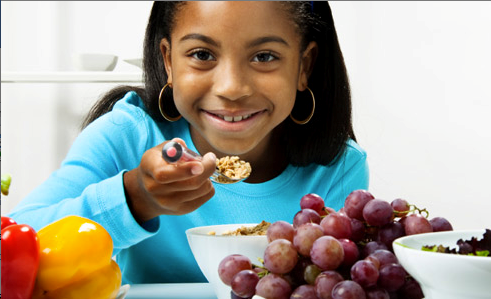 I originally started this post loaded with statistics on why our children matter. But then I thought about the fact that there are at least six major food policy plans in New York City that I've encountered—all with very important issues—but none (that I recall), include a food policy agenda specific for children under the age of five.
This is not meant as a slight against the groups working hard to push forward a unified food policy agenda for NYC (of which NYC Food and Fitness Partnership, the partnership that I direct, is more recently apart). Instead, it just speaks volumes to how children at this age range need more voices (even the most progressive of us) to be louder and stand up for them in all facets.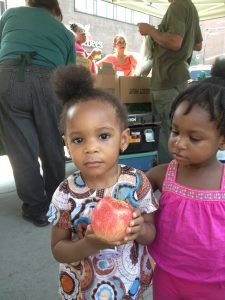 What's the problem?
There are almost 1.2 million children under the age of 5 in New York City. According to the New York City Coalition Against Hunger, 1 in 4 of our children in NYC are food insecure. That's HUGE. Just PAUSE. Please meditate on the fact that 25 % of children in NYC don't have adequate food security.
So parents of these children need the community, institutional and systemic supports/changes outlined in many of the food policy agendas referenced earlier (and more). Yes to liveable wages, yes to Health Bucks, yes to SNAP (food stamps) expansion, yes to institutionalizing local/regional food procurement from small farmers, and yes to universal school lunch and meals in classrooms, etc. (We need to add in a "yes to land reform and restructuring resources for farmers and producers of color.")
However, in addition to all of that, given children receive an estimated 50-70 % of their nutrients in early care facilities (including day care, headstart facilities), we should also be paying significant attention to the programs where children receive the majority of their meals. We should be advocating for strong nourishment inside all early care facilities and ensuring adequate support in addition to advocacy around proper nourishment at home.
So what do we need?
We need every child—and their parents—to have access to farm fresh, quality good food. It is widely documented that good food and nutrition impact the most critical age of brain (and physiological) development(s) at ages 0-3. A good, well balanced, proper meal can set the cognitive, emotional and physical stage for young people to develop and thus positively affect the rest of their lives.
We need strong support for and universal implementation of good policies around child nutrition with access to good food and play.
Last year, my organization, the NYC Food and Fitness Partnership, convened by the Bedford Stuyvesant Restoration Corporation, took up this issue and started a pilot farm to early care program with Bed Stuy Early Child Development Center (BSECDC).
We approached BSECDC because of their close relationship with Restoration and their reach (12 sites and over 800 slots for students) in addition to our concerns with child nutrition, sustainable food systems, and quality, equitable built environments. We asked them about reviewing their menus, promoting healthy meals such as whole grains and fresh produce, in addition to sourcing farm fresh produce. They were not only excited to partner—they were already ready.
"Teachers used to throw vegetables away because the children weren't eating them" says Stephanie Edwards of Bed Stuy Early Child Development Center (BSECDC). As a result of BSECDC's innovative approach to teaching colors with fruits and vegetables, Ms. Edwards states "now the scholars ask for it."
In addition to the creativity at BSECDC, they have an executive director, Ms. Cynthia Boyce, an advocate of health (she bikes to work and lights up when discussing healthy eating), and a visionary. She heard our pitch around improving school meals and sourcing farm fresh produce in the headstart programs and not only agreed to it, but took it a step further and shared a vision of having gardens at every facility with a curriculum designed around literacy and science as children learn to grow food.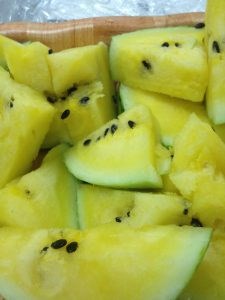 We are currently in the process of collectively building that curriculum and program, in addition to building the gardens and ensuring every classroom has access to grow food (thanks to the help of our youth partners at NY Cares).
Ms. Edwards has reviewed the budget and determined it is feasible to source farm fresh produce and still stay within their budget. We have commenced a partnership with a local food hub, Corbin Hill Farm and now all of their children can have access to quality, farm fresh produce at meals.
It is all very, very exciting. Every child should have access to quality, farm fresh meals and have the ability to learn about food production.
As the new mayor advocates universal pre-K, we are hopeful that early care with farm fresh, healthy meals and proper nutrition will be prioritized, taking the center stage it deserves. All of our children deserve the right to be housed, educated (including educated about our food system and nutrition), and well nourished.
The right to have a real chance to be healthy, strong, and develop properly. It is our responsibility to stand up and ensure those rights. We're very proud of the work with Bed Stuy Early Child Development Center and looking forward to seeing this work for every child.