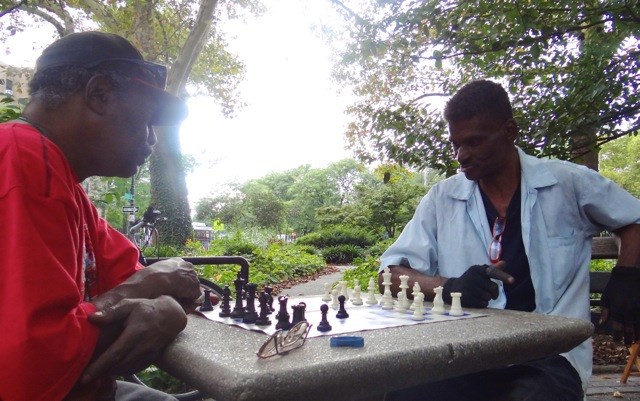 "We are out here every day," said an elderly man who calls himself "Monster."
"Every. Single. Day."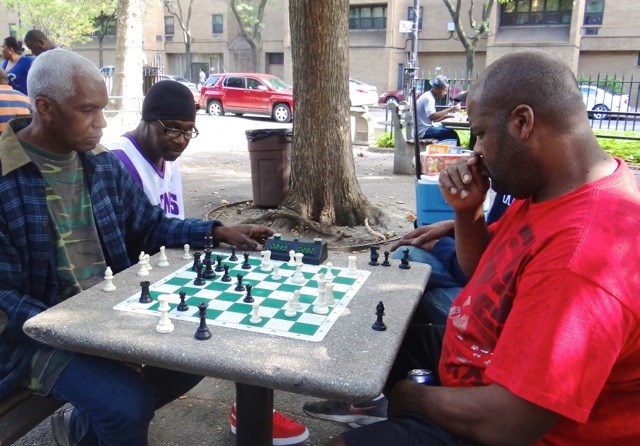 Monster, 55, a Bed-Stuy resident since 1961, was hanging out in Fulton Park on a Thursday afternoon watching a group of about a dozen men play several rounds of speed chess. Monster said he knew how to play the game, but he hadn't played in 19 years; he said in his older years, he much preferred to watch.
Monster, along with others who go by names such as "Master B" and "Master Paul," said they gather at the park every day at around 9:00am and play until the sun sets. Some of them are homeless. Others, out of work. And still others, simply looking for a fun and relaxing way to pass the time during a break or day off from the job.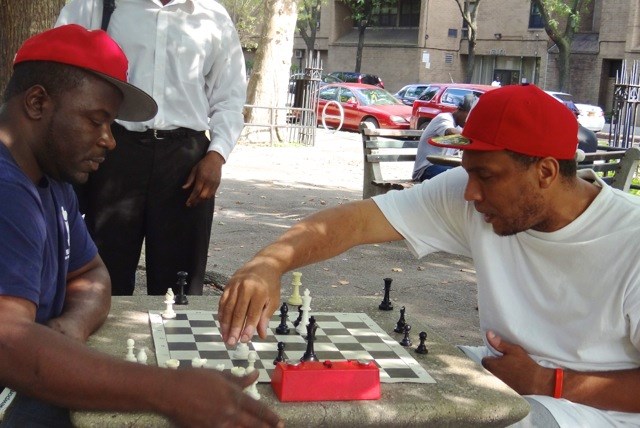 He said they had been gathering at the park-- different groups, at different periods-- for at least the past ten years for a game that has become a staple for the neighborhood folks looking to stay occupied in a setting that was convivial yet competitive.
"You wouldn't know it from just looking at them, but we have some real masters here," said Monster. "They're working their way into tournaments in Manhattan or in Tompkins Park."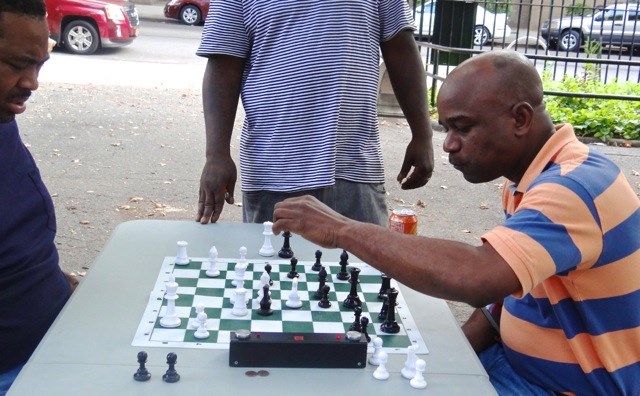 One of those masters, who recently caught the media's eye, is 16-year-old James Black, from Bed-Stuy.
"He beats everybody, and can play 3, 4 people at one time," Monster said. "When he was six years old, he used to come out and have to sit on his knees to see over the table. Even back then, he was beating everybody. He's the real chess master around here. Nobody can beat him..."
Monster suddenly jerks away and yells, "Eh! Eh! Eh! Look at that over there, that's The Mayor, y'all!"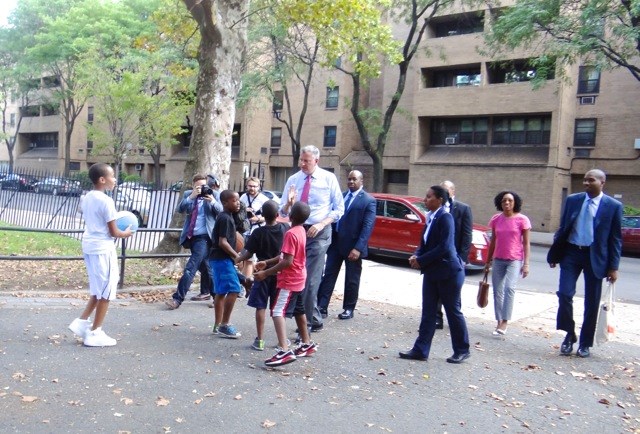 I looked over half-way expecting to see another chess master named "The Mayor" walking up, only to realize it was in fact the Mayor of New York City, casually walking by Fulton Park with a small entourage of people.
"Hey Bratton!" he yells.
"No fool," says one of his comrades, "It's de Blasio. His name is de Blasio!"
Mayor de Blasio waved from the sidewalk, paused a second, and then decided to come greet the enthusiastic crowd of chess players, joined by a group of squealing women and children who seemed to appear from out of nowhere.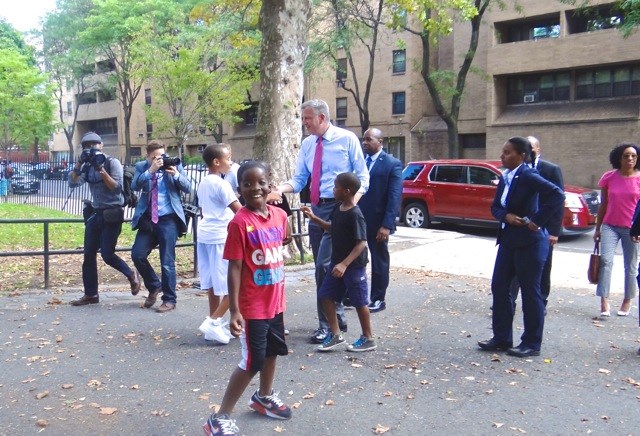 He stopped to sign autographs and take pictures with the excited group of park goers.
There was one group, however, playing speed chess who, although they had heard the commotion, stayed fixed on their game. Their eyes hadn't moved from the chess board once. And that's the table Mayor de Blasio decided to approach.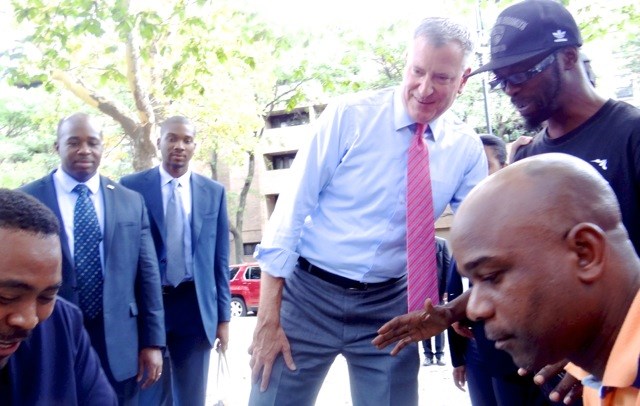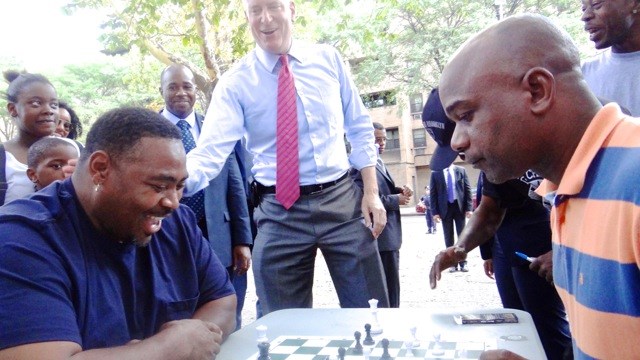 Careful not to disturb them, de Blasio quietly leaned in to see if he could gauge who was winning, watched for another two minutes, before shaking a few more hands of some of the other players and then heading on his way.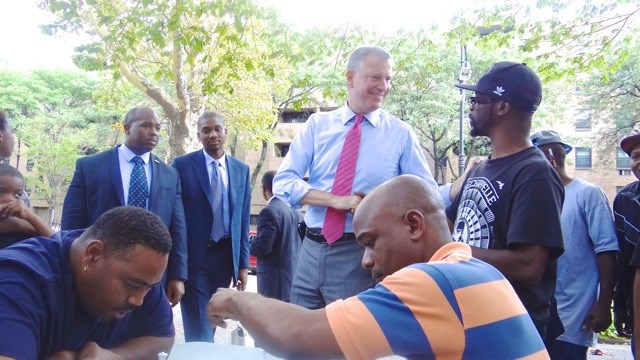 The other players returned to their tables smiling widely-- a little more lifted than they were just ten minutes earlier.
After a decade of the same ol' chess routine in Fulton Park, that unexpected visit by the mayor for them was, no doubt, "checkmate."