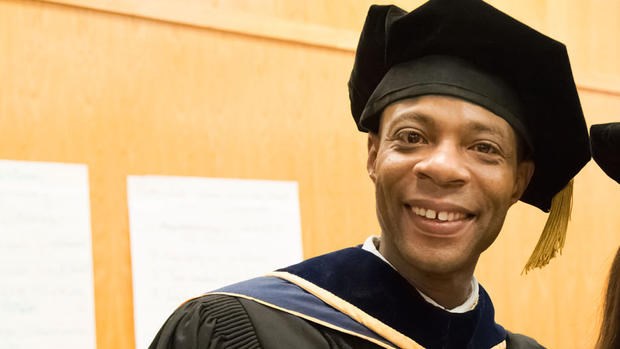 Congresswoman Yvette Clarke, City Councilwoman Laurie Cumbo and Brooklyn Borough President Eric Adams offered condolences for the loss of Medgar Evers College Dean Derrick Griffith, 42, who was tragically killed in the Amtrak crash Wednesday in Philadelphia.
U. S. Congresswoman Yvette Clarke:
"On behalf of the people of the Ninth Congressional District of New York, I want to share my deepest condolences with the family of Dean Derrick Griffith and the entire community at Medgar Evers College. Derrick Griffith was a leader in this community, a trailblazer in the profession of education, and a man who dedicated himself to the many students for whom he was a teacher, an administrator, and a mentor, as the founder of the CUNY Preparatory Transitional High School and as the Executive Director of Groundwork, Inc., an organization created to support young women and young men living in communities with high rates of poverty," said Clarke.
"Dean Griffith believed in his students and in their ability to develop their talents if provided with the necessary support. He was committed to providing that very support to a generation of high school and college students. His example of public service will continue to inspire all those people who knew him and will remember his passion for social justice and the future generation of leaders. Let us pray for the family of Dean Derrick Griffith and for the community at Medgar Evers College," she said.
City Councilmember Laurie Cumbo:
"As a Member of the New York City Council and the Committee on Higher Education, I would like to express my sincerest condolences and deepest sympathy to [the family of Eric Griffith] on behalf of the 35th District in Brooklyn," said Cumbo.
"The neighborhood of Crown Heights and the City of New York has lost an incredible public servant who demonstrated an unwavering commitment to the betterment of our community through the academic success of his students.With more than ten years of service as an educator, Dean Derrick Griffith has touched the lives of thousands through his passion for learning and the empowerment of our youth. The life and legacy of Dean Griffith will always be cherished through his invaluable contributions to the field of education.
"Though the journey ahead may be difficult, the love and support of family and friends will become your source of strength. Our thoughts and prayers are with you."
Brooklyn Borough President Eric L. Adams:
"Our hearts go out to his family and to the entire community at Medgar Evers College, where he served as dean of student affairs and enrollment management. He will be remembered for his commitment to education and his work on behalf of the less fortunate. I encourage all of us, in the spirit of One Brooklyn, to take on the mission he set out on to inspire and assist our young people to achieve their full academic potential," said Adams.