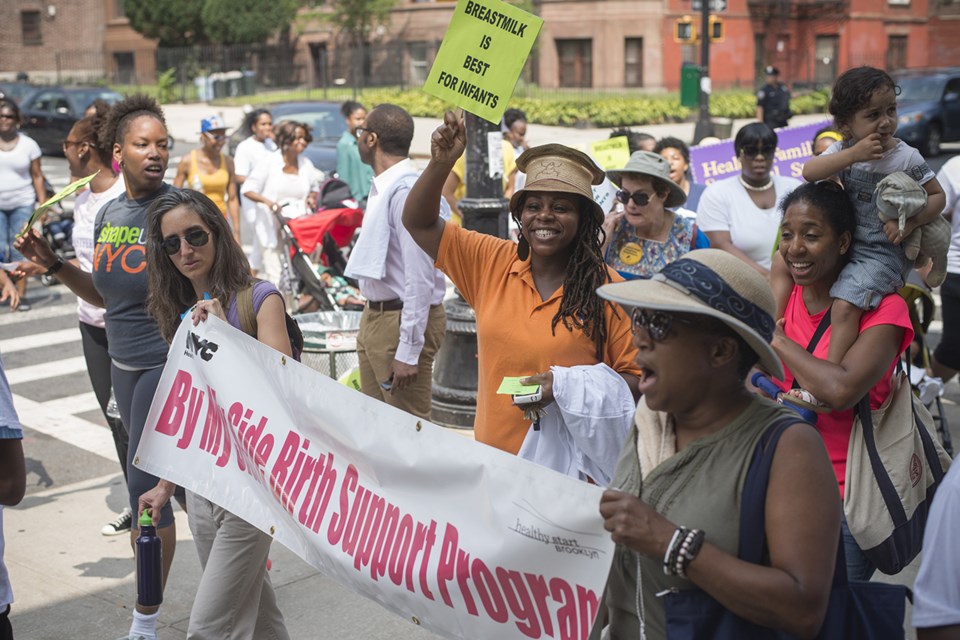 In a news cycle filled with war and violence from the Middle East, and corresponding rallies for one side or the other, it was heartening to attend an awareness march in Bed-Stuy and Crown Heights last Friday for something that nurtures all of humanity - namely mother's milk.
It was the Sixth Annual Breastfeeding Walk through Bedford Stuyvesant and Crown Heights to kick off August as National Breastfeeding Month and to mark the 20th anniversary of the New York State Civil Rights Law that protects a woman's right to breastfeed in public.
And judging by the more than 70 chanting mothers, fathers and children in strollers who marched and rolled from Bed-Stuy's Restoration Plaza to the Children's Museum in Crown Heights and back, they more than achieved their aim or raising greater awareness of the importance of breastfeeding as the first food of choice for infants.
"I've been breastfeeding my son for 11 months and I'll continue doing it as long as my son wants it," said Kai Michelle Blackman, who marched with a placard reading, 'Breastfeeding is best for infants' while pushing her son, Kayden Mason, who had a placard in his stroller reading, 'I am a breastfed infant'.
Blackman said she was breastfed for two years and her sister was breastfed for three years. It's also very good for bonding, she said, noting how little Kayden looks in her eyes or plays with her necklace while nursing.
Matthew Morales, a father of a breastfeeding child, and who works for the city's Department of Health Brooklyn Breastfeeding Empowerment Zone, said he was marching so women can have the access and support they need to nurse their children.
"It's important that men support breastfeeding because it leads to healthier families and a healthier society," he said.
The Breastfeeding Walk was a collaboration of the Bedford Stuyvesant Family Health Center, WIC, the Brooklyn Breastfeeding Empowerment Zone, Healthy Families New York, Bedford Stuyvesant Restoration Corporation and the Office of City Councilmember Robert E. Cornegy Jr.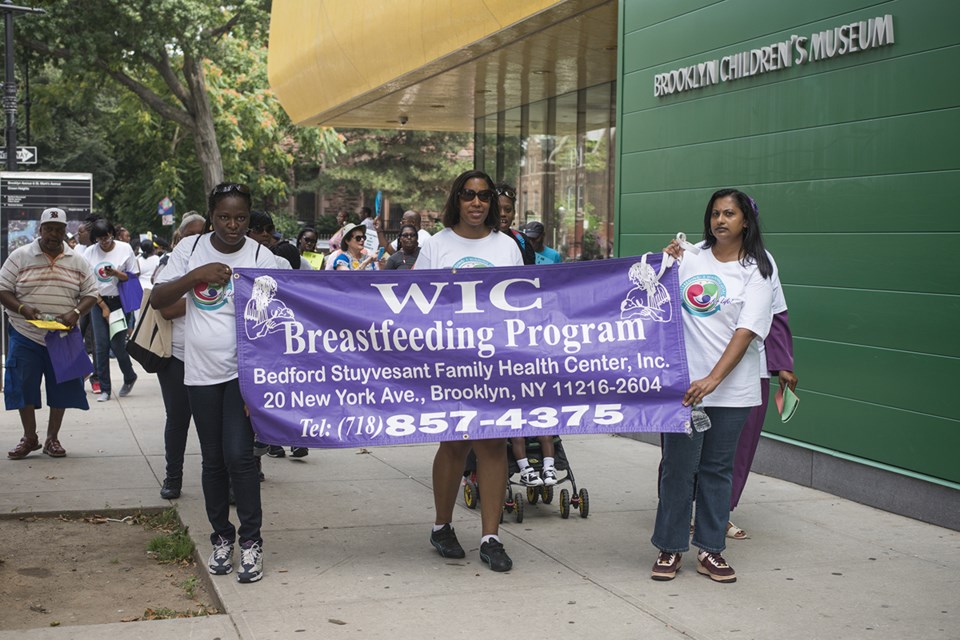 Cornegy, a father of six, is also on the forefront of the City Council's support of breastfeeding, and has a nursing room in his office where mothers can go to breastfeed and take care of their nursing needs.