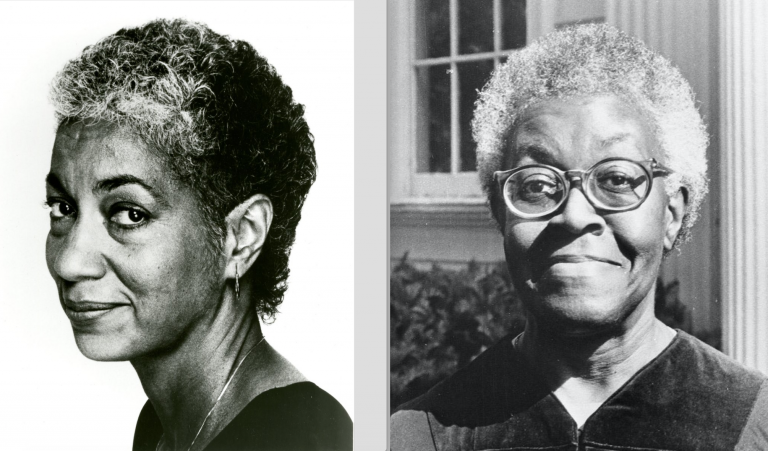 Beginning in March during the 2017 National Black Writers Conference and again in April during National Poetry Month, The Center for Black Literature at Medgar Evers College, will host two separate programs that pay tribute to the legacies of two extraordinary black writers, both of whom had a major impact on the Black Arts Movement and Black Power Movement of the 1960s: Author Gwendolyn Brooks (1917—2000) and Poet June Jordan (1936—2002).
Brooks and Jordan provided artistic and literary responses that speak to the structural racism, social inequity, and gender bias in society. Their writing also documented the interior lives and cultural experiences of Blacks in urban America.
Gwendolyn Brooks
The first presentation and discussion will be held on Saturday, March 25, and will focus on Gwendolyn Brooks. Our Miss Brooks: A Centennial Celebration marks the centennial of the birth of Brooks. An Illinois poet laureate and the author of more than 20 books of poetry, including A Street in Bronzeville (1945); Annie Allen (1949); The Bean Eaters (1960); In the Mecca (1968); and the novel Maud Martha (1953), Gwendolyn Brooks is the first Black author to win the Pulitzer Prize.
The event will be live-streamed and serve as a centerpiece of the 2017 National Black Writers Conference Biennial Symposium taking place from 10:00am - 6:00pm at Medgar Evers College, located at 1650 Bedford Avenue.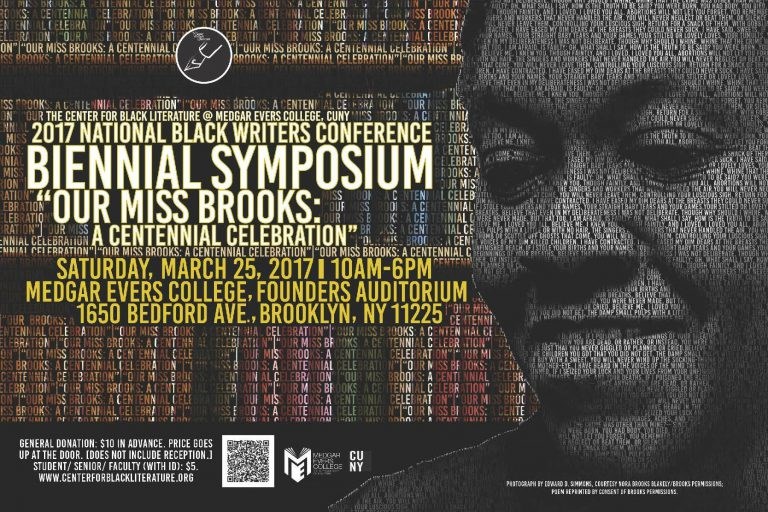 "Gwendolyn Brooks was an extraordinary writer, educator and activist who wrote with fierce urgency about issues her community as well as society were dealing with; she captured in words what was happening at the moment," said Dr. Brenda Greene, executive director of The Center for Black Literature and Chair of the English Department at Medgar Evers College.
During what promises to be an engaging celebration of Brooks' life and work, the Our Miss Brooks: A Centennial Celebration program will include reflections on Brooks' life, a discussion of the impact and significance of her literary works, and dramatic presentations both from her work and inspired by her passionate and vigorous works.
Dr. Haki R. Madhubuti, author, poet and publisher of Third World Press, will be the keynote speaker. In his book, Honoring Genius, Gwendolyn Brooks: The Narrative of Craft, Art, Kindness and Justice, Madhubuti writes: "Ms. Brooks was a woman who could not live without her art, but who had never put her art above or before the people she wrote about."
Poets and educators Cheryl Clarke, Angela Jackson, Quraysh Ali Lansana, Marilyn Nelson and Nicole Sealey will also be featured on the program.
General donation is $10 in advance; $5 for students with ID, faculty, and seniors; and the more on-site. For more details, to register, and for ticket information, go here.
June Jordan
Jordan's program, June Jordan: Reflections on Her Life and Activism, will take place Thursday, April 20, from 6:300pm - 8:30pm at the Brooklyn Public Library, located at 10 Grand Army Plaza in Brooklyn.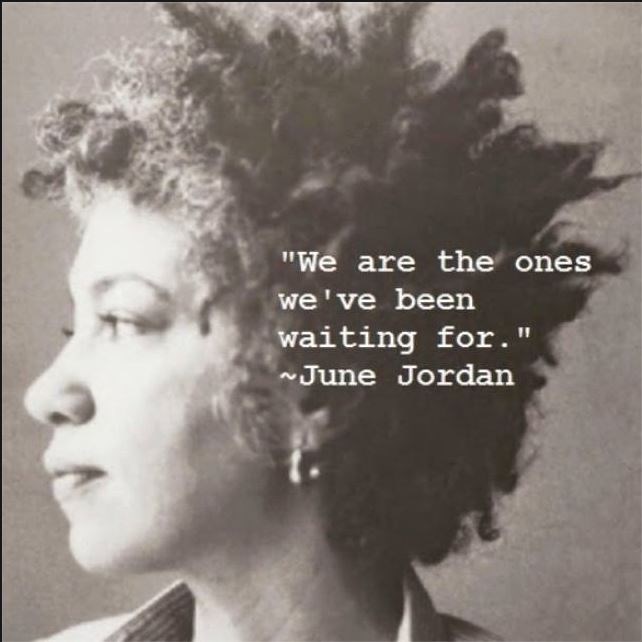 Jordan was a poet, essayist, activist, educator and the author of more than 25 books. She was one of the most widely published and highly acclaimed African-American writers of her generation. Her works include Directed by Desire: The Collected Poems (2007); Kissing God Goodbye: Poems, 1991—1997 (1997); Haruko/Love Poems (1994); Naming Our Destiny: New and Selected Poems (1989); Things That I Do in the Dark (1977); and Affirmative Acts: Political Essays (1998).
The program, presented in partnership with the Center for Law and Social Justice at Medgar Evers College and the Brooklyn Public Library, will focus on Jordan's works, how she represents a life of activism, and the ways today's artists continue the tradition of literary activism.
Poet and literary activist E. Ethelbert Miller and biographer and scholar Valerie Kinloch will participate in a conversation on Jordan's work and life of activism. Social justice activist and attorney Joan Gibbs will join the conversation as a respondent.
June Jordan: Reflections on Her Life and Activism is free and open to the public.