This week, the Census Week of Action is being launched in New York City to highlight the importance of filling out the census and what residents risk losing if we don't get our response rate above the current 53 percent.
Using the hashtag #GetCountedNYC, the city will hold a week of activities across the five boroughs to try and get people to respond to the census.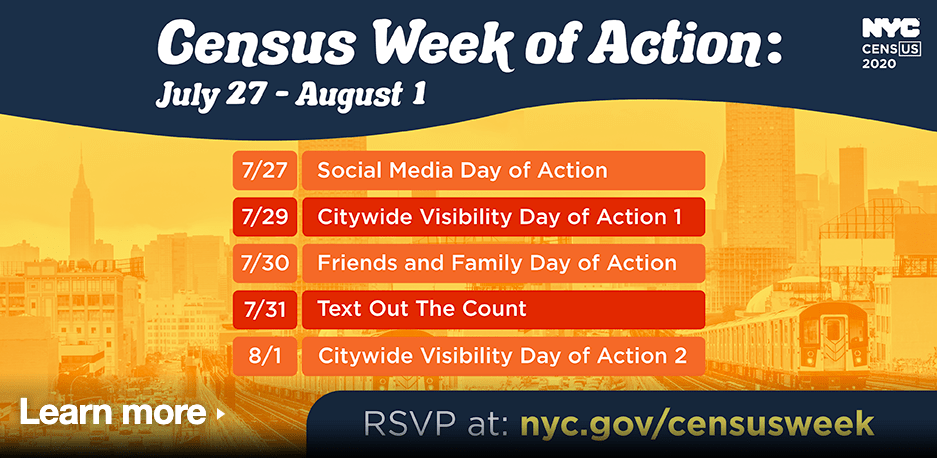 The schedule is:
Monday, July 27: Social Media Day of Action: All New Yorkers will be asked to share key social media images and posts, reminding New Yorkers to complete the census, using the hashtag #GetCountedNYC
Tuesday, July 28: Partner-led community events citywide: NYC Census' partners will lead events citywide.
Wednesday, July 29: Citywide Day of Action I: In-person outreach at transit hubs, parks, playgrounds, small business corridors and other key public areas in areas with historically low self-response rates. PPE will be provided.
Thursday, July 30:"Friends and Family" Day: New Yorkers will be asked to call or text 10 family members to remind them to complete the census.
Friday, July 31: "Text Out the Count": Using the peer-to-peer texting platform Hustle, individuals can reach tens of thousands of their fellow New Yorkers to remind them to complete the census and answer key questions about the census.
Saturday, August 1: Citywide Day of Action II: In-person outreach at very high-traffic locations across the city.
The coronavirus pandemic, economic crisis and protests over systemic racial injustice have largely overshadowed the current census, which takes place every ten years. But they have all highlighted the needs in Brooklyn that funding from the census would address.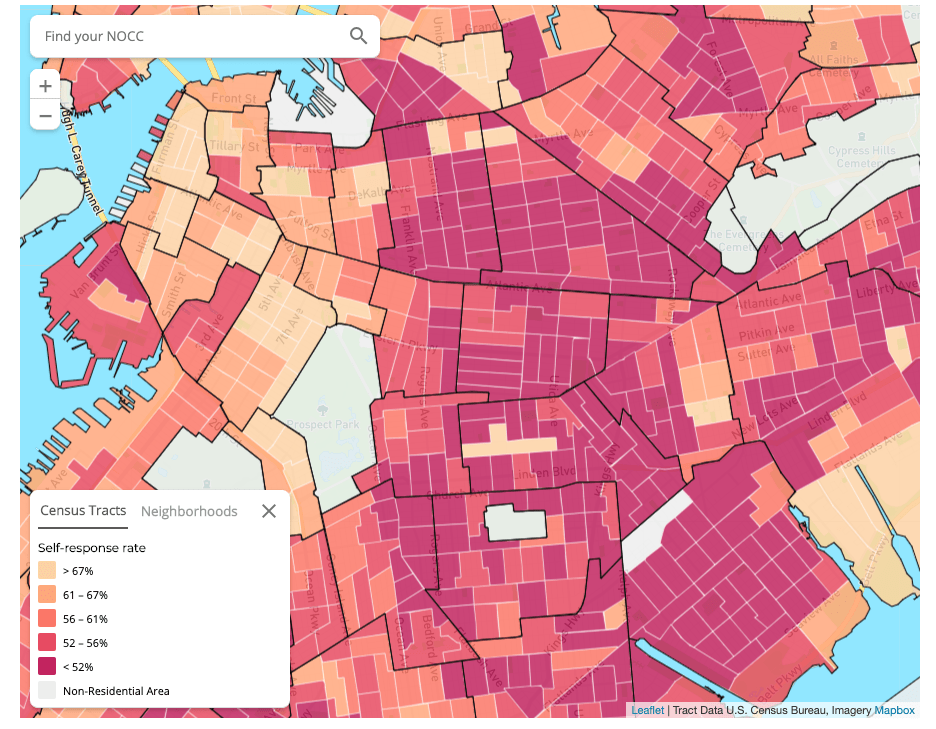 The census is a national survey that determines the distribution of $1.5 trillion in federal funds each year, which go towards public schools, housing and seniors centers, healthcare, transit and much more.
The city has spent around $40 million on getting New Yorkers to fill out the census. Outreach has included phone banking, sending 5.6 million text messages and enlisting celebrities such as Cardi B, Alicia Keys and Lin-Manuel Miranda to boost the profile of the document's importance. Thousands of census workers will also start going door to door.
Of the five boroughs, Brooklyn currently has the lowest response rate of just 50 percent. Citywide the response rate is just above 53 percent. If more New Yorkers don't fill out the document, the city could risk losing two congressional seats and billions in federal aid.
You can fill out the census here. No questions are asked about immigration status, citizenship, income, criminal history, taxed or social security information.