New York City officials took extraordinary measures to achieve an accurate census count this year. But just as the count got underway in mid-March, an unimagined crisis gave the city a gut punch. The deadly COVID-19 pandemic forced a shelter-in-place order that threatened to derail months of preparation for the 2020 Census.
The virus added another layer of challenges to overcome, especially in certain Brooklyn neighborhoods that tend to have low census self-response rates.
However, it's a mistake to think that the city's census outreach team isn't up to the task.
"New Yorkers don't let anyone or anything hold them back. It's going to take a lot of tough work, but who's tougher than us?" said Kathleen Daniel, field director for NYC Census 2020.
To avoid a repeat of the 2010 undercount, city officials invested $40 million into NYC Census 2020, a "first-of-its-kind" initiative by Mayor Bill de Blasio to achieve a "complete and accurate" census count.
In January, the mayor's office and City Council kicked off the outreach campaign with the help their partners: CUNY and dozens of community-based organizations, as well as private and civic institutions.
What's at stake in the constitutionally mandated census count that happens every 10 years?
Among many other things, it determines how much funding the federal government apportions to states for schools, transportation and infrastructure projects, as well as various welfare programs. It also apportions seats in the U.S. House of Representatives based on population.
"We've been working very hard and fast to figure out all the different ways we could reach New Yorkers," Amit Bagga, deputy director for NYC Census 2020, told BKReader.
Since social distancing rules make in-person community presentations impossible, the city's census team ramped up other pillars of its outreach strategy. The two primary tools in its arsenal are texting and phone banking. High-tech software has fueled the massive outreach figures, he stated.
The team also shifted funds from a huge MTA ad campaign to digital, TV and radio advertising, at a time when the virus caused mass transit ridership to plummet.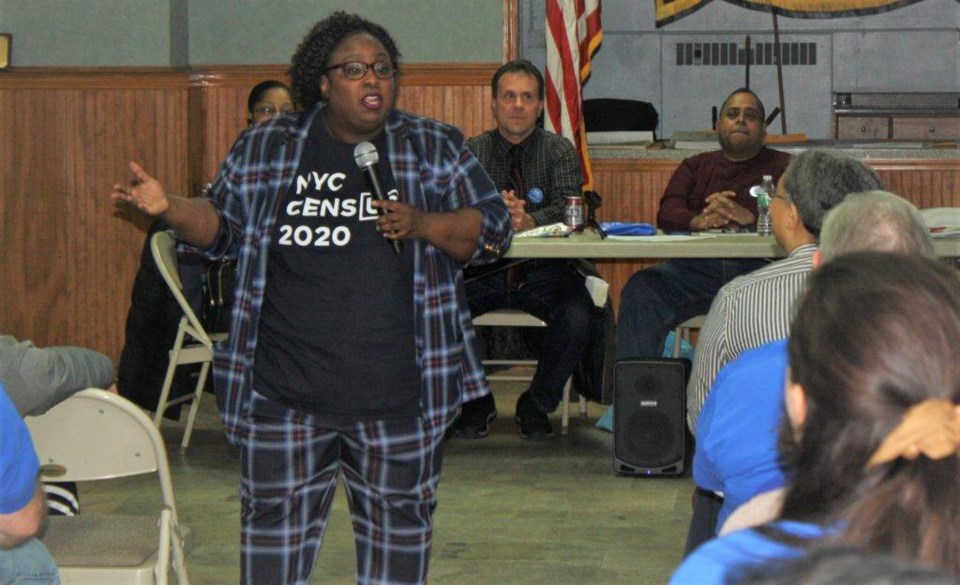 The ramped-up efforts have borne fruit despite the Coronavirus setback, said Bagga: "The response rate has been very encouraging."
However, Brooklyn lags Manhattan, Staten Island and the Bronx, he noted.
That's not unusual. "Brooklyn is the hardest to count county in all New York State," according to Brooklyn Community Foundation. More than 80 percent of borough residents live in communities where large numbers of people usually fail to self-respond, data from the CUNY's Center for Urban Research shows.
A close look at the numbers reveals a disparity. As of April 20, nearly half the residents of some neighborhoods have self-responded: for example, Brooklyn Heights (49.6 percent) and Park Slope (49.5 percent), according to U.S. Census Bureau data.
By comparison, only one-third of residents in other neighborhoods filled out the questionnaire so far: Crown Heights East (33.9 percent), Canarsie (33.1 percent) and Sunset Park (33.0 percent).
As a field director, Daniel traveled throughout Brooklyn and other boroughs to make very spirited census presentations before COVID-19. There are several reasons why Brooklyn has been "historically undercounted," she said.
For one thing, Brooklyn has a significantly high undocumented immigrant population that would naturally fear to answer census questions. Also, scores of families—many of them in NYCHA units and other multifamily dwellings—are living doubled up in small apartments. They hesitate to get involved in the census count over concerns that their landlord will find out. There's also deeply historical, rooted mistrust, especially among African-Americans, about what the government will do with the information it collects.
"What better thing to do for your community right now than to complete the census."
"The census is not anonymous, but it is private," Daniel assures people during her presentations. "By law, the data cannot be released to government agencies, immigration officials, law enforcement or landlords."
Undaunted by the challenges, Daniel continues her work through virtual meetings. She recently met on Zoom with NYCH tenant association leaders. She's optimistic that the dedicated team of volunteers and staff will accomplish their mission.
"We are going to see more people understand that the path to recovery can be paved with participation in the census," Daniel said, commenting on the increased level of "care and compassion" New Yorkers are showing during the pandemic.
"What better thing to do for your community right now than to complete the census."