By: Gavy Contreras
---
A Brooklyn business owner is demanding that the Metropolitan Transportation Authority address hazardous levels of lead he says he discovered in rusted paint chips from multiple JMZ elevated subway structures in Bushwick.
Salvatore Polizzi, co-owner of Tony's Pizzeria and Restaurant on Knickerbocker Avenue, said that after 20 years of neglect by the MTA and "rust on the structure that's been eating away at the steel," he took corroded paint chips off the ground from around the Myrtle-Wyckoff, Myrtle Avenue/Broadway and Knickerbocker Avenue stations and had them tested in July 2020 at an independent lab.
The samples, tested by Schneider Laboratories Global Inc., came back showing high levels of lead, ranging from 15,800 to 63,000 parts per million, or more than 12 times the legal limit for lead paint. According to the International Union of Painters and Allied Trades, 5,000 parts per million is when lead abatement would be required.
"I live and have a business in this community, my family is [here]," Polizzi said. "Everything that affects my community in a negative way, especially one that affects our kids' health, that's a big red flag for us."
Polizzi said that since he received the results, he had been desperate to get clarification from the MTA and, through a Freedom of Information Law request, was told by the agency that its own tests indicated acceptable amounts of lead on the structures.
However, Morri Markowitz, director of the Lead Poisoning Prevention and Treatment Program at the Children's Hospital at Montefiore, said the agency was testing at a different time point than Polizzi and it was possible it had also tested in a different location.
Markowitz added that residents could potentially get sick by inhaling dust particles and ingesting paint chips that contain lead. "If somebody is going up on the subway platform and is noticing peeling or chipping paint on any metal surface, that should ring a bell that there's going to be a potential hazard," he said.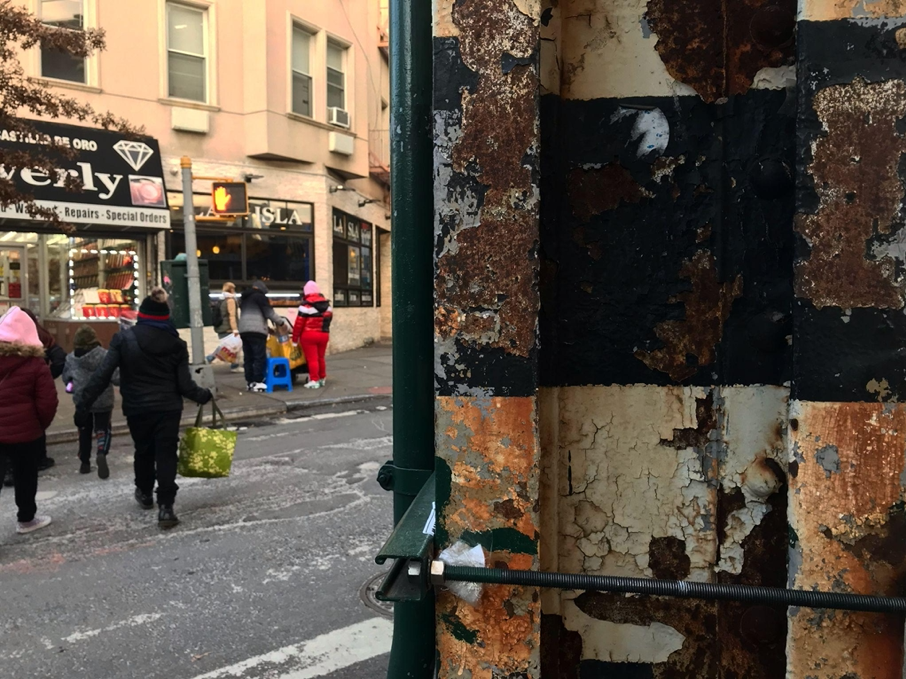 Polizzi said before the paint was tested, he wrote a letter to local elected officials, including now-Borough President Antonio Reynoso and Assemblymember Maritza Davila, detailing the unsightly transit infrastructure.
Assemblywoman Davila said in an emailed statement to BK Reader that after being made aware of the transit conditions she, along with Reynoso, Rep. Nydia Velazquez and State Sen. Julia Salazar, wrote a letter to the MTA detailing how "the status of the elevated transit structure puts our community at risk, especially for children who attend schools in the surrounding area and local restaurants with outdoor dining."
MTA spokesperson Dave Steckel said in a statement emailed to BK Reader that the current rehabilitation of the M line project is "well underway," with structural work in Brooklyn complete and the overcoat painting scheduled to begin in Summer 2022.
In 2017, lead was found on the chipping paint of several elevated structures in Queens on the 7 subway line. It was tested by the IUPAT, with results showing more than 40 times the legal limit of lead paint. A group of Queens residents sued the MTA over the toxic conditions and settled for an undisclosed amount, as noted in public court records.