It started as a casual mention after the NYC Department of Transportation tweeted its plans for the upcoming shutdown of the L Train, a major mode of transportation for residents of East Brooklyn into Manhattan: Where are the Citi Bike docks in Bushwick?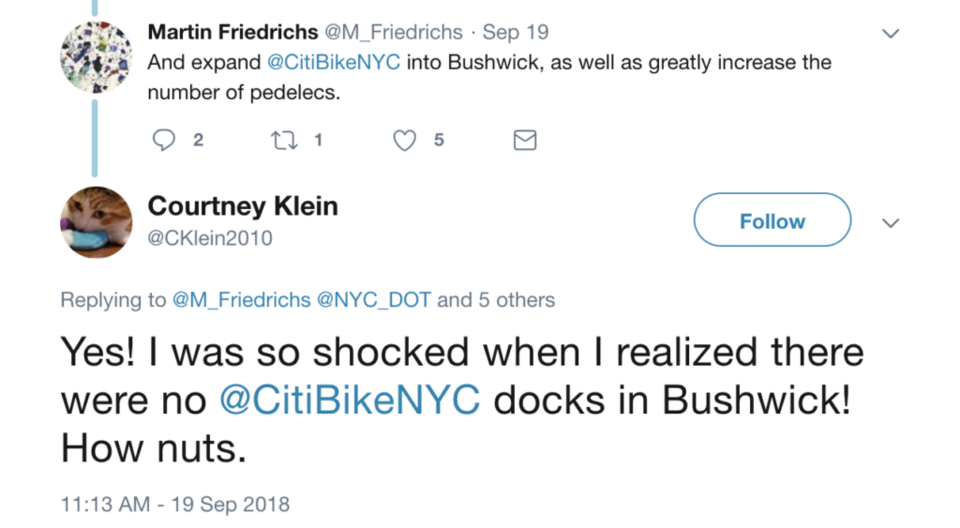 It's hard to believe that not a single Citi Bike dock has been installed in Bushwick since its NYC launch in 2013 and also considering the area's current limited transportation options. But, it's true: The closest Citi Bike dock available is on Grand Street and Bushwick Ave, at the East Williamsburg border.
And as the L Train shutdown looms, residents are growing increasingly anxious about how they will be able to get around.
"Having the option of Citi Bike would be amazing for Bushwick. It's hard for me to understand why it hasn't made its way here yet."
The shutdown, projected to last as long as 15 months, will effect the commutes of the roughly 300,000 people who use the train each day. But while DOT and Citi Bike are taking precautions for Lower Manhattan and Williamsburg by adding protected bike lanes and 1,000 new bikes to stations in those areas, they seem to have forgotten about Bushwick.
"It's frustrating that they haven't expanded Citi Bike into Bushwick," said Kayla Retzler, a Bushwick resident for seven years. "With the L train construction coming up it would fill a huge gap and provide an alternative for transportation."
Last month, at an event with Mayor de Blasio, Department of Transportation (DOT) Commissioner Polly Trottenberg alluded to an expansion of Citi Bike service into Bushwick. "We are looking at where we're going next, potentially deeper into Bushwick," she said. "The goal is to get them in before the shutdown."
But no precise plan or timeline has been revealed, which has some Bushwick residents wondering why it has taken so long to add a few docks to their neighborhood:
"Citi Bike doesn't cost the city anything. It's a really effective program that users like myself love," said Martin Friedrichs, an art dealer who has lived in Bushwick for two years. "I'd love to see a Citi Bike dock on my street."
Citi Bike's parent company, Motivate, puts the onus for the slowdown on the City and DOT. "The city determines when we expand and where," said Madeline Kaye, a consultant for the company. "It's a long drawn out process with the city and stakeholders."
"I don't even know whats going to happen when the L shuts down," said Christine O'Loughlin, a graphic designer and Bushwick resident. "Certainly, having the option of Citi Bike would be amazing for Bushwick. It's hard for me to understand why it hasn't made its way here yet."
Still, DOT says Citi Bike's expansion into Bushwick is in the works: "We are actively working on providing Citi Bike services in Bushwick as part of our L train mitigation efforts," said a spokesperson for DOT Tuesday morning. In the meantime, they say they are creating more protected bike lanes to better connect Bushwick to the Williamsburg Bridge.
Council Member Antonio Reynoso, an advocate for transportation alternatives who represents Bushwick in the 34th district, also expressed his desire to see the service expand into Bushwick. "Alternative modes of transportation will be critical for Bushwick residents once the L train shuts down," said Reynoso. "I have requested DOT expand Citi Bike into Bushwick and will continue to advocate for this."