By Verna DuBerry Ademu-John, MS, Program Coordinator and Kelly Cheung, Health Intern, Partnership for a Healthier Brooklyn at Bedford Stuyvesant Restoration Corporation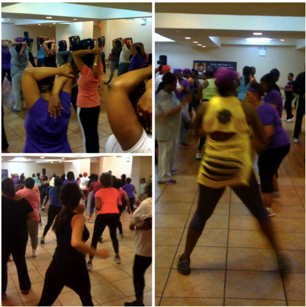 Bedford Stuyvesant Restoration Corporation, in partnership EmblemHealth, launched its free fitness classes at the end of March. The classes are being led by Nakisha Ross, group fitness instructor/personal trainer and founder of Alwayz Fit 4 Life.
The classes aim to improve cardiovascular health, strengthen muscles, and increase flexibility through full-body workouts incorporating aerobic exercises, weight lifting, and stretching. In addition to these exercises, these sessions also provide nutritional support and information to encourage healthier eating choices.
Nakisha founded Alwayz Fit 4 Lyfe in January 2011 to share her love of fitness with the people in her community. In 2008, during her fitness and wellness journey, Nakisha lost 103 pounds with dedication, a new exercise regime, and improved diet. At that time, her career and passion was in social work, but budget cuts made it difficult for her to work consistently. Nakisha was inspired to make a change in her life.
During her journey, she fell in love with health and fitness and decided to turn that passion into a new career; she became a certified fitness instructor and created Alwayz Fit 4 Lyfe. Her company is dedicated to helping others by providing wellness classes designed to strengthen the mind, body and soul. It emphasizes mental, physical, emotional, and spiritual strength through self-love and dedication.
Alwayz Fit 4 Lyfe is representative of everything Nakisha learned throughout her own fitness journey; she has since expanded and is now operating in both Brooklyn and Queens.
Nakisha and Alwayz Fit 4 Lyfe have been offering fitness classes at BSRC. Restoration seized the opportunity to partner with her to host the Free Fitness Classes, which on began March 23. The first class was hugely successful. Thirty people were expected, but over 100 registered and over 70 people of all ages participated.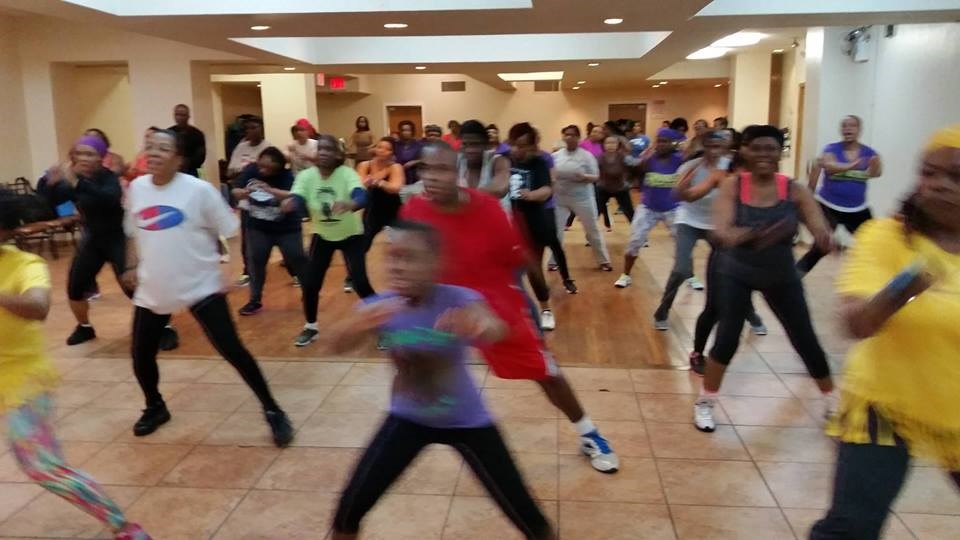 Nakisha leads the class with vigor and encourages a positive workout environment. On participant said, "People feed off each other's enthusiasm, keeping the classes exciting and high-energy." One thing Nakisha stresses is that people should strive to incorporate exercise into their daily lives. Many of the participants are working mothers with young children who may not necessarily always have time to look after themselves.
She emphasized that thinking of exercising as something as nurturing and beneficial, rather than an obligation, will foster a much more positive mindset that can lead to a healthier lifestyle. One tip from Nakisha, "take the same effort dressing to exercise as you would for work; a simple act such as matching your shoes to your shirt can make you more excited. "If you look great, you will feel great," she said. Nakisha strives to offer more than just a wellness program; she created an uplifting movement that builds a community dedicated to bettering themselves through a healthy lifestyle.
Classes will be hosted at Bedford Stuyvesant Restoration for a year. They are offered twice a week, on Mondays and Wednesdays from 6:30 — 8:00 pm. "We encourage people of all experience levels to come check our classes.
Our instructors are very sensitive and encouraging, and they will work with participants to find their pace and rhythm so that they can feel confident to continue on the path of health," says Dave Mahder, EmblemHealth Vice President of Marketing. EmblemHealth and BSRC are committed to providing new opportunities for residents to start living a healthier lifestyle.
In addition to these fitness classes, free healthy eating workshops are being offered as well. If you are interested in signing up for either, you can call 866-652-1705 or visit emblemhealthlivehealthy.com.