On Tuesday, fourth and fifth grade students from Brownsville and Ocean rallied outside City Hall calling on leaders to fund more healthy food options in underserved Brooklyn neighborhoods.
The students, backed by teachers and food justice nonprofit Seeds in the Middle, marched from Borough Hall across Brooklyn Bridge to City Hall with letters they had written to local leaders, and made speeches and sent a petition to Mayor Bill de Blasio and City Council members calling for $150,000 in funding for eight to ten farm stands across Brooklyn.
P.S. 178 student Anaya Jackson said she worked at the farm stand at her school with her classmates, and they had come together to make sure the stand could stay open.
"We would really love to keep our farm stand open however due to a lack of funding we might not be able to stay open for long," she said.
"One reason we need to keep the farm stand open is we can help the homeless. The homeless can come and get healthy food from the farm market. Another reason why is because people have to stay healthy in our community."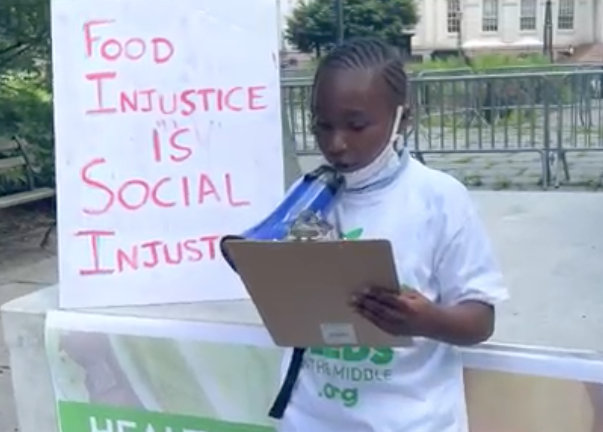 Jackson said it was important to keep her school's stand open, and to open new stands in the community, because the stands taught students how to work together to grow their own food, and helped with math and ELA.
She urged Councilmember Alicka Ampry-Samuel to back the funding, saying "farm markets greatly supports efforts to provide a healthy community."
Seeds in the Middle founder Nancie Katz said the $150,000 in funding they were asking for would go towards school-run farm stands, edible gardens and fresh coupons, "so everyone has an equal chance to be healthy."
"We all know that communities of color have been devastated by COVID-19, dying at disproportionate rates due to being plagued by preventable diseases like diabetes, heart disease - caused by the dumping of junk and processed food in their communities," Seeds in the Middle said in a press release.
"Why don't they have affordable fresh food? This is a complete City failure. The pandemic exposed devastating health disparities and rates of food insecurity."
Seeds in the Middle said it was asking for re-allocation of funds to promote healthy local business, including local community and school-run farm stands, edible gardens, free fresh coupons and green cafes.
Katz said the funding would at least $20,000 of the funding would go towards 2,000 free coupons for fresh food; EBT/SNAP wireless equipment at every farm stand; paid market manager at every farm stand; free food giveaways for those in need at every farm stand; edible garden support at or near every farm stand; healthy cooking classes or tips at every farm stand; resources for those in need at every farm stand; and Farmers Market Nutrition Program check acceptance and processing at every farm stand.
So far, existing and planned stands are located at P.S. 284 in Brownsville, P.S. 178 in Ocean Hill, We Want to Eat into Wellness Farm Stand at 1585 Fulton, Wyckoff Farm Stand, Parkside Plaza and Flatbush at Juicy box. Seeds in the Middle is calling on community input for other possible stand locations.
For more information or to get involved, click here.