The pre-gentrification plan includes goals to increase affordable housing and sets expectations for community-focused economic development.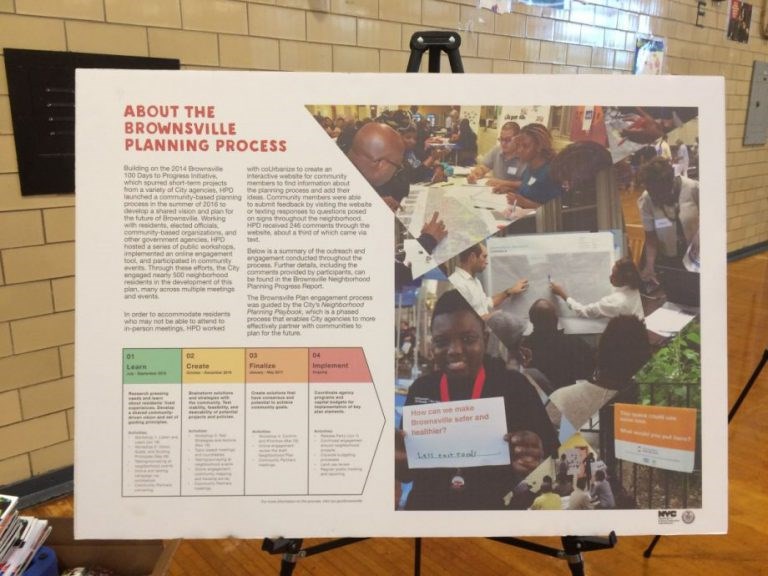 Earlier this month, the Brownsville community of residents, city staffers and elected officials announced a pre-gentrification plan that comes after a year of community engagement involving the Housing Authority, the Housing Preservation and Development Department, residents and neighborhood groups, reports Next City.
"We believe that the community already has everything we need to make it better," says Erica Mateo, director of community-based initiatives at the Brownsville Community Justice Center (BCJC). "I feel like we're one of the last frontiers for gentrification. We don't want our work to be co-opted."
The pre-gentrification plan, which envisions Brownsville as an arts hub for NYC, includes strategies and goals to increase affordable housing and improve residents' health and safety, and sets an expectation for community-focused economic development that would lower unemployment and boost entrepreneurship.
According to the Brownsville plan, the BCJC, along with Hester Street Collaborative and Made in Brownsville, will analyze data to explore potential projects that could address placemaking, business attraction and retention, merchant organizing and other needs identified on the Belmont Avenue corridor.
Since 2014 BCJC has been focused on the Belmont Avenue commercial corridor by organizing youth cleanups and a monthly street festival to increased foot traffic. The goal is to attract visitors who will also spend money and thereby enable businesses to survive and thrive; business ventures need to be set up for success and opportunities for people who cannot afford brick-and-mortar retail businesses need to be created.
One such solution is the innovation and entrepreneurship space of the Central Brooklyn Economic Development Corporation (CBEDC), the Brownsville Gateway incubator, which provides a space for entrepreneurs without the obligation of a long-term lease, as well as business training to startups in the community with an operating budgets of less than $25,000.
With a new Brownsville plan being celebrated, La'Shawn Allen-Muhammed, executive director at CBEDC emphasizes, "We're really adamant about supporting our local residents and businesses. So that once the community changes, they're still here."