"Essential Brooklyn" is an 8-part series spotlighting the people and organizations working overtime to lift up their communities through the COVID-19 pandemic. These are the ones who give the most with the least resources. They're our true essential workers, our community anchors; the ones who often go unnoticed, until you need them.... The ones who have been there for us all along.
---
Standing on Belmont Avenue with a handful of face masks, Rodney Frazier stepped aside to avoid being in a photograph. He passed a mask to a man who approached him, shot him a smile, and kept looking for others who needed one.
He seemed almost oblivious to the cameras and small crowd around him, which had gathered for a visit from Brooklyn's Borough President, there to support Frazier's work. But in his chefs clothes, Frazier seemed more determined to give people masks and go back to the kitchen, than to stand around smiling and having his photograph taken.
He was not there for the attention: He was there to work; he was there to teach; and he was there to serve the people in his community.
Frazier is the executive chef behind Collective Fare and chef educator at the Brownsville Community Culinary Center, two organizations that have pivoted during the pandemic to provide meals for the most vulnerable and at-risk residents in their community, Brownsville, free of charge.
"I have a cousin and her husband that work at Bellevue [Hospital]. She's a psychiatrist. So is he," Frazier said. "What I do is minor compared to them putting their safety at risk."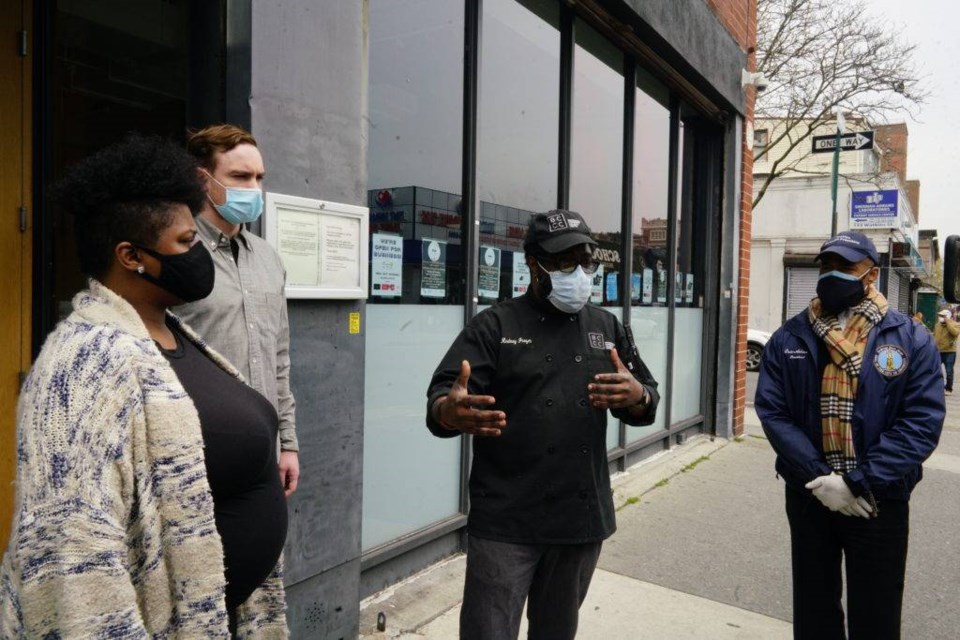 But they are working on different playing fields, and Frazier's impact is by no means minor. Working day and night from the kitchen at BCCC, Collective Fare is preparing 800 healthy meals a day for people in need and is planning to scale to 2000 a day.
"I don't think chefs engage enough in their communities, and I wanted to really make a difference in my career," he said. "God knows I'm putting my family at risk, but I want to be out here, I want to see the need and I want to touch it."
Engaging in his community is the bread and butter of Frazier's work as a chef. With more than 25 years of experience working in restaurants, including training inmates in foodservice, Frazier has spent the last few years giving free training to young Brownsville residents wanting to pursue a career in the food service industry through a full-time program at the BCCC.
As a chef, he said food was a way to engage in meaningful conversations in communities, and others working in the profession should band together to tackle the city's diet-related illnesses.
"In every neighborhood the problems are different. If we all pick our specific locations and do what we can with it, the word spreads like wildfire," he said.
Meals For All
When COVID-19 hit, BCCC and its onsite partners Collective Fare-- an education and catering company cofounded by Frazier-- knew the pandemic would hurt Brownsville in ways it would not affect others neighborhoods. Systematic inequities and decades of under investment have left the neighborhood with some of the highest poverty and failing health rates in the city.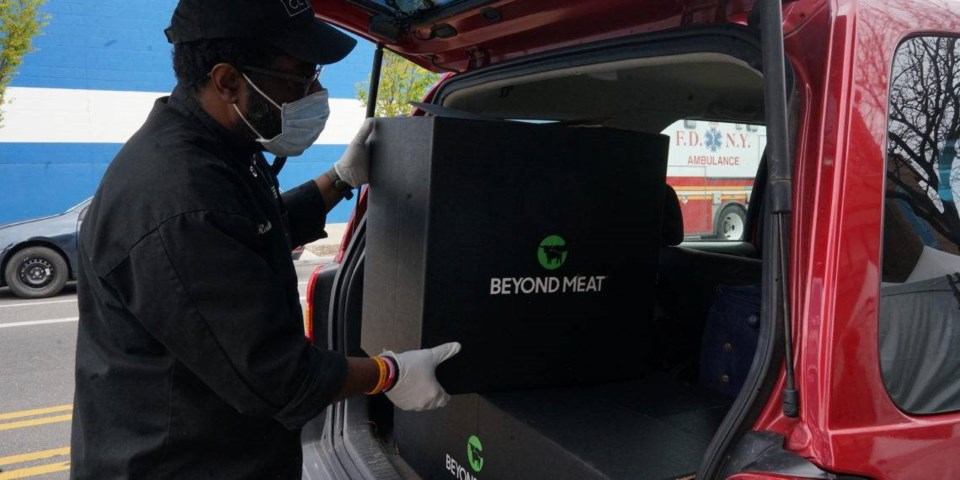 "We knew there would be places that would be saved immediately and others that would not, and we knew for a fact that Brownsville wasn't going to be the first place on anybody's radar," Collective Fare Director of Operations LaToya Meaders told BK Reader. So she, Frazier and BCCC cofounder Lucas Denton did something about it.
Rehiring graduates of BCCC's chef training program who were out of work with restaurant closures, they started the Meals For All program to make sure everyone in their community could be fed, and fed well.
"I knew that anything that would actually help a struggling neighborhood had to come from within that neighborhood."
Using donations from groups, including Rethink, City Harvest and many others, including donations from members of the community, the team has prepared thousands of healthy and nutritious meals for local shelters, seniors centers, healthcare facilities, and frontline workers. Prepared fresh and in large batches, all the meals are made to suit people suffering from diabetes and other diet-related illnesses.
"From any chef's perspective, it's fun, because we never know what we're getting off the truck," Meaders said, as she looked at the day's creation of cod fishcakes. "It's like chopped on steroids."
Frazier, whose family is from Sierra Leone, always teaches and cooks with his community in mind, and said cultural relevance had always been key to the program, "It is important to not lose connection with what you're eating," he said.
He teaches students the importance of making everything from scratch, using spices and herbs to create flavors for meals they love to eat. And that's exactly what they are doing in the BCCC kitchen for the thousands of residents in Brownsville—whipping up anything from cod fishcakes to burritos using meat substitute Beyond Meat.
Community First
Lucas Denton, a slender, unassuming, 34-year-old, said this sort of work was the reason he cofounded BCCC, to give Brownsville residents the opportunity to receive professional training in the food industry and go on to spread high quality and healthy food throughout their neighborhoods.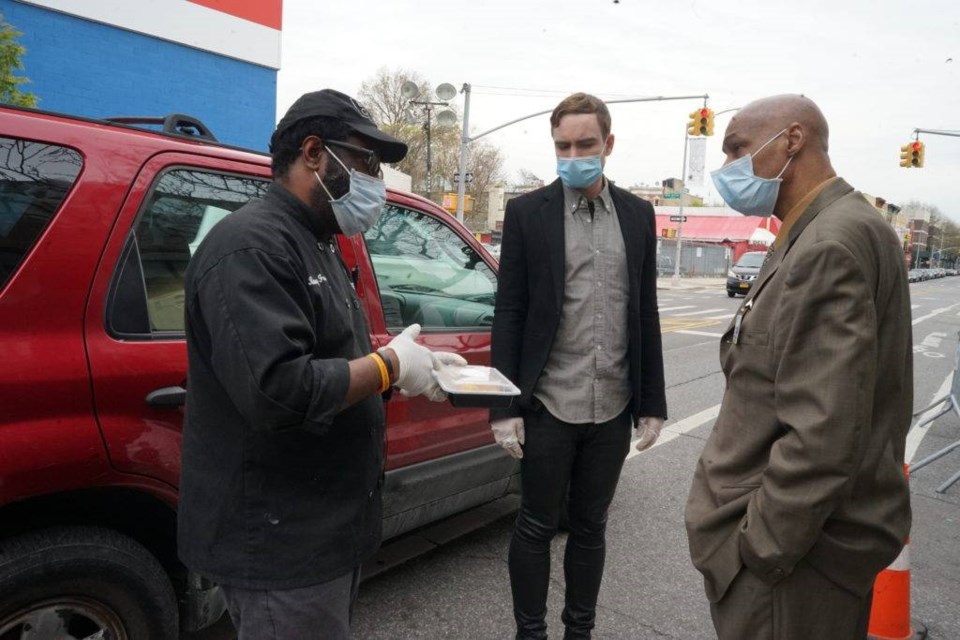 "From the outset, the goal was to create a resource for the community," said Denton, and "I knew that anything that would actually help a struggling neighborhood had to come from within that neighborhood."
Denton, who dealt with substance abuse in his late teens and was homeless for many of those years, said when he was younger, he was given the opportunity to change his life through a free community course. He did that. But, he lamented, he was one of only two people selected that graduated, because it was designed for people like him: young and white. Since then, he has been dedicated to racial justice work in underserved communities.

Since it launched in 2017, the BCCC has trained 70 local residents age 18 to 34 for careers in food service through a 10-month education program, with many graduates going on to top jobs in the city. It has also provided Brownsville with its first sit-down restaurant in 50 years, with students cooking affordable meals for the community seven days a week.
The program took a hiatus at the end of 2019, to find a more financially sustainable model of operating (which Collective Fare is helping to address). The plan is to start the program again this year, along with Collective Fare's relaunch of BCCC's onsite café and restaurant which, Meaders said, would include a new co-working space with small business incubators run by Collective Fare. Collective Fare will be doing full service catering to fund the work, and the trio are tirelessly networking with local organizations and businesses to keep things going.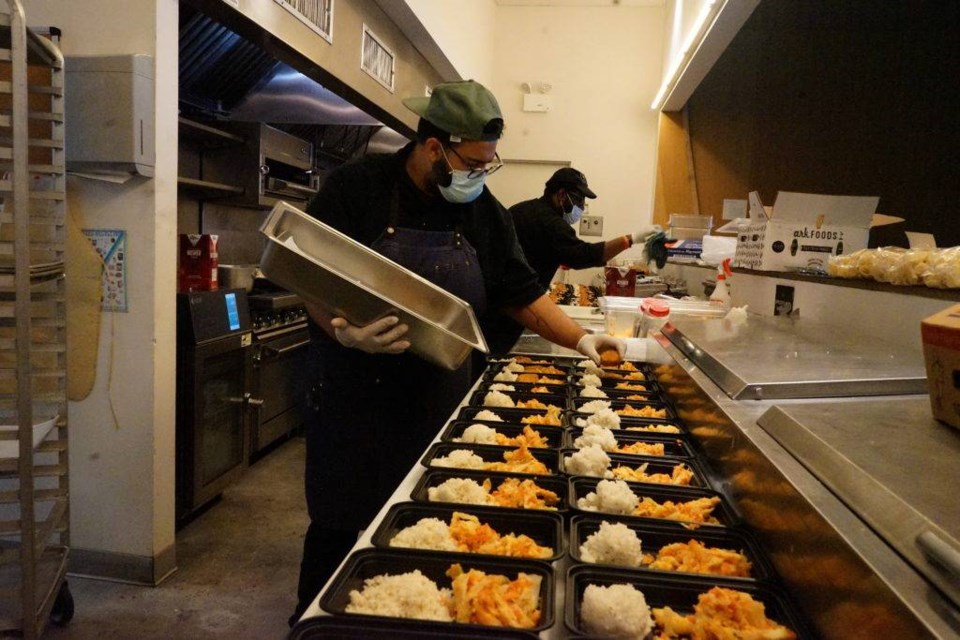 Graduate Jason Gutierrez was reemployed by the BCCC and has been working full time on the Meals for All program. He sees the huge value in the program: He said, when he was accepted, after years of working as an exterminator, he thought it was too good to be true.
"I owe this place so much," he said. "I wanted to be a part of something like this, showing people and teaching people about food."
As Gutierrez sat in the BCCC café space talking about his role in the pandemic response, he reflected on how his grandfather was a cook and use to make the best tomato sauce.
"I channel him when I'm in the kitchen," he said, with resolve. "He'd be so proud of me."
*Cover photo by Russell Frederick