Summer is getting just a little bit more fun with the official opening of NYC's public outdoor pools on Thursday.
The city's 53 free pools will be open daily from 11:00am to 3:00pm and 4:00pm to 7:00pm, seven days a week. Central Brooklynites can cool down at eight different locations in Bushwick, Bedford Stuyvesant, Brownsville, East Flatbush and Fort Greene.
Also launching on Thursday are free swim lessons offered at city pools for toddlers (1 1/2 to 5 years old), children (6 to 17 years old) and adults (18 years old or older). Registration is run by an online lottery hosted on the NYC Parks website. In addition to swimming lessons, the NYC Department of Parks and Recreation hosts water aerobics, senior splash, lap swimming programs, adaptive aquatics and more — all for free. For a full list of offerings, check out the Citywide Aquatics page.
New this year, are six "cool pools," which have been transformed with a bright new paint palette, polar-themed art, new lounge furniture provided by Brooklyn-based design company West Elm, greenery and games and more! Brooklyn is now sporting two of these "cool pools," which first debuted last year: Fort Greene's Commodore Barry Pool and Douglas and DeGraw Pool in Gowanus.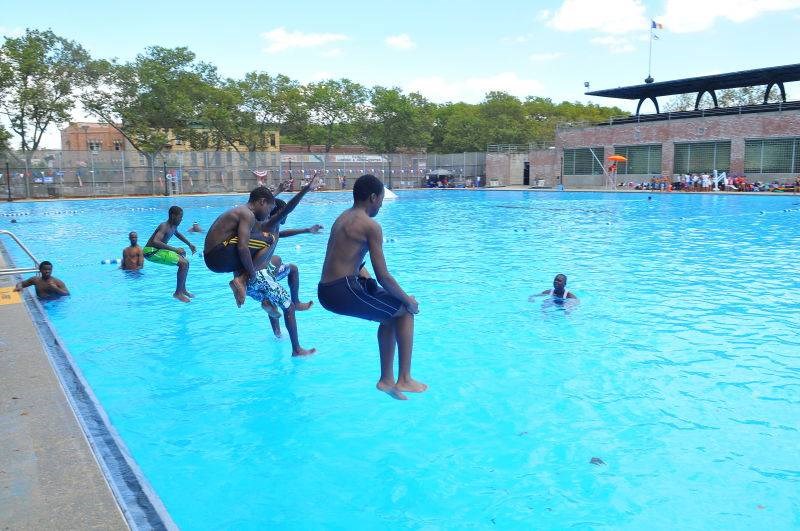 And here are the locations of Central Brooklyn's public pools:
Betsy Head Pool, 694 Thomas S Boyland Street, Brooklyn, NY 11212
Bushwick Pool,

Humboldt Street, Flushing and Bushwick Avenues, Brooklyn, NY 11206

Commodore Barry Pool, Flushing and Park Avenues, Brooklyn, NY 11201
Howard Pool, Mother Gaston Boulevard and East New York Avenue, Brooklyn, NY 11212
Kosciuszko Pool, 670 Marcy Avenue, Brooklyn, NY 11216
McCarren Park Pool, 776 Lorimer Street,

Brooklyn, NY 11222

P.S. 20 Playground Pool,

165 Clermont Avenue, Brooklyn, NY 11205

Glenwood Houses Pool, Farragut Road and Ralph Avenue, Brooklyn, NY 11234
NYC public pool rules
What to Wear
You'll need to have a swimsuit to enter the pool area. Feel the need to cover up from the sun? Throw on a plain white shirt or white hat and you're set. The city does not allow shirts with colors on them on the deck.
What to Bring
Locks are required to enter -- make sure you have a sturdy lock when you head out to the pool. It will keep your valuables safe, and let you hit the water feeling more secure about your belongings. Luggage locks are not accepted.
What Not to Bring
Food, glass bottles, electronic devices and newspapers need to be left at home. Unbound periodicals tend to blow around and create litter, food can be messy to clean up after, and there's too much water around to make sure your electronics stay safe.
Information for Parents
Babies or toddlers can put on swim diapers before they head into the water. Thinking of bringing floaties? It's safer to leave them at home and just stay in the shallow end of the pool until everyone learns to swim.
NYC's public pools will remain open through Sunday, September, 8.