Crown Heights feminist bookstore Cafe Con Libros went all in to call out Amazon's impact on its industry, transforming its shopfront to look like a giant delivery as part of the national Boxed Out campaign last week.
For several days, the facade of the small Prospect Place shop was transformed to resemble the cardboard boxes ubiquitous with Amazon deliveries.
Each display featured a witty critique of the retail behemoth such as "Buy books from people who want to sell books, not colonize the moon," and "Don't let indie bookstores become a work of fiction."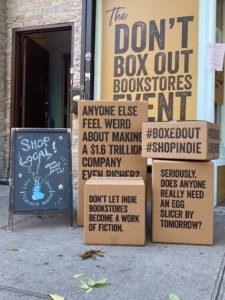 The campaign, organized by the American Booksellers Association and designed by DCX NYC, took place on Amazon Prime Day at six bookstores nationwide, including Brooklyn's Cafe Con Libros, Community Bookstore and Greenlight Bookstore. Many other bookstores supported the campaign on social media.
Cafe Con Libros owner Kalima Desuze said the goal wasn't to shame anyone who used Amazon, adding she was not anti-Amazon and understood the practical and financial reasons many use it.
Rather, she said the campaign was "an entry point to deeper discussions about intentionality and impact."
The response to the bookstore's effort was enormous, with one tweet of a picture of Cafe Con Libros getting over 31,000 retweets.
Opened by Desuze in December of 2017, Cafe Con Libros has become a Crown Heights staple, aimed at providing a space for people to engage in intersectional feminist literature. It promotes the works of women of color, who are often not given the same platform as their white or male counterparts.
This was made evident in the months following the police killings of George Floyd and Breonna Taylor, Desuze said. As antiracist booklists and calls to support Black-owned businesses went viral, she said white customers flocked to her store, but often chose books written by white women or Black men over the works of Angela Davis, Audre Lorde and other iconic women of color.
She added the demand for those books was so large, they had to be reprinted by the publisher.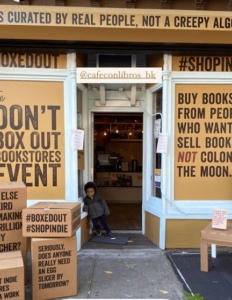 "Everybody believed that it was just them ordering those books," Desuze said, referring to new customers getting impatient about order delays. "They are supporting our business, but they are still treating us without respect."
She said the sentiment could be traced to Amazon, with customers so used to next-day shipping they lacked patience with small businesses without the resources to replicate that speed.
"Amazon is an issue on so many levels. It's impacting our culture and how we treat each other," she said.
Desuze said she hoped the influx in business, from the national reckoning on racism as well as the Boxed Out campaign, was more than a quick fix and that people would realize the value of indie bookstores.
"The heart and soul of our industry is the spaces that we create in our communities -- the spaces of learning, the spaces of action, community building, friendship building, exchanging of ideas that Amazon does not create," she said. "And we need folks to invest in us."