If you were near Myrtle-Wyckoff Plaza at 7:30am this Wednesday, you might have wondered about the long line of cyclists blasting music on their morning commute.
Transportation Alternatives (TA), a NYC bicycling advocacy group, geared up for its weekly Bike Train, an all-levels morning bike ride created to prepare commuters for the impending L train shutdown in April 2019.
Philip Leff, the chair of the volunteering and activist committee at TA, said Brooklynites are increasingly hopping on the bike train. Rides typically boast eight to 12 cyclists, though its biggest ride had over 75 riders, and the Bike Train Facebook group has nearly 300 members and regularly posts information regarding the weekly commute.
"We felt that there was a need for community-building based around this idea of biking to work," Leff said. "Biking is safer and easier in a group. We do the weekly Bike Train to get people to consider biking as an option they might not have thought of before and to get people ready to build biking into their routine once the L shuts down."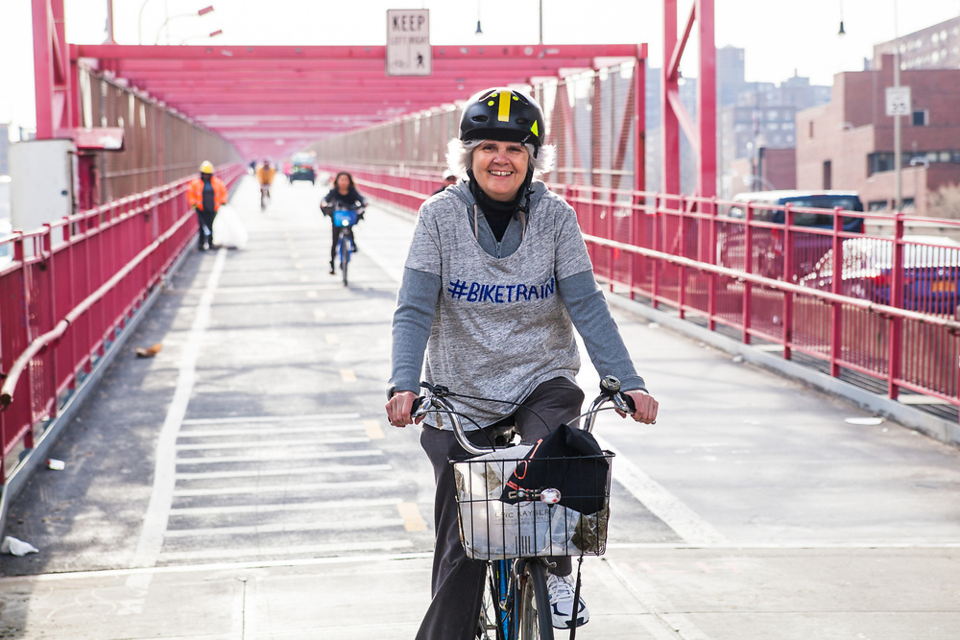 The bike train picks up riders along the L train stops, and the first Wednesday of each month is specifically dedicated to beginner riders.
"There are a lot of people like me who are unsure of what's going to happen when the L train shuts down," Bushwick dweller and bike-commuter Courtney Menard said. "I've met some new cyclists on the Bike Train, so the initiative is definitely working."
The grassroots initiative has received widespread recognition for its positive environmental impact. In July, representatives from the Department of Transportation and UN-Habitat joined the Bike Train to highlight the reduced carbon footprint of bike-commuting in the city.
"Bike Train serves as a creative global model for community organization to increase cycling," said Madam Maimunah Mohd Sharif, executive director of UN-Habitat, during a press conference following the ride in July. "I urge participants at the UN High-Level Political Forum to look at the experience in NYC and consider adopting examples that are relevant to their countries and cities."
Once the construction work begins, Leff expects to expand the Bike Train.
"We will keep it going," Leff said. "And we will have a lot more company. The DOT is predicting 2500-3000 cyclists per hour crossing the Williamsburg Bridge during the morning rush, about a 300 percent increase over today."