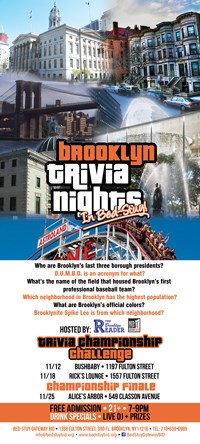 Tuesday night at Rick's Lounge, located at 1557 Fulton Street, The Brooklyn Reader, in partnership with the Bed-Stuy Gateway Business Improvement District, hosted the 4th in a series of Brooklyn Trivia nights around Bed-Stuy.
The game night is a fun way to highlight local establishments while bringing neighbors together for a light-hearted competition that tests how well you really know your borough.
Participants were provided 10 questions in ascending order of difficulty testing their Kings County acumen. DJ Dick at Night was in the house, spinning fresh tunes, getting the crowd amped!
Here are some of the questions asked on Tuesday. How many would you be able to answer correctly?
1. Q: What is the name of the historic African American neighborhood located in what is now Crown Heights?
2. Q: What year was Brooklyn incorporated into NYC?
3. Q: What neighborhood contains a thriving Latin American community, as well as Brooklyn's largest Chinatown?
4. Q: Reid Avenue in Bedford Stuyvesant was changed to reflect the name of what famous civil rights leader in 1985.
5. Q: What two green spaces dominate the center of Brooklyn?
The evening's winner was Bryant McInnis. This was his third time winning! He got 10 out of 10 questions correct. He received a $40 food and drink voucher redeemable through November 26 at any of the participating restaurants along the BID.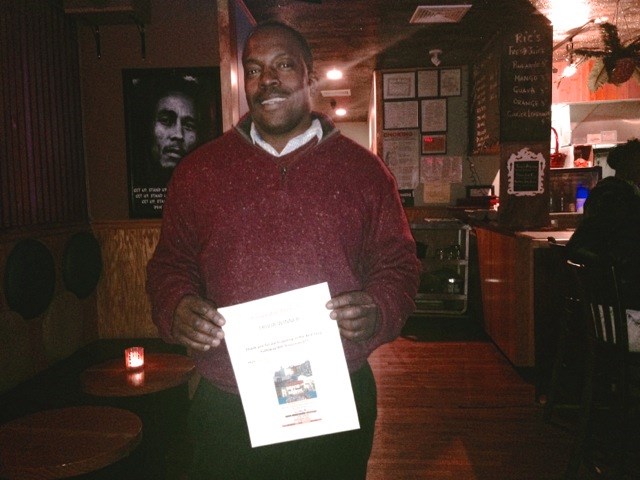 The next Trivia night is the playoffs. It will be held Tuesday, November 25, 7:00pm at Alice's Arbor, located at 549 Classon Avenue. Come on out and share in the holiday fun!