Tasha Rose was surprised to receive a text message from her landlord Tuesday evening informing her she had a new roommate.
She says that a strange man arrived at her Bushwick apartment shortly thereafter, introduced himself as Robert, and informed her that "management" had just rented him the recently vacated room upstairs.
Like an estimated 25 percent of New York City renters, Rose hasn't paid rent since March, when most of her freelance work dried up due to the coronavirus crisis. She believes that Robert was hired by her landlord to intimidate her and her last remaining roommate into vacating the apartment without a legal eviction proceeding, which she's currently protected from by the state's Safe Harbor Act.
Other stopgap measures, including a recently launched $100 million rental relief fund, aim to keep tenants in their homes and prevent an expected wave of 50,000 pandemic-related evictions in New York City. Critics say that many tenants in need of help are disqualified from receiving the aid, however, and that landlords like Rose's will continue to deploy illegal harassment tactics to get unwanted tenants out.
Since he arrived, Robert has "been nothing but hostile, belligerent and threatening," Rose said. "When I told him I have severe asthma, he immediately walked to the bodega, bought cigarettes and proceeded to smoke them in the common areas upstairs."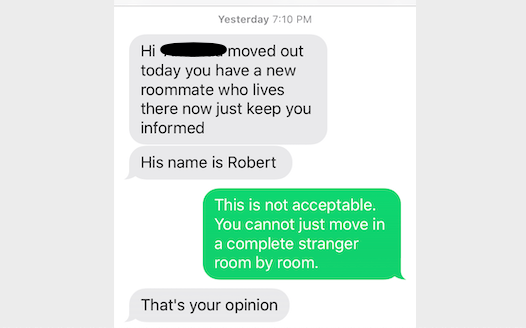 Yehuda Kohn, who is listed as the agent of Catherine Realty USA, LLC, which owns Rose's building, could not be reached for comment. The business is registered at 199 Lee Ave. in Williamsburg, an address used by hundreds of anonymous landlords who own buildings in Brooklyn.
Rose locked Robert out of the apartment and blocked the door with a couch, but he kicked and slammed his way back in as she braced against the door, getting scratched and bruised in the scuffle.
When she called the police, "They said, 'looks like this is your new roommate, you better learn to get along' and left," Rose said.
According to Imani Henry, founder of Equality for Flatbush, the police routinely side with landlords when renters report harassment or an illegal eviction, even when the law is on the tenants' side.
Henry saw this play out in Crown Heights earlier this month, when a landlord couple broke into their tenants' home at 1214 Dean St. and refused to leave, prompting a standoff between the building owners and protesters that had arrived to support the tenants.
When the police arrived, officers sided with the landlords.
"They said, 'of course they can do that, of course they can move back.' The police don't know the law," Henry said.
Equality for Flatbush has also fielded recent complaints from Flatbush renter Ginger Ging-Dwan Boyd, who recorded her landlord, Michael Weiss of Parkway Realty, breaking into her apartment using a power drill.
"The cops of the 70th Precinct did not arrest him. The cops did not file a police report, claiming that they were just 'changing the locks,'" Boyd said in an Instagram post.
When Michael Weiss was contacted for comment on the situation with Ginger Boyd he said he "did not have a tenant like that in my lease rolodex," before promptly hanging up.
New York's COVID Rent Relief Program will help some struggling tenants by paying off their landlords with $100 million in federal funding from the CARES Act — a pot of money that's insufficient to bail out the roughly 735,000 New York City households that haven't paid rent since March.
The program also has extensive eligibility requirements. Tenants who earned too much before March 1, didn't pay more than 30 percent of their income in rent, can't verify they've lost income during the pandemic or who receive Section 8 vouchers may be disqualified.
"I don't qualify for this aid, and I don't even know who would. It's so specific it's almost like it was tailored after one specific person who wrote their elected official," Esteban Girón said, a member of the Crown Heights Tenant Union, during a livestreamed discussion with housing advocates Wednesday.
The two-week application window for the rent relief program opened Thursday, and already users have reported the website crashing.
In the meantime, Rose is in Bushwick anxiously awaiting Robert's return. Volunteers from Equality for Flatbush are standing guard outside her apartment, and the group has tentative plans for a rally Saturday.
"He's going to make my life a living hell," Rose said. "And I really have no recourse. The cops are just going to say it's a bad roommate situation and I've got to figure it out."