This is the first in a three-part series following the controversial school reopenings in Brooklyn during the time of Coronavirus.
---
Brooklyn elementary schools welcomed back students to the classroom on Tuesday, following months of remote learning amidst a statewide schools shutdown, due to the COVID-19 pandemic.
Schools will vary between one to three days of in-person learning depending on enrollment numbers and layout, and the remaining days will be remote.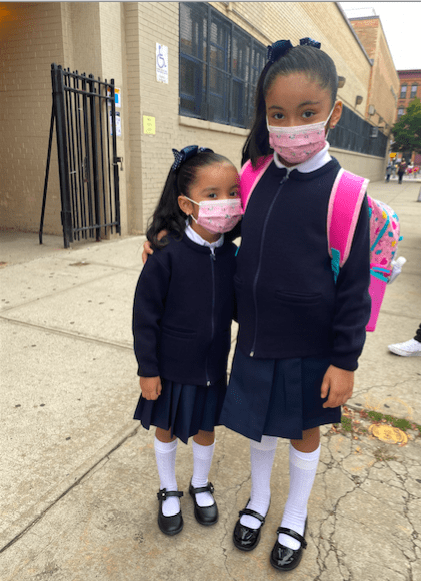 Opening day was a first in more ways than one for the students and teachers of K-8 public schools with the new COVID-19 regulations mandated by the Department of Education. Students lined up outside school gates according to social distancing markers, with colorful, themed masks the accessory of the school year.
Hand sanitizer stations were set up around schools; ventilation was required in all classrooms; and students underwent regular temperature checks.
Bushwick parent Laura Escobar said she was concerned about the pandemic, but her two daughters were ready to go to school.
"I've been nervous with COVID, but we're just trusting God and all the things the people in the school are doing, that they're taking all the precautions," Escobar said, standing outside P.S. 274.
The City has said schools would go fully remote if COVID-19 positivity rates were at 3% or above for a 7-day rolling average. Just this week, the citywide infection rate reached 3%, the highest it has been since June. With the numbers rising, many teachers are raising their eyebrows.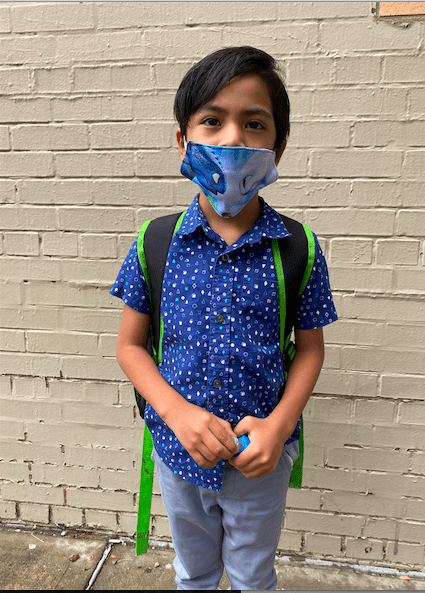 Former Brooklyn principal and Bed-Stuy resident Reginald Richardson said educators, administrators and staff are stressed with having to redesign education around new safety protocols and protection measures.
"They're literally being asked to risk their lives in a way they did not sign up for when they decided to be educators," Richardson said.
Michael Mulgrew, the president of the United Federation of Teachers, said Tuesday's success was "thanks in large part to the incredible efforts of tens of thousands of teachers and other UFT members who have worked relentlessly to serve their students while seeing that the children, their families and their colleagues remain safe."
Despite the risks involved, in-person schooling is a lifeline for many parents who have to work, and have struggled to balance at home learning with their own jobs.
Nydia Dolores picked up her little brother Miguel Hernandez from P.S. 274, and said the first grader's first day went better than expected.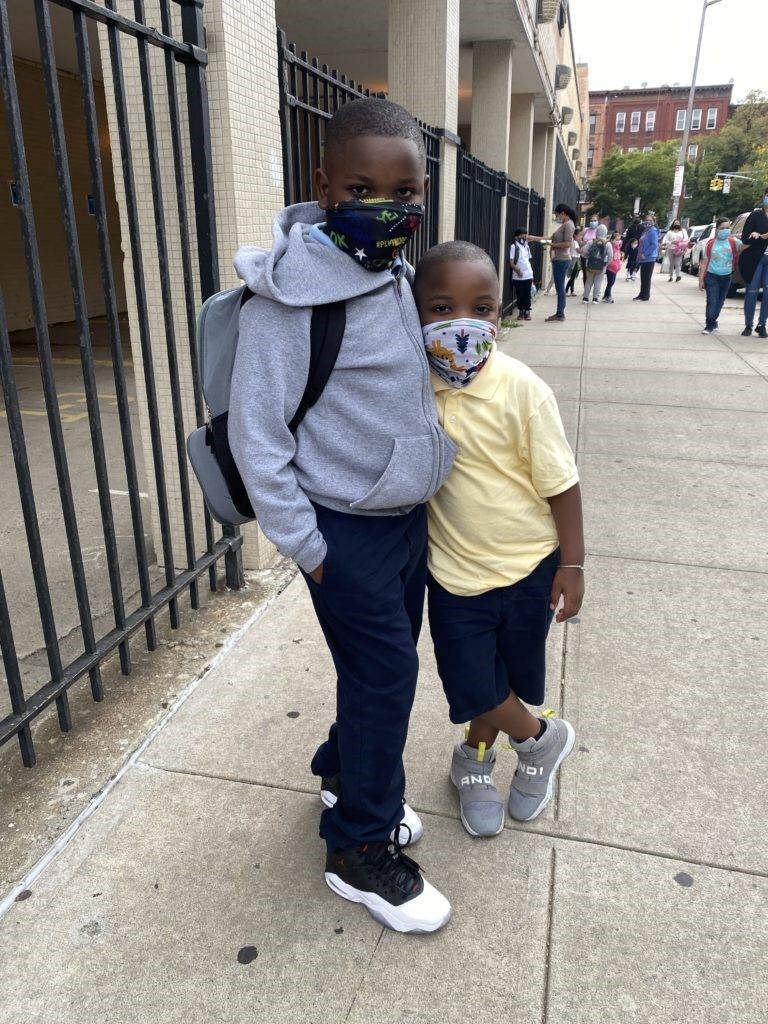 "We were feeling nervous, because little kids usually don't pay attention and they touch everything that they see," said Dolores. "But he said that he didn't take his mask off and he kept using his hand sanitizer."
Felicia Primo, who has three children at P.S. 274, said she was relieved to have her children in school, even part-time.
"My 4-year-old, he's not focused 100 percent with online learning," Primo said. "I have to be behind him and I have to work too, so with work and with him -- I really do think they should be in school right now."
At Bushwick's P.S. 86, students are assigned to pods of six to ten, and those pods are staggered to limit crowding. On Tuesday, it was group C's first day.
Fifth-grader Omar Perez, who was part of group C, said he, "felt kind of lonely in the classroom." "It feels uncomfortable having the mask on all day, but I'm looking forward to having friends and learning new things."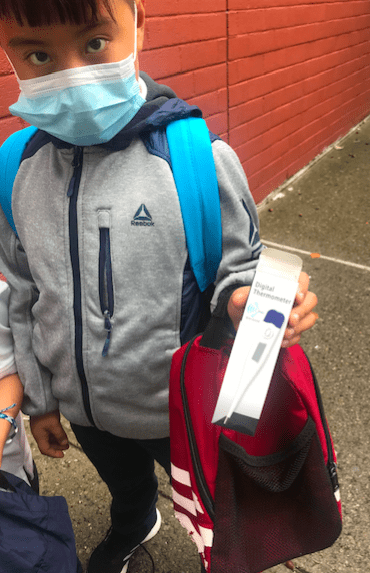 Andy Paucar, a fourth-grader at P.S. 376 in Bushwick, said while it was strange being in a classroom with very few peers, it was still better than remote learning.
"It felt good," Paucar said, holding a thermometer and composition book. "When I was home it was boring, but when we go to school, now we feel much better."
Dylan Paucar, Andy's younger brother, agreed it was better to be in person. "Now I have some new friends," Paucar said.
New York City middle and high schoolers will be joining elementary students in returning to school buildings on Thursday.
---
In part two of the series we will look at how the City and State made the decision to reopen schools and who was involved in that process. In part three, we will look back at how the first two weeks of school went and what changes have occurred in coronavirus infection rates.