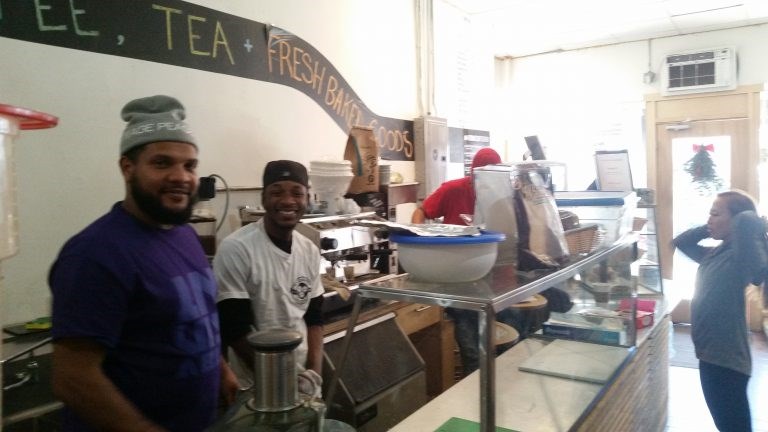 Thirty-three percent of Bedford-Stuyvesant's residents live below the poverty line. It is also home to tens of thousands of disenfranchised youth, many of whom lack any clear pathways to advancement, feeding a cycle of hopelessness, crime and violence.
Father Jim O' Shea, a priest in Bed-Stuy since 1997, realized the lack of opportunities for young men of color in his community: " Young guys back then, and of course now, are getting intro trouble," he says. "Street violence, drug dealing… A lot of good guys here end up having bad outcomes because no one ever tells them that there's a different way to make something out of yourself."
In an effort to address the need for a system to help young men of color out of the streets, Father Jim, as he is called, established in 2010 the Vernon Avenue Project, a 501(c)(3) non-profit organization, with the mission of engaging young people of the neighborhood through entrepreneurship, education and leadership.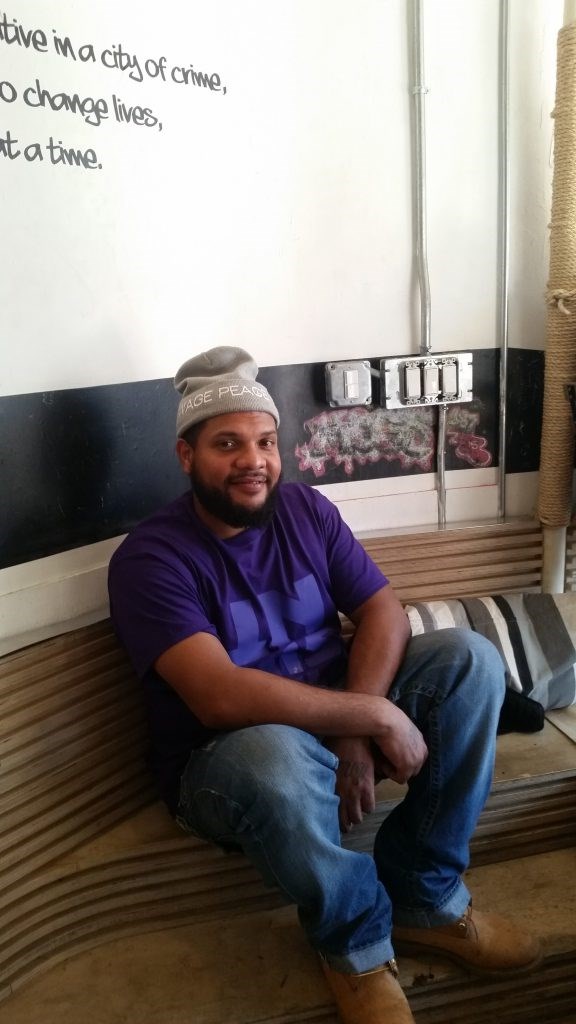 In 2014, he launched a second arm of the project, Reconnect , with the goal of teaching entrepreneurship firsthand through the upstart of real businesses in the community: "Essentially, what we are doing here is creating entry level jobs here in the neighborhood for a population that needs it the most, and we do it through ReConnect" Father Jim explains.
Unlike most nonprofits, Reconnect does not operate out of a tidy office space filled with cubicles, rather, Reconnect aims to put people into the middle of their workforce by creating businesses which then employ their program members. Currently, Reconnect consists of three different businesses: Reconnect Cafe, located at 139 Tompkins Avenue; Reconnect Bakery, located at 110 Moore Street; and Reconnect Graphics, located at 233 South 3rd Street.
The young men who work in these stores have nothing but words of praise and respect for the impact Father Jim has made in their lives.
Efrain Hernandez, the associate director of Reconnect and also manager of Reconnect Cafe, has known Father Jim since he was 13.
"I first got to know Father Jim through an afterschool program I was in with two of my best friends," Efrain recalls. "Back then, I was ripping and running in the streets and doing the wrong things for little reason. But Jim, he was always in my corner, always whispering in my ear as a reminder that I was on the wrong path.
"At 16, I began working with Father Jim in his afterschool basketball program." Around this time, tragedy struck, as Efrain's two best friends were murdered, the victims of street violence. "That was my wake up call," Efrain somberly remembers. "That was my introduction to Reconnect."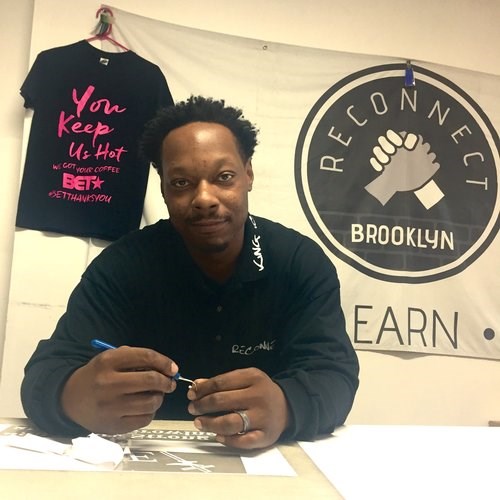 Lamont Hill, the manager of Reconnect Graphics, has a similar story. He met Father Jim at 16, through the same afterschool basketball program. "Father Jim was always community minded, always a source of wisdom for young men here," Lamont recalls.
"Now that I think about it…" Lamont trails off mid-sentence, "I've probably gotten more hugs from Father Jim than I have my own father. By giving teens a chance here to build their skills, he isn't just a Father because he's a priest and that's his title, but [he's "father"] because he's helping to get these guys ready for the real world.
"A lot of these young guys can't see beyond the streets and into the bigger picture, which is where [Reconnect] comes in."
However, Reconnect's mission is not only to get the young men from the neighborhood working and learning entrepreneurship, but also further their education. Reconnect has its own on-site learning center in partnership with Regis University, a Jesuit University in Colorado. Here, Reconnect members can earn up to 60 credits and work towards achieving an associate's degree.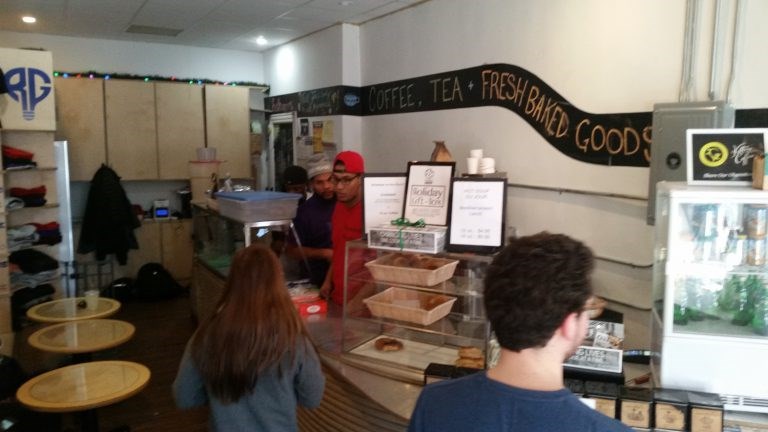 Peter, the director of the education program, is the newest member to join Reconnect. Moved by the organization's mission, he says he shared a similar experience with Efrain and Lamont: " I grew up in the GOWANUS projects, and from early on, I could tell that opportunities were scarce," says Peter.
"By providing work experience and schooling, we are trying to help these guys find out what they would like to do beyond Bed-Stuy." However, it's not always easy to get their members back into the classroom. "Many of these guys working here in the cafe, bakery or graphics shop do not have the fondest memories of school. They had negative experiences in the classroom, or in general remember school as a breeding ground for violence.
"But we always tell them that a degree is a key to more opportunities, and to work in a field that you like. We get these young men to realize academics as a viable way to grow, personally and economically."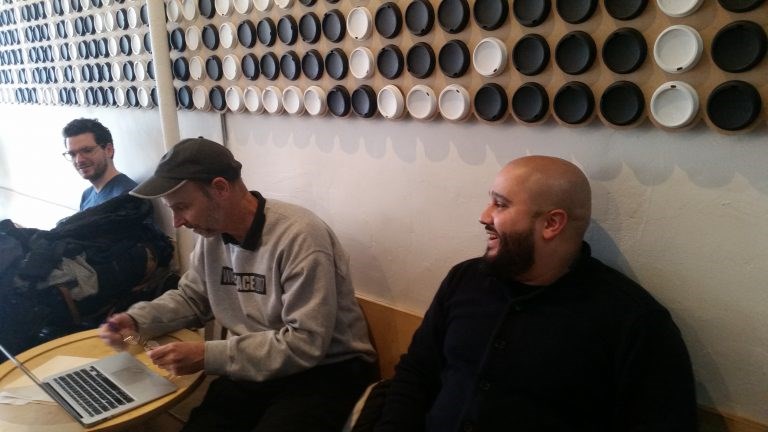 On a Tuesday afternoon in the Reconnect Cafe, many of the workers behind the counter are trading quips with one another while preparing croissants or shooting the breeze with local customers. Others are sitting down at a table in the corner, debating basketball and boxing. Father Jim is sitting quietly, smiling and observing the action unfold.
This isn't about programs, or what a non-profit does or doesn't do, says Father Jim as thinks out loud. "Rather, what we are doing here is a simple, clear, inexpensive idea. We are for the community, by the community. We hope that we can serve as a model for other communities all over, so that they can come together and think about how to address social issues."
For more information on Reconnect, visit their website.
Father Jim will be holding Reconnect's first fundraiser in June. Subscribe to their newsletter for more information!