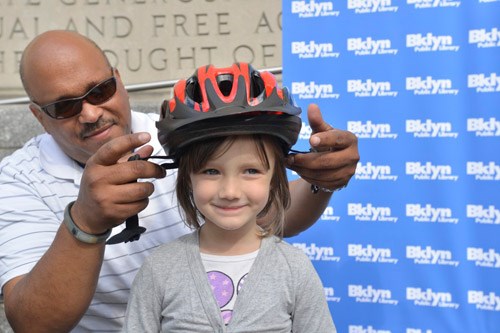 WHAT: Brooklyn Public Library Hosts Free Helmet Fitting and Giveaway Ahead of Annual Bike the Branches Event
WHEN: Thursday, May 7, from 3:30-7:00 pm
WHERE: Brooklyn Public Library's Central Library, 10 Grand Army Plaza
WHO: Brooklyn Public Library, The NYC Department of Transportation (DOT), Brooklyn Borough President Eric Adams, Community members including children and families
BACKGROUND: In the run-up to the third-annual Bike the Branches ride, BPL and the NYC Department of Transportation will host a free helmet fitting at Central Library. Free helmets will be available while supplies last.
There is still time to register today to Bike the Branches on May 9 and support Brooklyn Public Library.
Registration is $20 for adults, $10 for children 17 and under and seniors 65 and up, $40 for families (which includes up to 2 adults and 3 children), and $150 for teams of up to 10 people. In addition, this year's participants can register as a BKLYN Trailblazer for $100.
In its third year, Bike the Branches has quickly become one of the borough's largest biking events and is expected to draw nearly 1,000 riders. This year's Bike the Branches event will feature eleven customizable bike routes—six of them new—that participants can bike, run or walk at their own speed and from stop-and-start locations of their choice, including a Citi Bike tour of Brooklyn, a 'literary Brooklyn' tour, a waterfront tour and more.
The event is a key component of the Library's Support the Branches spring fundraising campaign to raise critical dollars for library programs and services. All proceeds from Support the Branches and Bike the Branches help fund Brooklyn Public Library's work to bring critical educational resources and community services to every neighborhood in Brooklyn. The three NYC library systems have also teamed up this year for a budget campaign, Invest in Libraries, which is urging the city to adequately fund the New York's chronically underfunded branches.