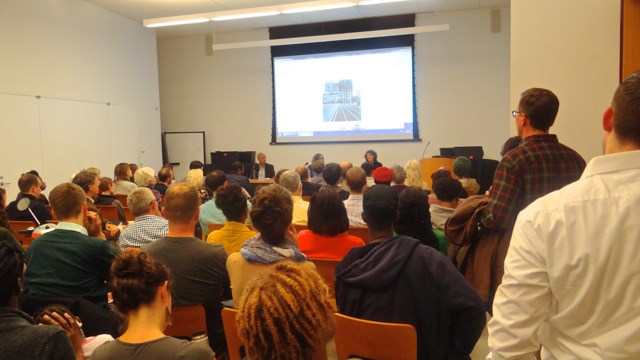 On Monday, October 20, at the Brooklyn Library, a panel of dynamic Brooklyn thinkers came together for a discussion on gentrification.
The event, entitled, Brooklyn Transitions is the first in a three-part series that endeavors to examine gentrification in Brooklyn from three angles: its historical roots, its current manifestation in Brooklyn and the future outlook of the borough.
The room of 100 or so people was filled to capacity. The three featured panelists included Sharon Zukin, professor of sociology at Brooklyn College; Suleiman Osman, assistant professor of American Studies at George Washington University; and Isabel Hill, architectural historian, urban planner, filmmaker and children's book author.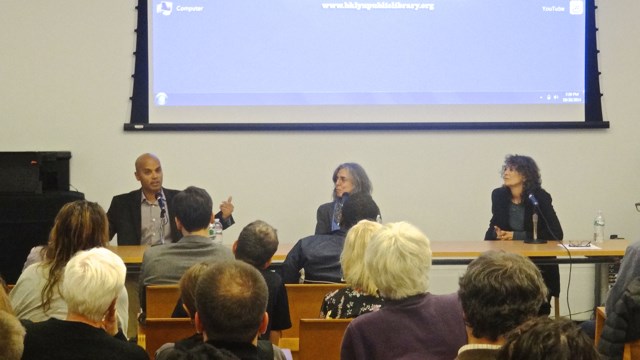 Osman said, when examining what has happened in Brooklyn and even around the world, it is important to view gentrification not so much as recent phenomenon, but as something that has been in the works for decades. He proposed that it has occurred in phases, with the initial wave of gentrifiers beginning to pioneer into "new neighborhoods" around the 1970s:
"The 70s was the beginning of the legal infrastructures of what we think of as gentrification now," he said. "Stage 2, happened in the 1980s where almost 2 decades of the transformation of NYC's economy. At this stage we have the beginnings of the rules for development."
He said between stages 2 and 3 (during the 80s and 90s), which took place during the Clinton and Bush eras, was a time of wealth expansion and, therefore, the beginning of the second wave of gentrifiers. In New York City, during the era of Mayor Bloomberg and big development, the market opened up further for what would be stage 4.
"Stage four is where you now see the gentrifiers of the 70s being displaced, where you now have global investors involved-- people looking for places to lodge capital."
The event's organizers used clips from recent documentaries, including Made in Brooklyn, Gut Renovation, My Brooklyn, Domino Effect and Bed-Stuy Do or Buy, all of which examined gentrification's impact on Central Brooklyn.
The clips served as an opening for new points of discussion, where the panelists each weighed in with varying takes on the "how" and "when" gentrification starts as well as who or what has been most responsible for its acceleration.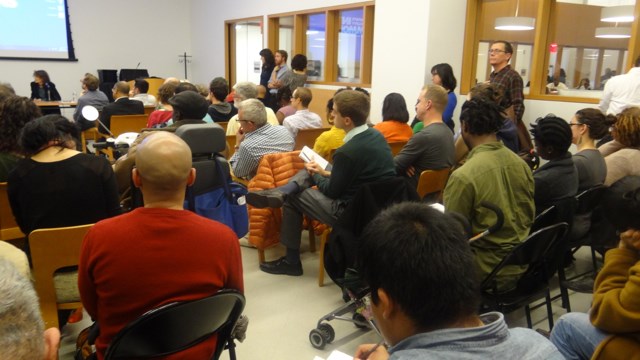 "The thing that people always seem to say about gentrification is, 'We never would have predicted it in this neighborhood.' But redevelopment takes a very very long time," said Zukin.
"So small investments are made by small people first, like brownstone buyers who are school teachers and social workers who moved into Brooklyn Heights in the 1950s and maybe paid $20,000 for a house. It's that sneak attack that is so devastating about gentrification that has such a real effect on people's lives."
However, said Hill, building on Zukin's assessment, gentrification is about more than just individual buyers; the process is accelerated in a huge way by big developers:
"There's almost two kinds [of gentrification]," said Hill. "There's the organic kind that happens over a long period of time. And then there's the government kind that happens overnight."
The last 30 minutes of the panel discussion ended with a question-and-answer period for participants.
The next panel discussion, Present Changes to Brooklyn Neighborhoods, will take place on November 17, at 7:00pm, at the Brooklyn Public Library. At the next panel, community activists and scholars will discuss the hot topic of current gentrification in Brooklyn neighborhoods. Why is it happening, and who it is happening to, with Nicole Marwell, Morgan Munsey, Imani Henry and Alicia Boyd.