Brownsville Kids were in for a special treat on Thursday when Brooklyn Nets' stars Spencer Dinwiddie and Taurean Prince hosted a story hour at Brownsville Recreation Center.
The event marked the end of the "Soar with Reading" summer literacy program that provided free books to local kids all summer long. The initiative, launched by airline JetBlue in 2011, aims to encourage kids' imagination "to take flight through reading and to get books into the hands of those who need them most."
This year, the program debuted free book "vending machines" at six locations throughout the city, including one at the Brownsville Recreation Center. The vending machines were placed in neighborhoods where access to children's books is limited. The books were chosen with the help of Susan B. Neuman, a childhood and literacy professor at the NYU Steinhardt School of Culture, Education, and Human Development, reports amNY.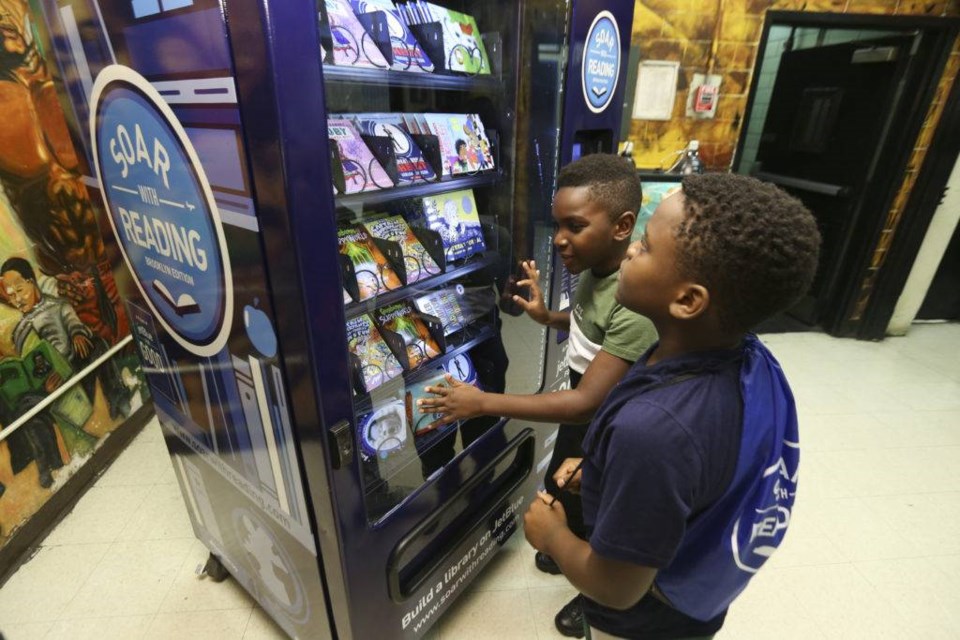 "For kids from disadvantaged backgrounds, summer often marks the beginning of the infamous summer slide," said Neuman. "Studies have shown that owning 25 books or more has a sizable effect on achievement, with each additional increment of books, such as 10 or more, improving achievement."
The vending machines dispense brand-new, free books for kids aged 0 — 14. The young readers are allowed to take as many books as they are interested in, with the hope that providing free access to books in a fun and convenient way will promote reading.
To date the Soar with Reading program has given out more than $3.5 million books to underserved kids. After the reading, the young attendees had the opportunity to mingle with the Brooklyn Nets stars -- and the two had a ball with the kids.
"Today we had so much fun engaging with and reading to these students," tweeted Dinwiddie.